Main Content Starts Here
Barrel to Bottle: Holiday Cocktails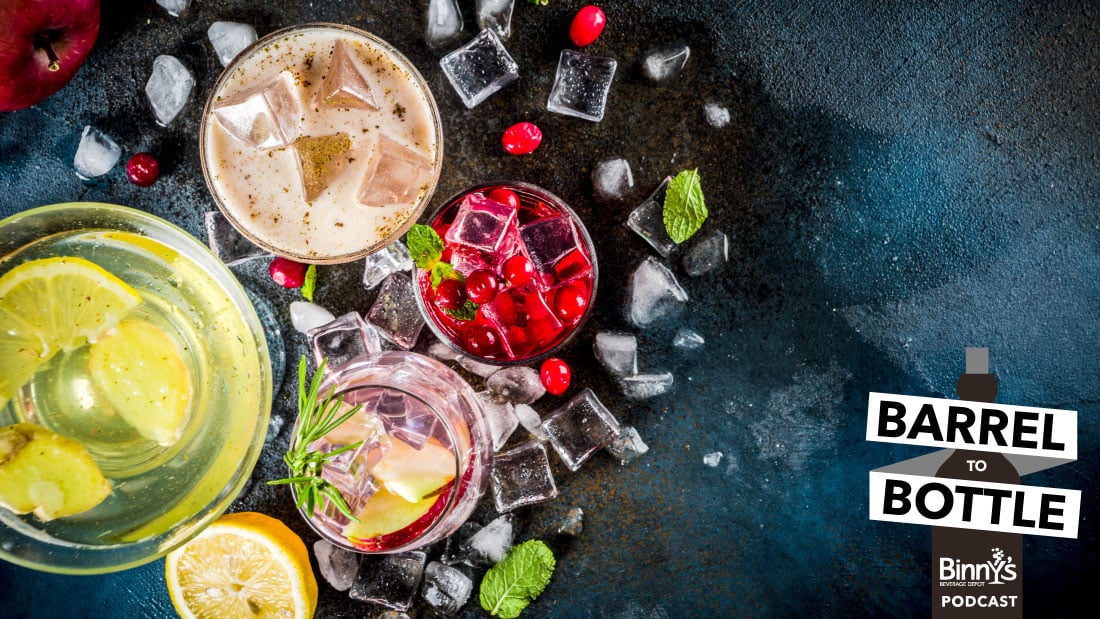 A cocktail episode means two things: Greg gets drunk in the afternoon and Roger talks about Allspice Dram. We're following up on last year's Batch Cocktails episode, when Pat and Chris both made eggnog that they decided to age for an entire year. They're both confident enough in their abilities to promise that nothing bad will happen to anyone who drinks the year-old beverage that has eggs and dairy in it.
But first up, a few other holiday cocktails. Chris is making a Tom & Jerry, which is an old English drink. You can think of it kind of like a hot eggnog. For the first time in a while, we have the Collins Tom & Jerry Batter mix in stock at Binny's. But of course, Chris has made his own batter. It looks like really thin oatmeal or really thick yogurt. It's very gloppy, but it has a lot of air whipped into it along with sugar.
Cranberries are a very popular ingredient for holiday cocktails, probably because you can toss them into drinks and they float and look nice. Roger has made a cranberry simple syrup that is way easier than try to muddle cranberries. He always advocates for simple syrup over muddling. Using this cranberry syrup as a base, Roger is making a trio of cocktails today. Important note, when you're making your cranberry simple syrup don't boil it. Cranberries contain pectin so if you boil it, it'll turn into a jelly.
Pat and Greg are pretty sure they've never ordered a Tom Collins. It's the perfect drink for Thanksgiving or Christmas but also would be great on a golf course in the summer. Instead of lemonade, Roger is using lemon juice along with the cranberry syrup to sweet it up. Then top it with a little club soda or seltzer. Gin is the spirit. It's a pink lemonade worth drinking.
Roger's second cocktail is a riff on the Kir Royale, which itself is a riff on the Kir cocktail. Roger is calling this a Wisconsin 75. This is going to be a very similar cocktail to the Tom Collins, only swapping out club soda for Champagne, then adding a sprig of rosemary for garnish. It's an aromatically complex cocktail.
You can sub in the cranberry simple syrup with a lot of cocktails, including Roger's final cocktail the traditional Wisconsin Old Fashioned. For the grapefruit soda he'll be using one of our favorites, Fever-Tree Grapefruit. In honor of fall he'll be using Laird's Apple Brandy. Actually, this cocktail features the trifecta of things Roger always talks about: Gary Regan's Orange Bitters, Laird's Apple Brandy and Pimento Dram.
And now, it's Nog O'Clock. Pat used the Alton Brown Aged Eggnog recipe, that makes a large batch of nog. It calls for a dozen egg yolks and various forms of milk. Because it has three cups of alcohol, it's around 60 proof. That's why you can age it for a year. Pat is also going to be using a silver-plated, barrel-shaped nutmeg grater for garnishing purposes. Chris' eggnog recipe is quite similar to Pat's recipe, but it involves tempering the yolks with hot milk so it might give you a little more peace of mind. The best reason to age eggnog is that you can add a lot of booze to it, but by the time you drink it it won't be a harsh alcohol burn.
If you have a question for the Barrel to Bottle Crew, email us at comments@binnys.com, or reach out to us on Facebook, Twitter or Instagram. If we answer your question during a podcast, you'll get a $20 Binny's Gift Card!
If you like our podcast, subscribe wherever you download podcasts. Rate and review us on Apple Podcasts.
Tom and Jerry Batter
INGREDIENTS:
2 large eggs, separated
1/8 tsp. cream of tartar
1 cup powdered sugar
1/2 oz. aged rum
1/2 tsp vanilla extract
1/4 tsp ground cinnamon
1/8 tsp. nutmeg, freshly grated
1/8 tsp. allspice
pinch of ground clove
pinch of salt
SIMPLE STEPS:
In a very clean bowl, whisk egg whites(make sure there is absolutely no yolk, otherwise they won't whip) with cream of tartar until stiff peaks form.

In a separate bowl whisk egg yolks until thin.
Add remaining ingredients to yolks, whisk to combinethoroughly.

Fold in egg whites, keep refrigerated until ready to use.
Note:
Makes enough batter for 3-4 cocktails. The batter will be light, foamy, and full of air directly after completion. If used immediately it will result in the foamiest drink but may require a little extra volume of batter to compensate for its airy nature. I recommend making the batter a day in advance. This allows the spices to bloom, the flavors to integrate and results in the partial collapse of the batter making the 2 oz. volume measurement more accurate (you could, of course, weigh 2 oz. of fresh batter on a kitchen scale). If making in advance, just give the partially collapsed batter a vigorous stir to bring it back together then proceed to measure 2 oz. Don't worry, when mixed into the hot milk it will still foam up.
Tom and Jerry
INGREDIENTS:
2 oz. batter

1 oz. a

ged Rum

(I used

Pusser's

but Jamaican is traditional)

1 oz. b

randy

(I used

Martell V.S.O.P. Cognac

)

6 oz. whole milk, hot

Nutmeg to taste
SIMPLE STEPS:
Warm a mug by filling it with boiling water. When mug is warm, discard water.

Add batter, rum and brandy to the mug.

Pour in hot milk, stirring vigorously.

Grate fresh nutmeg over the foamy top and serve.
Cranberry Simple Syrup
INGREDIENTS:
1 ½ cups water
1 ½ cups sugar
2 cups cranberries – halved or rough chop
SIMPLE STEPS:
Dissolve sugar in water.
Add cranberries and simmer on low for 20 min.
Strain and keep refrigerated.
Cranberry Collins
INGREDIENTS:
2 oz Gin
¾ oz Cranberry simple syrup
¾ oz fresh lemon juice
whole cranberries and rosemary sprig
SIMPLE STEPS:
Place ingredients into an ice filled shaker tin.
Shake and strain into an ice filled Collins glass.
Top off with soda water.
Garnish with whole cranberries and a sprig of rosemary.
Wisconsin 75
INGREDIENTS:
1 oz Gin
½ oz Cranberry simple syrup
½ oz fresh lemon juice
Champagne or other preferred sparkling wine
SIMPLE STEPS:
Place ingredients into an ice filled shaker tin.
Shake and strain into a chilled Champagne glass.
Top with Champagne.
Garnish with a lemon twist.
Improved WI Old Fashioned
INGREDIENTS:
SIMPLE STEPS:
Combine apple brandy, cranberry simple syrup, Allspice Dram, and bitters in an ice filled shaker.
Shake and strain into an ice filled rocks glass.
Top with Fever Tree Pink Grapefruit.
Garnish with an orange slice and cranberry.