Main Content Starts Here
Barrel to Bottle: Haus Alpenz' Jake Parrott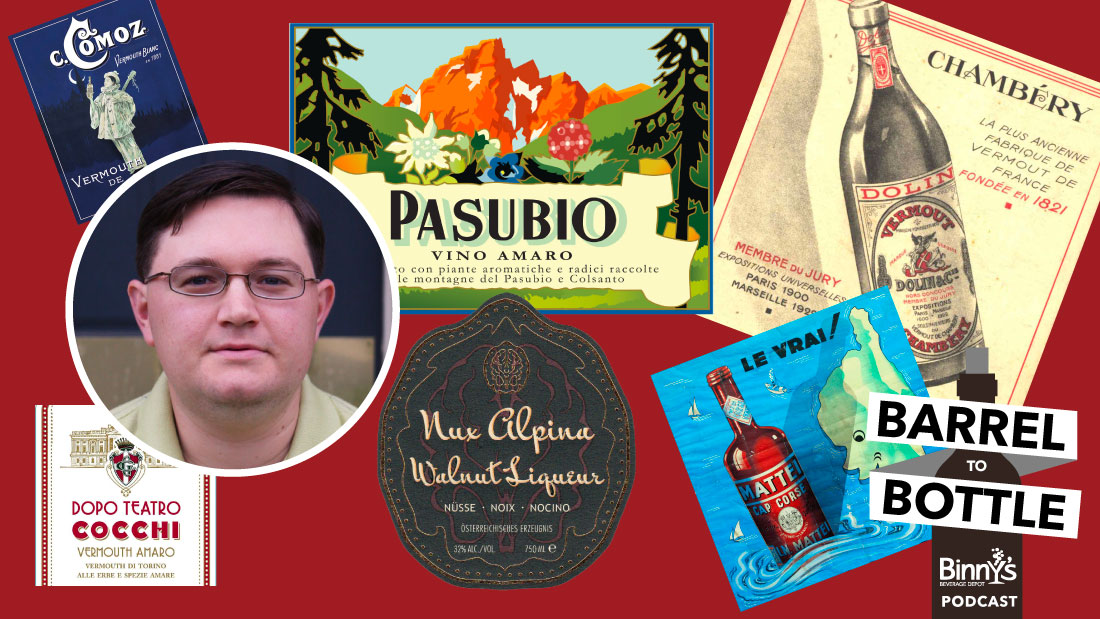 Pat is constantly extolling the virtues of aromatized wines. Finally, we have a guest who will actually agree with him and won't just make fun of him. Jake Parrott is a friend of the pod and the Whiskey Hotline and is also the national sales director of Haus Alpenz. What Jake sells, and Pat loves, is woefully esoteric. But Binny's customers, and Barrel to Bottle listeners, are enthusiasts.
Pat drinks vermouth over ice, like an old weirdo. But Jake thinks about different vermouths and aromatized wines interact with different spirits. Jake's view of cocktails are that there are different ones for different times of the day, including Manhattans for before and after dinner.
Cocchi Vermouth di Torino and Dolin are podcast-favorite vermouths. We've talked about them extensively in many episodes. Vermouth is required to have wormwood, at least in Europe. Cocchi is a winery, so their vermouth is more about the base wine, Moscato. It's orangey and flowery.Dolin on the other hand, is more herbal.
For before dinner, Jake wants a mellow whiskey and Dolin Rouge in his Manhattan. Jake is bad at math, so he likes to make equal parts cocktails. In most Manhattans, Jake would go for Angostura Bitters, but he encourages people to experiment with other spice bitters. For after dinner, Jake is going to make a richer Manhattan with a high-rye New Riff bourbon and Cocchi Dopo Teatro. This is a 2 to 1 whiskey to vermouth cocktail.
We don't do a lot of Scotch cocktails on Barrel to Bottle. It seems a little too nice to mix with other stuff. But you bought it to enjoy it, so enjoy it how you like. Jake's before dinner Rob Roy is a Glenkinchie 12 and Dolin Rouge, and to that he would add something like orange bitters or something that is earthy and herbaceous. For an after dinner Rob Roy, near the roaring fire, Jake likes a Lagavulin 8 and Dopo Teatro.
Not all sweet vermouth is dark, some are pale. Blanc Vermouth comes from the French side of the Alps. Jake has Comoz Blanc Vermouth de Chambary. You can often find Comoz in the El Presidente cocktail, and they were largely responsible for bringing Blanc Vermouth to the cocktail world. Roger became a huge believer in Comoz Vermouth during the pandemic.
Jake has a few more items left for a lightning round including the Mattei Rouge Cap Corse, which is bittered with quinine and goes great in a Scotch cocktail. Nux Alpina is a nocino, which are liqueurs made with green walnuts.
If you have a question for the Barrel to Bottle Crew, email us at comments@binnys.com, or reach out to us on Facebook, Twitter or Instagram. If we answer your question during a podcast, you'll get a $20 Binny's Gift Card!
If you like our podcast, subscribe wherever you download podcasts. Rate and review us on Apple Podcasts.