Main Content Starts Here
Barrel to Bottle: Fruit King Syrup Spectacular (or Making Simple Syrup Anything But)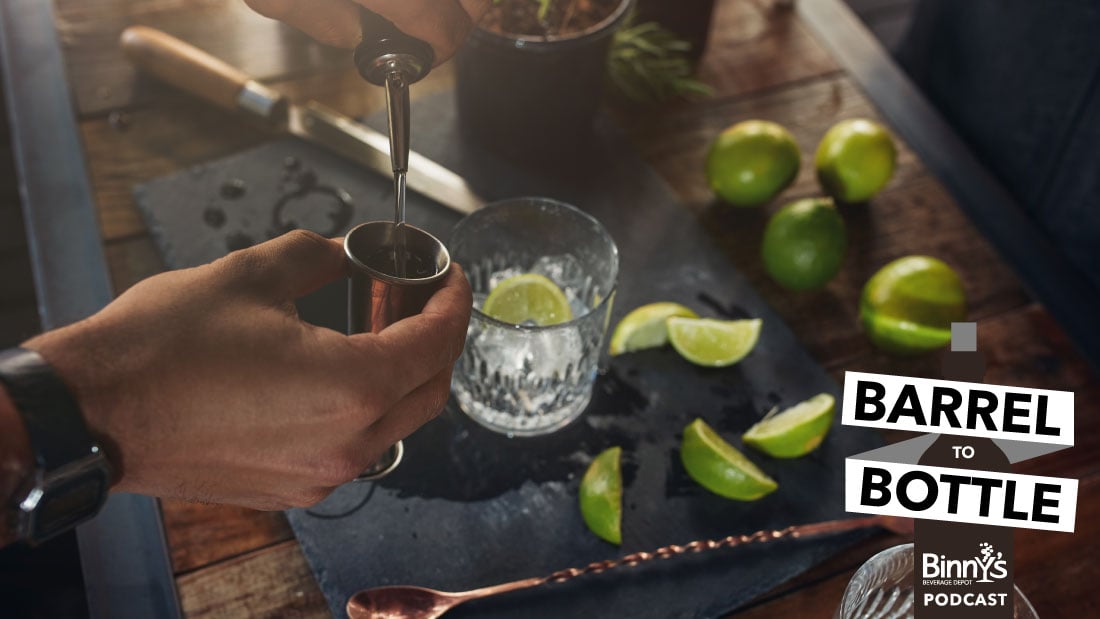 Welcome to Barrel to Bottle: Fruit King Syrup Spectacular. Better ingredients, better cocktails; that's Roger's motto. Whether you're cooking with wine, beer, or spirits, or drinking cocktails with multiple ingredients, we at Barrel to Bottle have always advocated for treating yourself to high quality ingredients. Sugars are no different. Simple syrup is simple to make, it's right in the name. But the sugars you can use to make simple syrup have deep, complex flavors that will elevate your cocktails.
The first sugar in Roger's line-up is turbinado. It is the most refined of the sugars today but that doesn't mean it's just basic white sugar, which can sometimes be processed with nasty stuff like bone char.
Next up, muscovado sugar. Like turbinado, it's a general term for a brown sugar that describes the means of processing the sugar. Muscovado has a much higher molasses and moisture content. It looks most like the kind of brown sugar you buy in a store, but it is true brown sugar. It has a baking spice quality that would be perfect for whiskey drinks, or maybe even the aged eggnog that's sitting in the back of Pat's fridge. It would work great in an apple brandy cocktail too.
Falling even further down the rabbit hole of weird sugars is our final sugar for the day, Sucanat. Sucanat is taken off the stalks, cooked and then beaten with paddles. It's the closest thing you can find to the taste of sugar right off the stalk. It looks a little bit like a spice or instant coffee. Or cat litter. This is another sugar that would be great in an apple brandy cocktail, or maybe one with a dark rum or even some blended Scotch.
Because this is Barrel to Bottle, we will be making some cocktails today. The classic Caribbean cocktail known by many names-ti punch, daiquiri, grogg, punch-is three-year aged cask aged rum, lime juice and a simple syrup made with turbinado, muscovado or Sucanat syrup.
Greg has been talking about his strawberry rhubarb cocktail for as long as he's been doing the Barrel to Bottle podcast. During that time, he's always been ridiculed because most people don't have rhubarb on hand. When Greg's lovely wife makes strawberry-rhubarb jam, the liquid that's leftover turns into a syrup. Throw in some gin, some citrus juice, maybe something fizzy and you've got a lovely summer cocktail.
Finally, producer Jim has two fruit syrups that are the definition of simple. They're so easy, you don't even have to cook them. By combining one part sugar with two parts leftover fruit scraps (cherry pits, citrus husks, mango peels) you can draw the remaining moisture out of the fruit, resulting in a syrup. Sour cherry syrup with almond extract works great with whiskey, while lime syrup is perfect for margaritas or rum drinks.
If you have a question for the Barrel to Bottle Crew, email us at comments@binnys.com, or reach out to us on Facebook, Twitter or Instagram. If we answer your question during a podcast, you'll get a $20 Binny's Gift Card!
If you like our podcast, subscribe wherever you download podcasts. Rate and review us on Apple Podcasts.