Main Content Starts Here
Barrel to Bottle: Flavor Blasted Beers, Ciders and Meads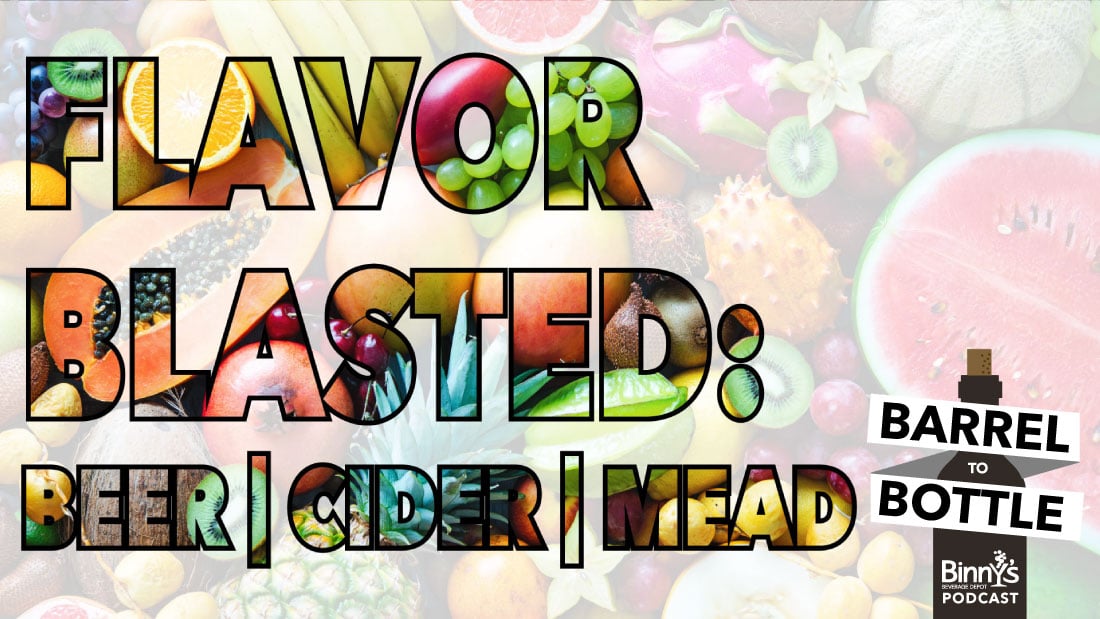 We use the phrase "Flavor Blasted" a lot, usually in jest. But more and more, we are seeing products that are catering to fans of candy and desserts. Basically, almost everything is flavor blasted these days from beer to seltzers to ciders and meads. So many beers, ciders and meads have fruit in them; to the point where a "plain" beverage is the oddity.
We're not going to be trying more Smooj today, but we will work our way up to that level of fruit blasting. 15 years ago, a beer with fruit in it was usually either a wheat beer or a traditional lambic. Kettle sours have taken off in popularity in the last five years, which has caused a rift among beer nerds who prefer the authentic style of sour beers.
Today's first two beers are from Revolution's Freedom series; Freedom of Speach (peach) and Freedom of Expression (strawberry/rhubarb). There's a long-standing tradition of serving sours like berliner-weisess with a fruit syrup, so fruited sours aren't a new thing. The sour cut prevents these beers from becoming too much like candy.
Next up, our friends at Noon Whistle and their sour Smack series. Passionfruit Face Smack was inspired by our recent collab, Your Gummy vol. 3, that featured passion fruit. Their Guava Gose Smack also adds salt and coriander. Roger recommends blending these two beers together.
Pollyanna also has a series of sours, Allure. Available now is Dragonfruit Allure. Dragonfruit is an interesting-looking fruit, beautifully colored, but it does not have much flavor. It's got a great color though.
The latest trend in sour beers, beyond fruit, is Smoothie Sours. To cut through the bracing acidity of these beers, breweries started adding vanilla and lactose sugar. Roger sees a progression from Hazy IPAs to Milkshake IPAs to Sours to Smoothie Sours. Energy City's line of Bistro Crumble beers are basically coffee cake sours. This is definitely a dessert beer.
Wrapping things up today in flavor-blasted beer, Hubbard's Cave's Milk of the Murder Hornet. Hubbard's Cave has always embraced the latest trends in craft beer and the Milk of the Murder Hornet line is all about Milkshake IPAs. This one features lactose, vanilla, raspberries and blackberries. It's surprisingly bitter on the finish for a Hazy IPA.
Ciders are popular with beer drinkers, but they have nothing to do with beer. Ciders are technically wines, but they're packaged like beer. Schilling's Passport Pineapple Passionfruit is all fruit juice, and it tastes like real juice and it's a dangerous 6.7%.
Original Sin Black Widow is one of our best-selling hard ciders. It's a little more complex than the Schilling, owing possibly to the pedigree of the fruit they grow. The Original Sin location also doubles as an edible museum of heirloom apple varieties.
Mead is arguably the most flavor-blasted category that beer fans are crossing over into. Mead is honey wine, but lately it's rare to just have a "plain" mead. Wyldwood Meadery has a farm in Kansas and a winery/meadery in Illinois that's known for elderberries. So today, Roger brought in their Elderberry Blackberry Mead.
A lot of meads come in 375 ml bottles and are on the pricier side. Schramm's Blackberry Mead is $22.99 for that size, so you'll often see people buying a bottle to split with friends. It's a great mead though, and it uses whole fruit.
That's it for part one of Flavor Blasted, but there's a part two coming next week! Check back for Flavor Blasted Spirits!
If you have a question for the Barrel to Bottle Crew, email us at comments@binnys.com, or reach out to us on Facebook, Twitter or Instagram. If we answer your question during a podcast, you'll get a $20 Binny's Gift Card!
If you like our podcast, subscribe wherever you download podcasts. Rate and review us on Apple Podcasts.