Main Content Starts Here
Barrel to Bottle: Flavor-Blasted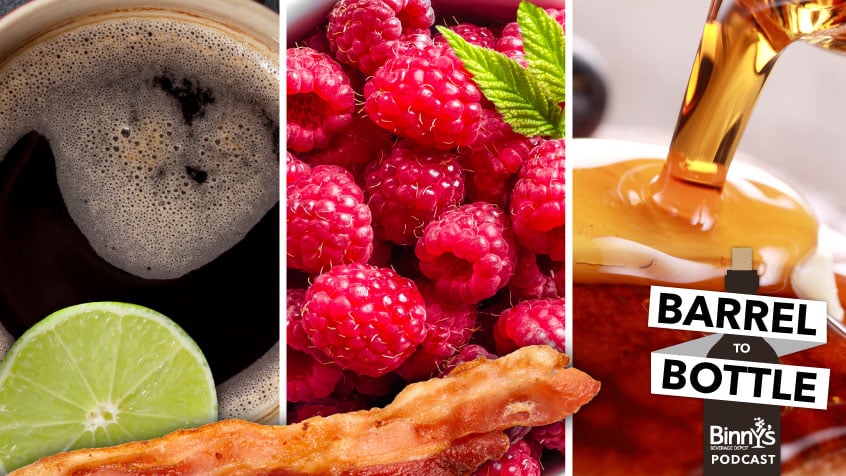 Are you ready to get FLAVOR BLASTED?! If you like bolder flavors, if you only vacation in Flavor Country, if you like things turned up to 11, then this is the episode for you! The Barrel to Bottle crew blind tastes four flavor-blasted whiskies and then follows that up with six flavor-blasted beers. Plus, how do they fare on the vaunted Flavor-Blasted Scale? You'll have to listen to find out! The flavor-blasted whiskeys: Pennington's Strawberry Rye Whiskey, Ballotin Bourbon Ball Flavored Whiskey, William Wolf Coffee Whiskey and Jefferson's Barrel-aged Manhattan. The flavor-blasted beers: Hopewell Clover Club, Goose Island Lost Palate, Founders Mas Agave, Central Waters Rum Barrel Aged Coconut Porter, Odd Side Ales Hipster Brunch Stout and Jackie O's You're In the Jungle Now, Baby! Plus in the Customer Q&A, Top 3 Desert Island Beers from the Barrel to Bottle crew.
Have a question for Binny's Beverage Depot? Hit us on Twitter and you might win a $20 gift card toward your next purchase! Tweet @BinnysBev.
Want to attend an upcoming tasting or event? Check out our events page.