Main Content Starts Here
Barrel to Bottle: Flagship February 2022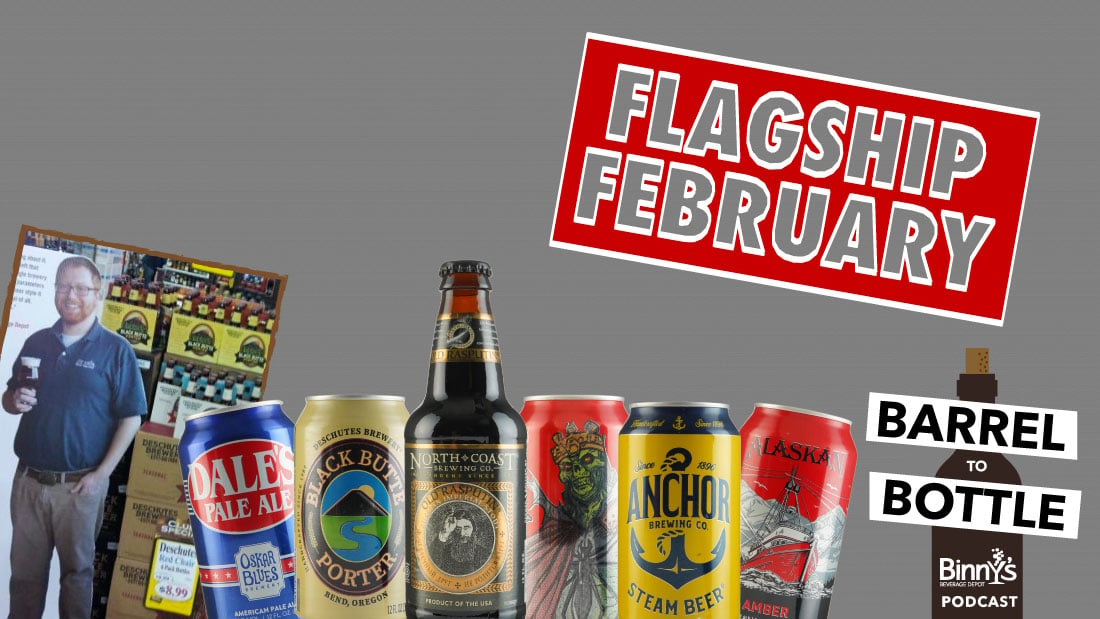 Flagship February is a yearly opportunity to revisit some craft beer classics. These are the beers that keep the lights on for their respective breweries. They often reflect the period of craft beer history during which they were conceived. Some of these are relatively new flagship beers, while others have been going strong for decades. Flagship February started as a viral tweet and has grown into one of Roger's favorite times of year. These beers are classics for a reason, and they're also great examples of their style. If you're serious about beer, you need to know them.
The first beer is Alaskan Brewing's Amber, which is based on the somewhat obscure altbier style. Alaskan Brewing is truly amazing because they have used efficiency to keep their prices comparable to other craft beer. You can hear all about that on the Barrel to Bottle episode with Alaskan's founders.
It's hard to overstate the impact Anchor Brewing has had on craft brewing. Arguably the craft beer movement in America started when Fritz Maytag-of appliances and bleu cheese-saved Anchor Brewing. Anchor Steam is based on another somewhat obscure style, made with lager yeast but fermented warm like an ale. Anchor is known for their specific yeast strain, which some people (Pat) find to be tangy and a little distracting.
We're finally getting to a more modern style, Oskar Blues Dale's Pale Ale. Oskar Blues was very forward thinking in putting their beer in a can in 2002. Canned beer used to be stigmatized as being cheap and bad, but now we know it's the complete opposite. Cans are better for the environment, and they protect the liquid better than bottles.
There probably isn't a more famous pale ale in existence than Three Floyds Zombie Dust. It feels weird for this to be a flagship because in many ways it still feels like the new hotness. Flagships can change at a brewery, which is the case at Three Floyd's. Alpha King used to be their flagship, but now it's neck and neck between Zombie Dust and Gumballhead. Zombie Dust is a juicy beer and that's what made it popular. Plus, it has a cool name and cool artwork. It used to be a beer that our stores got one or two cases of, and now you can walk into any Binny's and grab bottles or cans.
We're finally heading out to the Pacific Northwest and Pat's old stomping ground. Pat has a special guest with him, cardboard cutout Pat Brophy, spokesman for Deschutes Brewing. Back in the day all our stores had cardboard cutouts of Pat promoting Deschutes. He still has two of them at his house. Deschutes Black Butte Porter is bottle/canned conditioned, which is one of Roger's favorite things in beer.
Other than IPA, stouts are probably the beer style we talk about most. Particularly imperial stouts like the final beer today: North Coast's Old Rasputin. It was one of the first Russian Imperial Stouts brewed in America. This is and always has been a reasonably priced beer that also ages excellently. You could do a five-year vertical of this beer without seriously denting your wallet.
If you have a question for the Barrel to Bottle Crew about wine, spirirts or beer email us at comments@binnys.com, or reach out to us on Facebook, Twitter or Instagram. If we answer your question during a podcast, you'll get a $20 Binny's Gift Card!
If you like our podcast, subscribe wherever you download podcasts. Rate and review us on Apple Podcasts.