Main Content Starts Here
Barrel to Bottle: David Phillips of Michael David Winery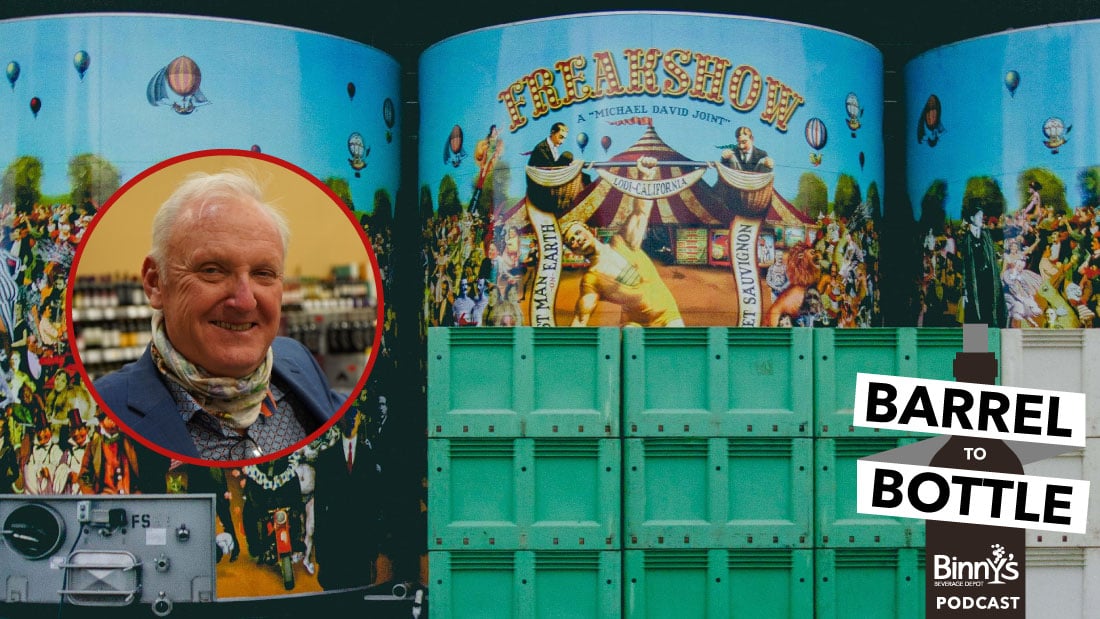 This week, our guest is David Phillips, co-owner of Michael David Winery. While in town to run the Chicago Marathon, he stopped by the Barrel to Bottle Studio to talk about his popular winery and the Lodi AVA.
David and his brother Michael are fifth generation Lodi farmers and their great-great grandparents picked some great dirt for their farm. They didn't study wine at UC-Davis but it prepared them to open a winery and grow their business. He was about to go into the Peace Corps when he got a job working for a cork importer. But after a year he decided, along with his wife and their friend, to backpack around the world. That's when he fell in love with the wines of the Rhone.
The first wine is the Michael David Petite Petit. It's also known as the Elephant Wine because of the two giant elephants on the label. Petit Syrah and Petit Verdot. It's now the second best-selling Petit Syrah wine in the world. Petit Syrah always give fruit flavors before tannins. This wine smells like it's going to be easy to drink.
After the success of Petite Petit, a marketing guy talked them into expanding the circus style of the label. The next wine in that series with Freakshow Zinfandel. Lodi is known for Old Vine Zinfandel, about 40% of Zinfandel in the world is grown there. Freakshow is brambly, with the characteristic spice of Zinfandel. Because Zinfandel ripens unevenly on the vine, the wines have a range of flavors.
David's ancestors began farming watermelon in Lodi, then began to diversify as the water table began to drop. Eventually that led them to grapes and selling to wineries in the area. They continue to grow fruit that they sell at roadside fruit stands and bake into pies using his grandma's recipe.
Most wineries will often share the same attributes in their labeling, but Michael David does the exact opposite. David figured it was a great way to sneak four wines onto a wine list. There's a Rorschach Test on every label Inkblot. The whole point of the Inkblot brand was to showcase wines that are usually not bottled by themselves, like Petite Verdot or Cabernet Franc. They're good blending grapes but in Lodi because of the upfront fruit, they can get away with bottling them as single varietals.
The final wine today is Earthquake Cabernet Sauvignon. The Earthquake wines were named after the Great San Francisco Earthquake, because the original Zinfandel grapes were planted in 1906. The Earthquake Cab sees almost a year and a half of barrel time, and the grapes come from their best 4 or 5 vineyards that they source from. Every vineyard they source from is fermented separately in 180 tanks and then blended afterwards.
If you have a question for the Barrel to Bottle Crew, email us at comments@binnys.com, or reach out to us on Facebook, Twitter or Instagram. If we answer your question during a podcast, you'll get a $20 Binny's Gift Card!
If you like our podcast, subscribe wherever you download podcasts. Rate and review us on Apple Podcasts.