Main Content Starts Here
Barrel to Bottle: Chris Cottrell From Bedrock Wine Co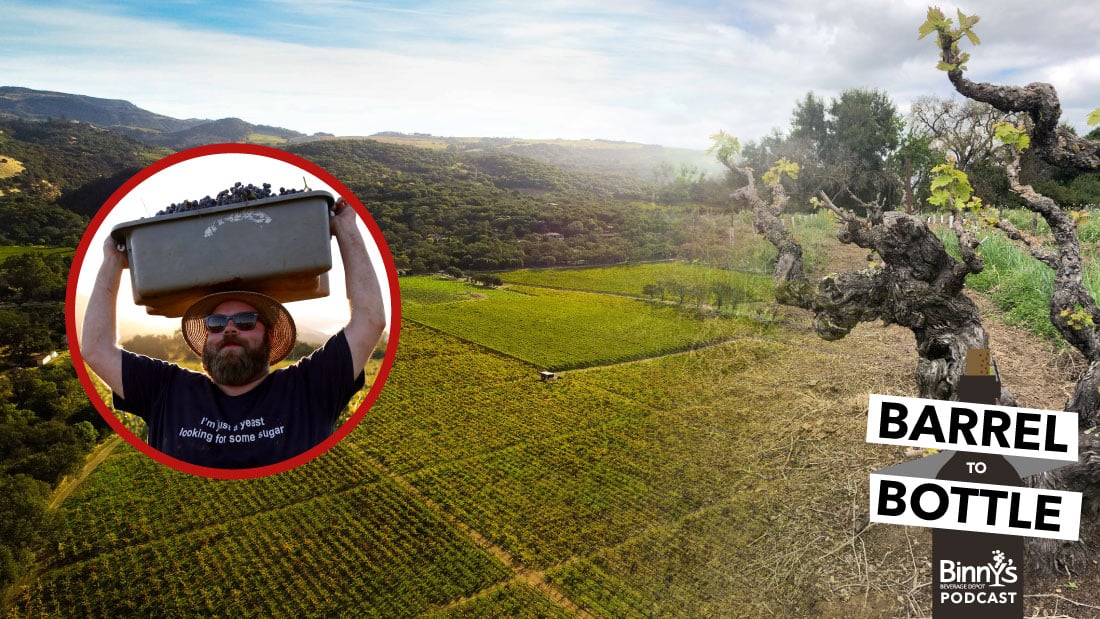 Chris Cottrell is the partner/consigliere at Bedrock Wine Company, where they're dedicated seeking out and preserving vineyards all over California. He met future owner/winemaker Morgan Twain-Peterson while working at a wine shop in New York. Morgan eventually opened Bedrock in a converted chicken coop in California. Chris joined Morgan in 2012 officially, after being an unofficial advisor for him.
The first wine today is Bedrock Old Vine Zinfandel, which comes from multiple vineyard sites. This is their business card wine, it gets poured by the glass and case stacked in stores. It's the wine that the most people will try from them. It showcases the historic old vine vineyards that they work with. Compared to most Zinfandels on the market, this one is light and approachable.
Speaking of crazy old vine vineyards in odd locations, the next wine is the Heritage Red Evangelho. This vineyard is not located in wine country in the East Bay area, in a city of 100,000 people. The vines were planted in the 1890s though, on beach sand.
We're moving into the Schmiedt Road vineyard, which is the first vineyard Bedrock purchased. They outbid a neighbor who was planning to rip out the old vines and plant walnuts. But as it turned out he just wanted to make sure no one was building a house next to his. They had to completely restore the vineyard from being traditionally farmed to being organically farmed.
Finally today, from the legendary Monte Rosso vineyard, the Bedrock Zinfandel Monte Rosso. It's a mountain vineyard on the Sonoma side of Mt. Veder. If it were on the Napa side of the mountain, it would be 3-4 times the price. The Napa side also doesn't have the old vines that the Sonoma side has.
If you have a question for the Barrel to Bottle Crew, email us at comments@binnys.com, or reach out to us on Facebook, Twitter or Instagram. If we answer your question during a podcast, you'll get a $20 Binny's Gift Card!
If you like our podcast, subscribe wherever you download podcasts. Rate and review us on Apple Podcasts.