Main Content Starts Here
Barrel to Bottle: Bourbon County Stout 2019 Preview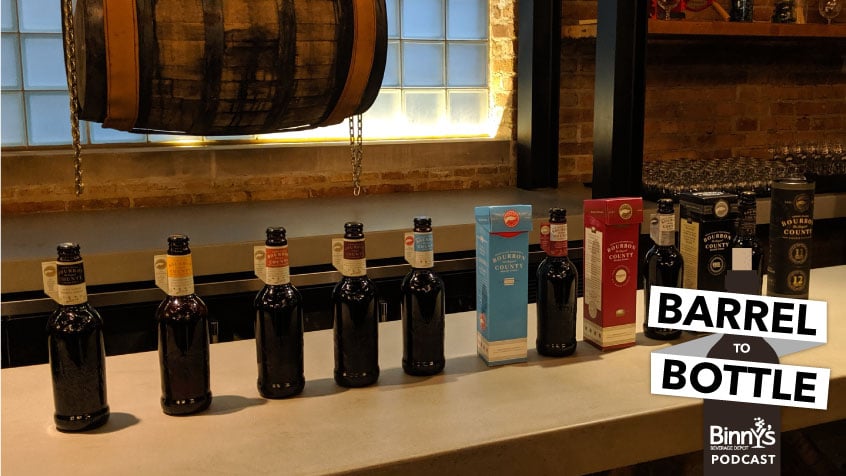 I had the pleasure of attending this year's Bourbon County sneak peek, and I'm happy to report there are some stunning releases in this year's lineup. Here are my initial impressions, along with some suggested dessert pairings. Looking forward to greeting all the thirsty devotees at Binny's Lincoln Park on Black Friday! - Roger
Original
With all the rare releases and variants, OG BCBS rarely gets the credit it deserves. This year's Original is as delicious as ever. The nose featured pronounced brown sugar and vanilla and the finish delivered rich chocolate, caramel and bit of nuttiness. As I've said many times before, the majority of the Bourbon County Brand lineup is best enjoyed fresh, but if you want cellar some to see what a bit of aging can do, your best candidate is the original.
Dessert pairing – Pecan Pie
Wheatwine
The FoBAB decorated Wheatwine is back, and this year's release was aged entirely in Larceny bourbon barrels. As I said last year, this is the bourbon lovers Bourbon County. As director of RnD Mike Siegel emphasized, the mashbill here is quite simple – two row malted barley and malted wheat. With nothing else to get in the way, get ready to taste the magic of bourbon barrel aging. The nose offers a lovely mix of caramel, golden raisins, and vanilla. Similar flavors abound on the palate, with notes of cherry and butterscotch on the palate. A perfect beer of the holidays.
Dessert Pairing – Pineapple Upside Down Cake
Mon Chéri
Made with thousands of pounds of Montmorency and Balaton cherries, Mon Chéri is a cherry lovers dream. The biggest pitfall when it comes to beer and cherries is avoiding that dreaded medicinal character. Rest assured, this doesn't taste like 'tussin. A healthy dose of oats provides for a bit of nuttiness that brings to mind cherry crumble.
Dessert Pairing – Cherry Strudel, Pie or Crumble
Café de Olla
Inspired by the traditional Mexican beverage of the same name, this variant features, coffee beans, cold brew coffee, orange peel, cassia bark and panela sugar. With this many flavors at play, Goose could have easily missed on this one. Instead, they artfully balanced this mélange of flavors, adeptly showing restraint when it came to citrus and spice. If I had to pick a favorite from this year's lineup, this is it. One of the best expressions of BCBS, regardless of year.
Dessert Pairing – Chocolate Flan
Reserve Rye
Goose Island has used rye whiskey barrels in the past, but this is the first offering that was free of adjuncts. Goose Island clearly wants consumers to understand the difference a good barrel makes, going so far as to list distilleries as collaborators. This batch was aged exclusively in Rittenhouse Rye barrels from Heaven Hill and the resulting stout is phenomenal. Fruit forward and spicy on the nose, the palate delivers notes of molasses and dark chocolate ganache. The finish is wonderfully complex, offering hints of marshmallow, cherry, and bright fruit forward coffee. Another whiskey lovers BCBS.
Dessert Pairing – Gingerbread
Proprietor's
At the complete opposite end of the spectrum, we have this years Proprietors, which features toasted pecans, coconut, cocoa and vanilla. Despite not having any coffee, Goose Island suggests this Prop is a nod to Tiramisu. I beg to differ. What it tastes like is a pastry. The term "pastry stout" gets thrown around a lot, but for the most part, it usually eludes to chocolaty desserts like cake, fudge or brownies. This one the other hand, tastes exactly like a Danish/sweet roll. The coconut here is subdued, with vanilla and pecans taking center stage. Like 2017 Northwoods Stout, I could see this release being divisive one. Share a bottle with Grandma, she'll love it.
Dessert Pairing – Cheese Danish
2 Year Reserve
I'm always surprised to hear how many fans of BCBS don't typically drink bourbon. If you're one of those people, this is probably not for you. 24 months in 11 year old Knob Creek barrels produced a stout that's whiskey forward, oaky and earthy, with notes of leather and tobacco. It's noticeably drier than Original and features a spritely finish with notes of maple and anise. Get ready for reviews that call this "too hot" or suggest it "needs time". Bourbon drinkers pay no heed, you'll love it.
Dessert Pairing – Kentucky Bourbon Balls