Main Content Starts Here
Barrel to Bottle: Bodega Garzón with Alec Griffiths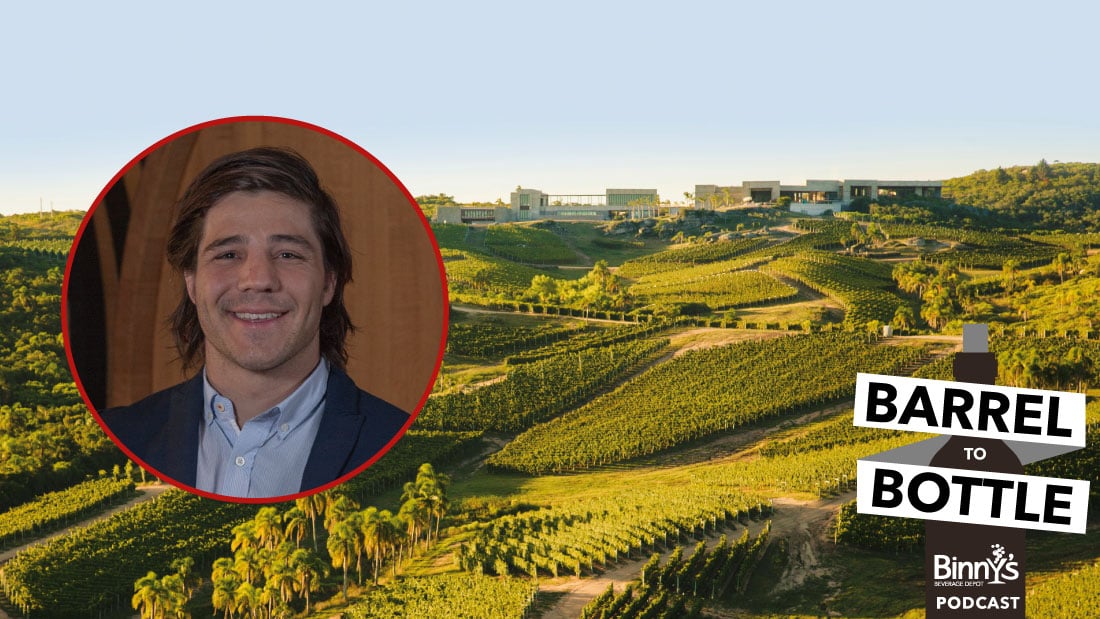 Uruguay is a wine region you may have not heard of before. Luckily, we have two special guests to introduce you to this category. Alec Griffiths, export manager of Bodega Garzón came all the way from Uruguay to do the podcast. Also joining Alicia is Bill Newton, Binny's wine buyer for Uruguay.
Many Americans might not even know where Uruguay is on the map, so trying to position Uruguay in the global wine scene was probably a difficult task. The wine industry has been around for 200 years in Uruguay, similarly to Argentina and Chile. Like those two countries the vines came from French and Spanish immigrants. Uruguay has over 200 wineries, but most of them are very small and family owned. Most of the wine is also consumed locally also, so there is not a lot of Uruguayan wine that is exported.
Uruguay is on the same latitude is Maipo Valley, Uco Vallely and Stellenbosch so they have the same sun exposure as those three regions. Uruguay is very flat though and has a lot more humidity than those other regions. The wines there are known for their freshness and the Garzón wines took off at Binny's not because of where they were from but because our wine consultants liked them so much and wanted to introduce them to our customers.
First up on today's episode is the Garzón Albariño 2021 Reserva. Albariño is a rare grape for Uruguay and South America as a whole. But Uruguay's climate is like Rías Baixas. Following Garzón's lead, many other wineries in Uruguay are beginning to plant Albariño. Wine Buyer Bill drinks this wine often; it's not a big oaky chardonnay, it's not in your face like a Sauvignon Blanc. It's acidic and refreshing and it's only $15.99.
Garzón's Cabernet Franc Reserva is also $15.99, but it's a little less known than the Albariño. It's a food wine and would go great with beef. It was planted at Garzón with the idea of blending, now it's the most planted grape at their vineyard. The Cab Franc is a medium-bodied wine with deep red fruits and an earthy undertone. The acidity and tannic structure are the stars of the show.
The third wine today is the Tannat Reserva 2019. Tannat is an interesting varietal, but before the Garzón Tannat, there weren't many wines at our stores that highlighted the grape. Tannat has become the flagship variety of Uruguay, coming over from the South of France. It adapted much better than Merlot and Cabernet Sauvignon. It grew the best, so farmers planted it everywhere in Uruguay.
Today's final wine is the Garzón Single Vineyard Tannat 2018. Garzón is a single vineyard, so for this expression, they select the best eight or nine blocks of Tannat every year to make the wine. It can change every year and the vinification is independent from the other wines. This is overall an amped up wine, full of dark berries and well-integrated tannins.
If you have a question for the Barrel to Bottle Crew, email us at comments@binnys.com, or reach out to us on Facebook, Twitter or Instagram. If we answer your question during a podcast, you'll get a $20 Binny's Gift Card!
If you like our podcast, subscribe wherever you download podcasts. Rate and review us on Apple Podcasts.