Main Content Starts Here
Barrel to Bottle: Binny's Buyer's Picks pts. 1 & 2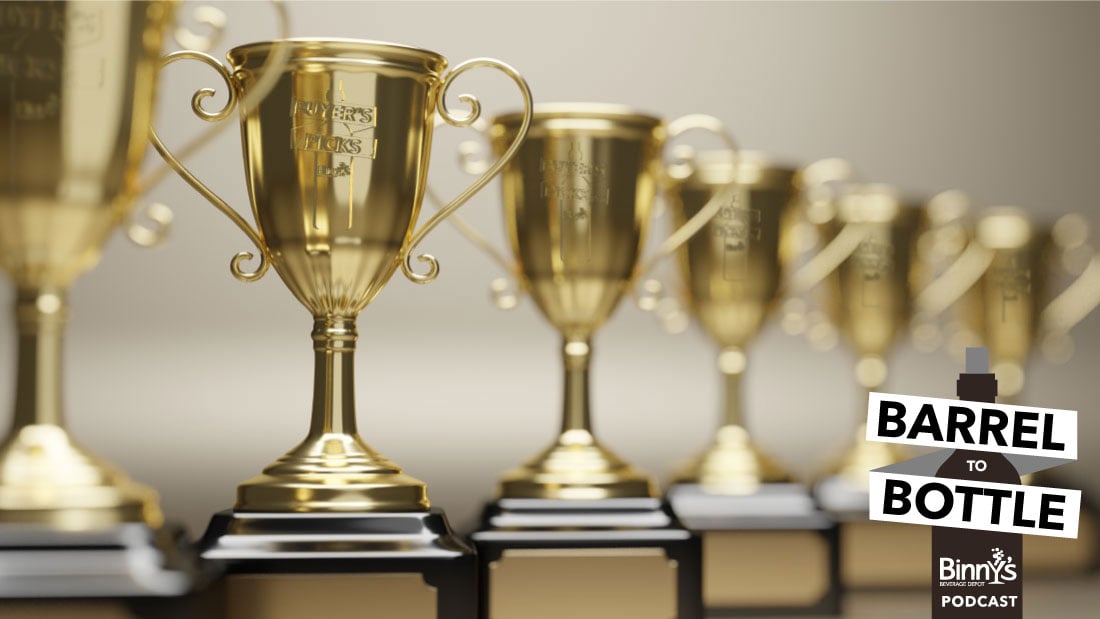 (skip to part 2)

The buying teams at Binny's try thousands of wines, beers and spirits over the course of a year. They pick the best of the best and always keep pocketbook in mind. Getting these very busy people to record a podcast is like herding cats, but Pat was able to get it done.
We're starting at the top of the mountain with Barbera Hermann, veteran of the wine industry and Binny's Wine Director. Her choice today is Opus One 2018. This is a great wine with great heritage and Barb wanted to celebrate the 40+ year history of this winery, which is in many ways like a Chateau in California. Barbara tasted Opus when it first launched in the early 1980s and she has likely tasted every single vintage since them. There was a time when Bourbon County Stout or Pappy Van Winkle were readily available on the shelf, but Opus has been a big deal since the first vintage. They delivered what they promised to do.
Wine buyer Mike has brought champagne. If you show up with champagne, everyone is excited. This year in particular, people are excited because it's hard to get champagne this year. Due to the global demand during the early stages of the pandemic and then the current supply chain issues, we are seeing a lot of products on allocation. Being Binny's, our buyers caught on early and saw what was coming, so they contacted some Champagne Houses and worked with them more than we normally do. Laurent-Perrier was one of those houses and Mike's pick this year is their non-vintage brut, La Cuvèe.
Spirits buyer Jeff hasn't been on the podcast in a year, specifically last year's Buyer's Picks episode. Jeff's pick this year is a 2014 Pierre Ferrand Cognac, finished in Banyuls casks. Jeff came prepared with several different picks. Overall, he would recommend revisiting some of the smaller distilleries that were previously sourcing or aging in small barrels. Opinions were formed three or four years ago and it's different liquid they're releasing now. Jeff came fully prepared today with picks for the most surprising product this year and also the worst thing he tasted. Something that surprised him is the Long Drink, which Roger has been talking about for months. It's a very refreshing cocktail/RTD that really took off this year. And the worst thing Jeff had? A bubblegum-flavored Arak. Sadly he didn't save any of it.
We're back for part two of Binny's Buyer's Picks for 2021. First up, we have wine buyer Bill who buys wines from all over the world including Germany. So, it's not surprising that he's chosen J J Prum's Gracher Himmelreich Kabinet 2020. One of the biggest roadblocks for consumers with German wines is learning how to read the labels. Without getting too far into the weeds, Bill explains how to read this wine's label.
Beer Buyer Kyle has two picks for the year. One is a beer and one is a variety pack of beers. The beer is probably our most beloved Christmas beer, Great Lakes Christmas Ale. Some other Christmas beers have been around longer, but this Great Lakes is probably our most popular. And now it's available in 12 pack cans! You really should be drinking this one from a glass though, so the vessel doesn't really matter. Kyle's next pick is the Stone 12 Days of IPAs, which his twelve different IPAs. That in itself is an amazing feat even for a massive brewery. To have 12 IPAs ready at basically the same time and to handpack them is quite an undertaking.
You might remember cigar buyer Jack from that one cigar podcast we did. And last year's Buyer's Pick's episode. And that other cigar episode we did. Jack's cigar pick of the year is the Undercrown 10, which was featured on our last cigar episode. Jack, Pat and Roger all raved about it, so it's not a shocking choice. Jack is extremely proud of the Four Star Society Saggio, which is done just for Binny's. Finally, Jack's accessory of the year is the Four Star Society Colibri Straight Cut cigar cutter.
Finally, we have specialty spirits buyer Brett. Normally he has a hard time narrowing things down (see last year's episode of Binny's Buyer's Picks). His number one pick is Takamine, an 8-year-old single malt from Japan. There's nothing quite like it at Binny's, because it uses Koji yeast for the malting process. Brett's other pick is Great House Hampden Estate rum. It's a very dundery rum, so Greg probably won't be into it. We probably should have had Roger on this part of the episode.
If you have a question for the Barrel to Bottle Crew, email us at comments@binnys.com, or reach out to us on Facebook, Twitter or Instagram. If we answer your question during a podcast, you'll get a $20 Binny's Gift Card!
If you like our podcast, subscribe wherever you download podcasts. Rate and review us on Apple Podcasts.