Main Content Starts Here
Barrel to Bottle: Barrel to Bottle 2021 Picks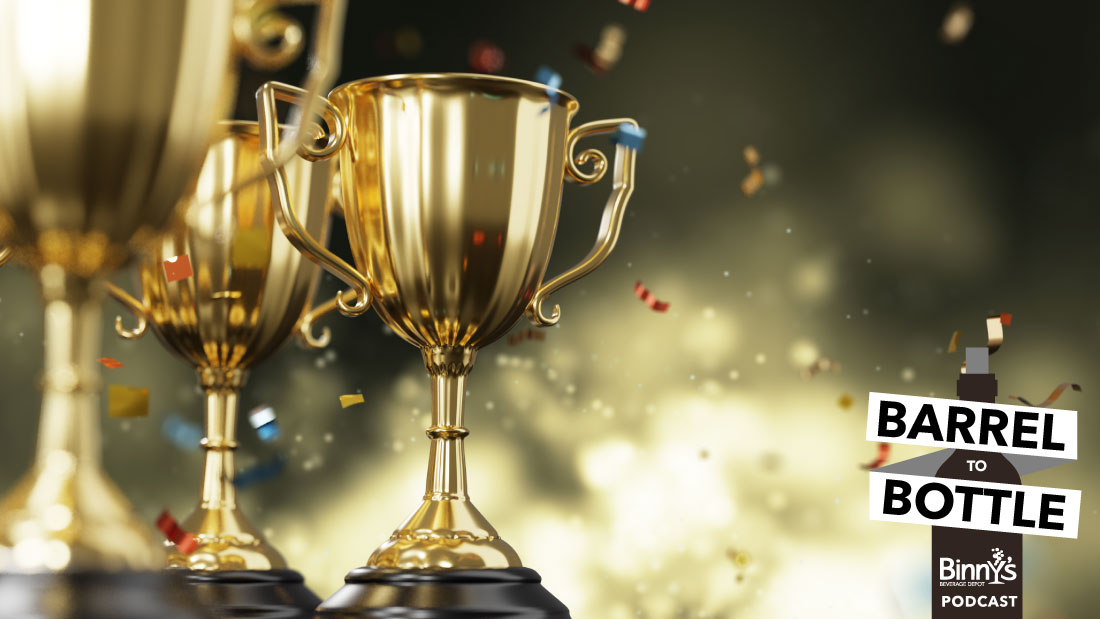 The end of the year means year-end lists. You've heard from the Binny's buyers over the last two weeks, now it's Barrel to Bottle's turn. The entire team has assembled with their favorites of 2021. Everyone was supposed to pick two, but of course that didn't happen. So thanks for listening to all these long episodes lately.
Roger is up with the first pick, a hazy boy! Hexed Hazy is a collaboration Binny's did with Buckledown Brewing. A new yeast strain, Cosmic Punch, was used in this brew. There's a fascinating science behind this yeast strain. As it turns out, something is actually happening in fermenters with hazy beers, it's not just sloppy brewing. This beer is juicy. It looks like juice, it smells like juice and it tastes like juice.
Alicia loves burgundy, but normally they're very expensive. Her pick this year is her absolute favorite value, Michel Bouzereau Cote d'Or Bourgogne. This is a Villages-level wine at a regional price. For those exhausted by some white chardonnays, this is a perfect wine.
Greg's pick last year was a bottle of wine that was over $250. This year he's blowing that out of the water. The Noval Ten Year Tawny is not Greg's pick, but he still wanted to try it. He had the chance to try a flight of Noval ports. He tried the ten year, he tried the Noval Colheita 2007 and he tried the 2018 Vintage Port. The 2018 is just a total different level than the other two. But then after that, he tried the Noval 2018 Nacional, which is about $1000 a bottle. So that's his pick for this year.
Chris' pick is much more reasonably priced but still phenomenal. Domaine Huet's Vouvray Clos du Bourg Sec 2019. The Clos du Bourg wines are usually very intense, but not too austere and ages very well. At $39.99, it's an incredible value for this kind of wine.
Pat's pick is a bit of an about face. For the second time this year, he was surprised during a blind tasting. Smokewagon's Small Batch Straight Bourbon won the Barrel to Bottle 100 proof bourbon blind tasting. This one is also on Chris' list for the year. He had dismissed it as tater-bait bourbon, but after talking to the owner of Smokewagon he really got to understand what his vision is for blending whiskies.
Roger and Chris had a chance to share a can of Ale Smith Speedway Stout, one of the brewery's most well-known beers. They usually released variants in their brewery only, but now some of them have started coming into the wider market. His pick is the Mexican Dark Chocolate/Mexican Coffee variant.
Very rarely do we try something completely unexpected and new. This year we tried something like that: Smooj. Greg has it as an honorable mention. As much as he doesn't understand why people want it, he has to give it credit for being totally different than anything else out there.

Alicia's next pick is the Frog's Leap Estate Rutherford Cab. During a recent advanced class she taught, it stacked up against many other Napa heavy hitters. At $55.99 it's a beautiful expression of Napa Cabs at a great price.
Greg also didn't bring his second choice for today but only because we already tried it on the podcast recently. Bonny Doon's Cigar Volant was recently featured on our Thanksgiving episode. Greg's pick last year and this year are big and pricey, but the Cigar Volant is something you can drink on a regular basis that is reasonably priced. Other than Dragon Lady or Fuggin' Awesome.
Chris' next pick is the 2016 Uccelliera Brunello di Montalcino. Chris has been going through a lot of old bottles from his cellar this year, hence the nature of his picks.
On another recent episode of the podcast, we tried Barrell Seagrass. It's a rye whiskey finished in Rhum Agricole casks, Madeira casks and Apricot Brandy casks. It's almost like a ready to drink cocktail, which is probably why Pat loves it so much.
Chris doesn't buy a ton of scotch but two scotches blew his mind. We tried the Mortlach 12 "The Wee Witchie" on the Spend or Splurge episode and Chris loved it. We also tried the Port Charlotte 10-year-old, which is a peated whiskey and usually not something Chris is into. But he fell in love with the nose and it drinks so well.
We're wrapping it up with another big surprise for Pat and the entire Whiskey Hotline. Ardnamurchan is a newer Scottish distillery in the coastal West Highland region. That means it's briny but also nutty and sweet and sherried. This is a 50/50 blend of peated and unpeated malt. 65% is aged in bourbon barrels and 35% is aged in PX and Oloroso Sherry casks.
If you have a question for the Barrel to Bottle Crew, email us at comments@binnys.com, or reach out to us on Facebook, Twitter or Instagram. If we answer your question during a podcast, you'll get a $20 Binny's Gift Card!
If you like our podcast, subscribe wherever you download podcasts. Rate and review us on Apple Podcasts.