Main Content Starts Here
Barrel to Bottle: Approachable Champagnes for the Holidays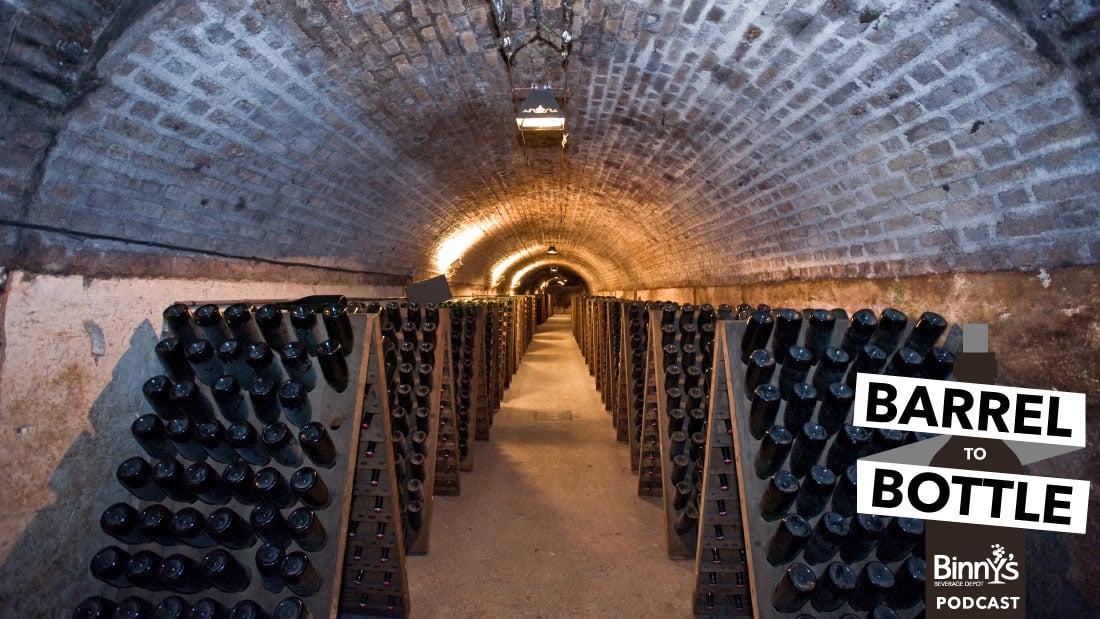 It's a Champagne episode folks! Bubbly before the holidays has become a yearly tradition on Barrel to Bottle, and this year Alicia brought some Herr's Habanero Ranch for pairing purposes.
You may have heard that there's a Champagne shortage going on. First, we all drank too much of it during the early stages of the pandemic. Then supply chain issues caused even more problems. Luckily, Binny's crack team of buyers saw the writing on the wall early and made some big purchases for all of our thirsty customers around the holidays. Alicia has selected five Champagnes today that are available in our stores right now at great prices. Cheers!
Alicia has selected five Champagnes today that are available, at great prices, that you'll really enjoy. If you're favorite yellow label bubbly is not available don't worry, we have you covered with some other great options.
First up today is longtime favorite of Binny's staff and customers. It's approachable, easy-drinking and no one hates it. No, it's not Hamm's, it's Piper-Heidsieck. The Heidsieck family dates to the 1780s. It's affordable and it's accessible. This would be a perfect replacement for Veuve, as it is stylistically similar. It also has a very festive holiday label.
The two main types of Champagne are from either a house or a grower. A Champagne House deals in large quantities of product. They buy fruit from growers to meet the demand. Growers grow their own grapes and are allowed to purchase around 5% from other growers. Often though, Growers become Houses due to the popularity of their Champagne.
Taittinger is predominantly Chardonnay, unlike the previous wine. It's more acidic, fruitier, and structured. It's full of orchard fruit and stone fruit. Taittinger is another historic Champagne house. Most people don't care about that, but some people you're buying for might appreciate the more storied producers.
The third and final Champagne House today is another very different style; Bollinger's Cuvee is their entry level Champagne. Bollinger is an oxidative, richer style because over half of the base wine for this Cuvee are fermented in oak barrels. That allows oxygen in, as opposed to the more traditional stainless-steel aging. Lily Bollinger made that decision when she took over the house in the 1940s.
As we move on to the growers, we're going to see much smaller production. Some of these growers produce a few thousand cases per year. Compare that to Dom Perignon, which probably makes 1,000,000 bottles a year. Chartogne-Taillet's Cuvee St. Anne does some barrel fermentation and some stainless-steel fermentation. It's also at a great price for a Grower Champagne.
Rounding out the selections today is Pierre Peters in the Cote du Blanc. This region is known for chalky soils and its chardonnay. This is a 100% Chardonnay from Grand Cru Villages. It also passes the Herr's Creamy Ranch and Habanero test.
If you have a question for the Barrel to Bottle Crew, email us at comments@binnys.com, or reach out to us on Facebook, Twitter or Instagram. If we answer your question during a podcast, you'll get a $20 Binny's Gift Card!
If you like our podcast, subscribe wherever you download podcasts. Rate and review us on Apple Podcasts.