Main Content Starts Here
Barrel to Bottle: 100 Proof Bourbon Blind Tasting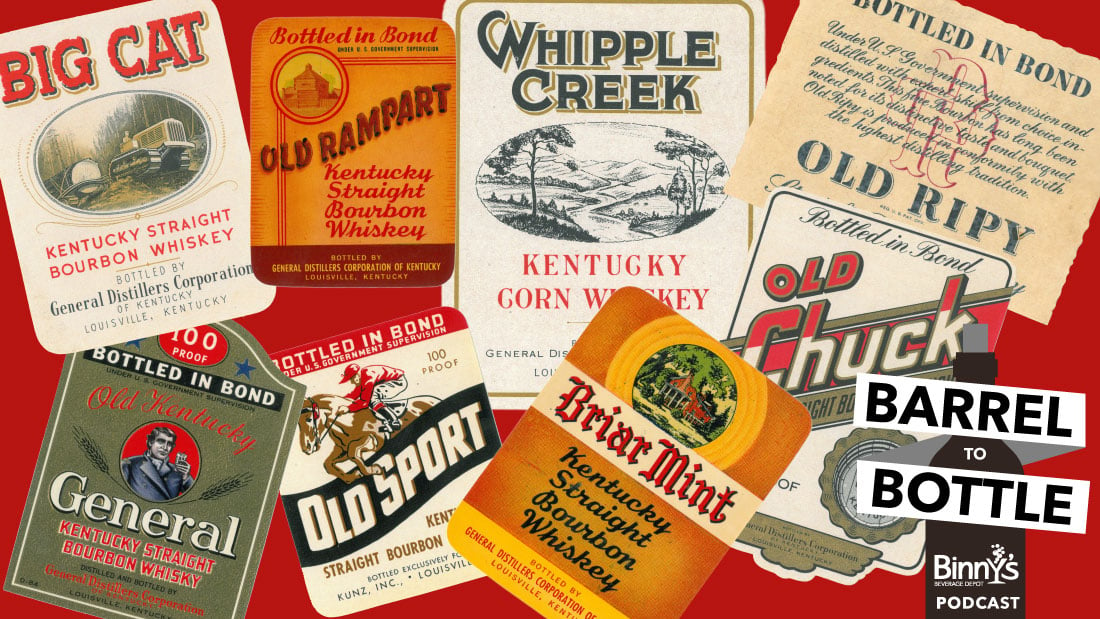 We have twelve…yes twelve…100 proof bourbons to sample today on Barrel to Bottle. Pat just couldn't help himself; once he started picking, he just couldn't bear to leave something out. Once again, we're blind tasting, which is the best way to taste anything. Once again, producer Jim is conducting the tasting and as we go, Future Pat will be telling you, the listener, which bourbon is being sampled so you'll be in the know.
Roger is a big fan of both budget and high-end bourbon, so he's really excited about this episode. Everyone wants bourbon and bottled in bond bourbons are growing in popularity. But there are also plenty of 100 proof bourbons that aren't bottled in bond. Speaking of though, what exactly does "bottled in bond" mean?
Sample along at home with the following 100 proof bourbons:
Early Times Bottled in Bond Bourbon: oak-heavy, caramel and toffee, sweet, fat and rich. Pat gives it a Good Plus Plus on the Pat Rating Scale.
Mellow Corn Bottled in Bond Corn Whiskey: pale color, smells like straw. Raw graininess, almost like Wheaties. Hot, but soft and sweet on the palette.
Remus Repeal Reserve Straight Bourbon Whiskey #5 2021: dark, soft nose almost peachy. Fruity, confectioner's sugar. All fruit cocktail on the finish. High toned, maybe acetone.
Whiskey Acres Bottled in Bond Bourbon: welcome to the lumber yard! Younger, greener oak, peach and cherry (smashed on a 2x4). Spicy finish.
J.T.S. Brown Bottled in Bond: delightful. Bananas and tropical fruits. Mellow, soft, easy-drinking. The most traditional caramel vanilla so far. This gets a Very Very Good on the Pat Rating Scale.
Uncle Nearest 1856 Tennessee Whiskey: Bananas foster, banana cream pie. Shows more alcohol. Hot finish with more wood tannins. Bubblegum.
Old Granddad Bottled in Bond: grain-forward. White pepper. Soft palate with a little bit of caramel. Popcorn ball. A classic example of a Good Plus Plus on the Pat Rating Scale
Old Forester 100 Proof: even more bubblegummy than number six. Menthol cherry. Like both kinds of Luden's. The Tom Yum Soup has really opened up Greg's palate. A bit hot on the finish, but enjoyably so.
Evan Williams Bottled in Bond: Joe Maloney would call the nose "buttered corn". Fat on the palate with a lingering oak grip. This is the kind of bourbon Roger would describe as Bit O' Honey, the old person candy.
Smoke Wagon Small Batch: THE BEES KNEES. Bright, light, fresh but with a rich finish. Awesome. A distinct citrus note. Flirty with "OH YEAH" territory on the Pat Rating Scale.
J.W. Dant Bourbon Bottled in Bond: grainy, cheesy, funky, like barley that got left out. Sweet on the finish. Brooding and dark but probably a cheaper, younger whiskey.
Jeppson's Bourbon: Cherry candy, fat and round like Greg after a bowl of Tom Yum soup. Pure frosting. Cherry-scented vanilla buttercream. Like a heavily-glazed cherry fritter.
If you have a question for the Barrel to Bottle Crew, email us at comments@binnys.com, or reach out to us on Facebook, Twitter or Instagram. If we answer your question during a podcast, you'll get a $20 Binny's Gift Card!
If you like our podcast, subscribe wherever you download podcasts. Rate and review us on Apple Podcasts.