Main Content Starts Here
Ballast Point Chicago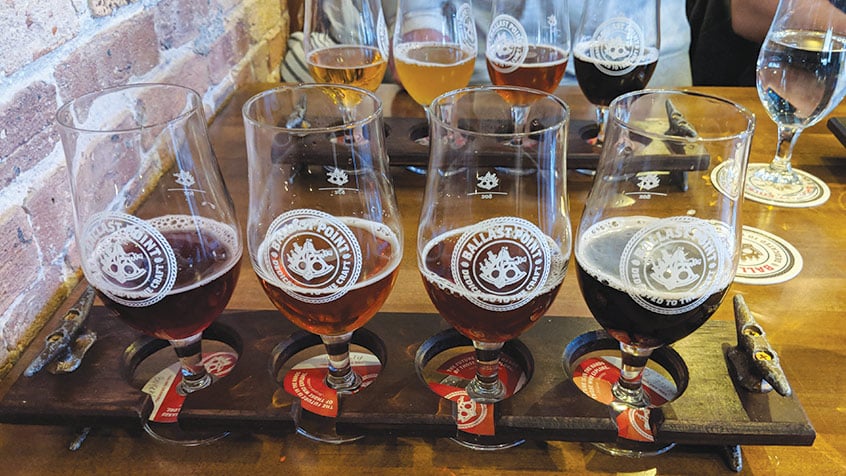 If you've been to one of Ballast Point's locations out in San Diego, you know they have always been big on R&D. After a recent visit to their Chicago location, we're happy to report that research and development is alive and well at this captivating new space in Fulton Market. Their extensive and well curated draft list allows imbibers to sample beer from the brewhouse in Miramar, the several satellite locations throughout San Diego, along with beer brewed right here in Chicago.

Peruse the list of 40+ beers on tap and you'll see there is something for every mood or taste. Sculpin might be Ballast Point's most recognizable beer, but rest assured this isn't merely a parade of hops. We sampled everything from hazy and fruited IPAs to barrel aged stouts and sours. That having been said, no city has a longer love affair with IPA than San Diego, with some of the most celebrated examples coming from Ballast Point. Having the chance to revisit classics like Manta Ray and El Dorado reflects the forever changing face of IPA and is a poignant reminder that Ballast Point puts out impeccably crafted IPAs of all shapes and sizes.

Open shop in Fulton Market, you better bring it when it comes to food. We shared quite a few dishes in order to get the lay of the land, and everything was on point. Their West Coast Griddle Burger clearly drew inspiration from a California classic, and in today's world of high-end burger one-upmanship, this burger is at the head of the pack.

A big thank you to our gracious hosts at Ballast Point Chicago for some remarkable food and beer. Look for tried and true Ballast Point classics, as well their latest rare and seasonal releases at your local Binny's.