Main Content Starts Here
A Toast to International Women's Day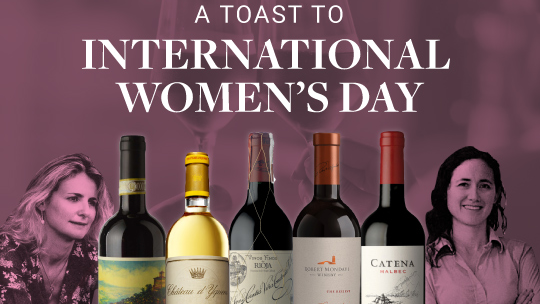 These wines hand-selected by Binny's Beverage Depot Wine Director Barbara Hermann - highlights some of the most talented winemakers in the industry, winemakers who happen to be women! Celebrate International Women's Day every year on March 8 one of five featured wines from estates where women are calling the shots and crafting some of the finest wines in the world. And that's despite the unique challenges that women face. From best selling bottles to cellar treasures, the wines below are marvels that ANYONE will enjoy!
2016 Catena Malbec
While pouring her father's wines at a gala event, Harvard grad and Stanford-trained MD Laura Catena discovered that her family's world class wines were ignored for more well-known bottles. She made it her mission to convince people that Argentine wines can stand shoulder to shoulder with anything. Today, her Malbecs are considered world class reds, and even her more modestly priced bottles drink like a more expensive offering from France or California - as the 2016 Catena Malbec proves.
2014 Monsanto Chianti Classico Riserva
She was pursuing a legal career before her father Fabrizio Bianchi asked Laura Bianchi if she would assume winemaking duties at Castello di Monsanto. At the time the request caused a stir - many in Tuscany were loathe to support or accept a woman assuming the reins of an estate, especially as one as significant as Monsanto. Besides, many believed that the bookish Laura would be averse to getting her hands dirty. Of course, she proved all her doubters wrong. Today, the estate's wines are more pure and more vibrant than even her father's famously fine examples, and are regarded as some of Chianti's very best reds.
2006 R Lopez de Heredia Vina Tondonia Reserva
More than anything, it is her courage to embrace a traditional approach despite what all others were doing that distinguishes Maria Jose Lopez de Heredia. As Rioja and the rest of Spain were purchasing temperature controlled stainless steel tanks and French oak barrels, Maria Jose remained faithful to the traditions of Rioja and their well worn wood vats and casks. Which as it turned out encouraged the flavors that they earned in their vineyards to shine rather than be obscured by oak. Today, their wines are icons, now emulated by a new generation of Spanish winemakers.
2015 Robert Mondavi Cabernet Sauvignon Reserve
She was trained by Jean Ribereau-Gayon, his son Pascal Ribereau-Gayon, and Emile Peynaud - legends in the world of wine. But it was Robert Mondavi's commitment to excellence that brought Genevieve Janssens to the Mondavi estate. After taking time off for marriage and motherhood, she returned to winemaking full time as the Director of Winemaking for the Mondavi/Rothschild collaboration and Napa icon Opus One before focusing exclusively on the Mondavi's To Kalon project. The results? Her SECOND Napa icon - the Robert Mondavi Winery Reserve To Kalon Vineyard Cabernet Sauvignon.
2014 Chateau d'Yquem Sauternes
Not even Latour, Lafite, Petrus, nor Cheval Blanc are known as a Premier Cru Supérieur or Superior First Growth estate. Only Chateau d'Yquem. How can anyone improve on that? Ask Dr. Sandrine Garbay. A Ph.D. trained oenologist, it is her subtle yet significant changes - less time in barrel, more care in bottling, a better grip on volatile acidity - that have transformed the already legendary wines of d'Yquem into something impossibly more. The wines today? Fresher, more vibrant, and more charged with energy without losing any of the extravagance that defines d'Yquem.