It's that time of year again. We're happy to see Chicago Craft Beer has been rebranded to recognize the plethora of talented brewers all throughout the Land of Lincoln. Grab some local brews, fill a glass, and raise a toast to all the hard-working men and women who make the Illinois craft beer scene so special.
Solemn Oath Gabriel Hounds
4 Pack of 16oz Cans
...
Fans of NEIPA, step right up for Solemn Oaths latest juicy treat. This double dry hopped New England style IPA features an amazingly tropical nose that's dripping with mango and papaya. Soft and smooth across the tongue, it delivers an interesting mix of fruity flavors, with pronounced notes of apricot, peach and cantaloupe. Lactose adds a touch of sweetness to a long and fruity finish. *Not available in Champaign, Bloomington or Springfield.
Brickstone American Pale Ale
6 Pack of 12oz Cans
...
Staff favorite, "zombie killer", and gold medal winner - this much talked about and celebrated American pale ale is one of the best on the shelf. Generously hopped with Amarillo, Centennial and Citra hops, it's a juicy pale ale with bright hop aromas and a balanced finish. Take a break from IPA and try this APA.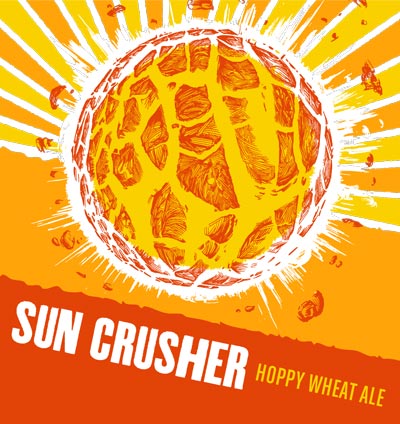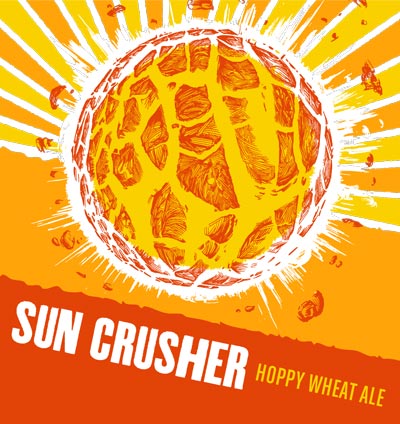 Revolution Sun Crusher
6 Pack of 12oz Cans
...
Sun Crusher is bursting with citrus - exuding notes of tangerine, kumquat and ruby red grapefruit. The wheat really shines here, imparting a nice bready character to this thirst quenching brew. With very little bitterness on the finish, this easy drinking wheat is aptly named.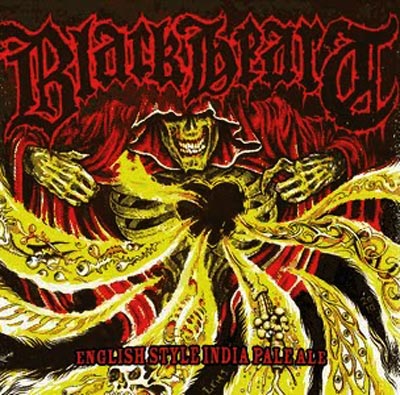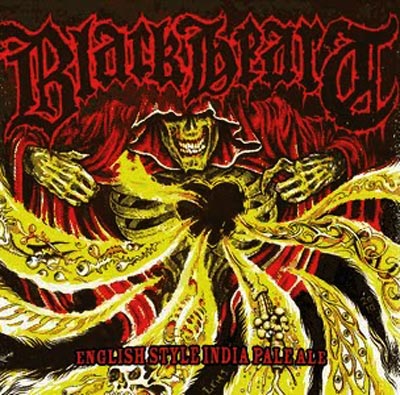 Three Floyds Blackheart
22oz Bottle
...
It continues to make us laugh how often Three Floyds is referred to as a Chicago brewery - maybe it's the Floyds' Illinois roots. This week we welcome the return of an old school classic. Brewed with English malts, hops and yeast, this homage to India Pale Ale's origins even spends a brief respite on toasted oak. It features a subtle nose, with hints of toasted oak, earthy hops and orange zest. A solid malt backbone provides both structure and a hint of toffee, giving way to a long and lasting finish that smacks of marmalade and honey. *Not available in Champaign, Bloomington or Springfield.
Just in time for Illinois Craft Beer Week we are excited to announce the arrival of some very special projects from Two Brothers Artisan Brewing. Be it IPA, sour ale or wheat wine, the word of the week is oak.
Two Brothers Wooden Wobble
6 Pack of 12oz Bottles
...
Wooden Wobble delivers as promised, with oak aging imparting a pronounced woodiness to the aroma of this resinous IPA. Medium in body, the palate offers a mix of citrusy and piney hops, giving way to a long resinous finish with a hint of vanilla.
Two Brothers Project Opus 20
12.7oz Bottle
...
Project Opus 20 is a TEN year aged bretta ale with sour cherries. As you can imagine, that long rest in oak left its mark. The nose is bold and vinous with notes of cherry, leather and old oak. The palate delivers big dark fruit, with notes of cherry, plum and hint of sweet spice, leading into a long oaky finish.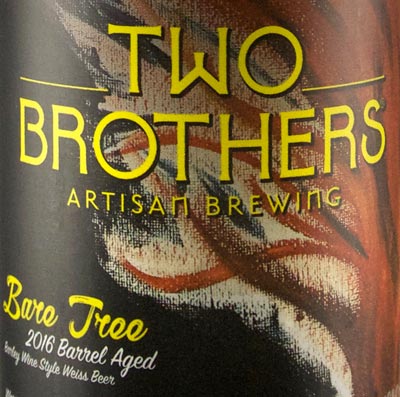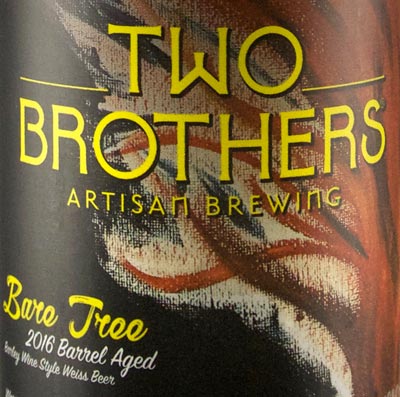 Two Brothers Barrel Aged Bare Tree Weiss Wine
16.9oz Bottle
...
Bare Tree is one of our favorite offerings from Two Brothers. A slumber in oak barrels transforms this soft and creamy wheat wine into a decadent delight. The nose offers notes of vanilla wafers and caramelized bananas, with similar flavors expressed on the palate. The finish is tangy and spirited with a lasting kiss of buttered toffee.
Two Brothers Bare Tree Weiss Wine Blend
16.9oz Bottle
...
Last but not least, we have a blend of fresh and barrel aged Bare Tree. In many ways the best of both worlds - the dessert like richness of the barrel aged component is brightened by a wave of yeasty fruitiness. Amazingly light and creamy on the tongue, notes of banana and pear are followed by a spicy and vibrant finish. One of Two Brothers' finest creations.
Each year we anxiously await the return of this delicious Double IPA. Chillwave was one of the first DIPAs to showcase Mosaic hops, and it was love at first taste. Even if you think Double IPAs are not your thing, Chillwave just might change your mind.
Great Lakes Chillwave
4 Pack of 12oz Bottles
...
Mosaic hops are the star of the show here, imparting a complex range of aromas and flavors, most notably pineapple, grapefruit, papaya and pine. Honey malt provides a touch of sweetness, making this an artfully balanced and dangerously drinkable DIPA.
Many varieties of hops impart citrusy aromas and flavors. Looking to up the ante, brewers often add different juices, pulps and peels to their latest creations. Enter Oskar Blues, who skipped past the usual suspects and reached for Yuzu and Ugli fruit. These gnarly looking citrus fruits are a poignant reminder that its what's inside that counts. Simply put, Fugli is a remarkably refreshing IPA and one of OB's best.
Oskar Blues Fugli
22oz Bottle
...
The combination of Yuzu, Ugli fruit and hops produces a cornucopia of citrusy aromas, with notes of tangerine, pomelo, lime and kumquat. Brisk and tangy across the palate, its like an invigorating citrus salad for the tongue, with a bright snappy finish. A beer with great pairing potential and a must try with sushi and ceviche. *Not available in Bloomington.
Atop each can of Ron Santo 10 Ale, you'll find some impressive statistics. This beloved broadcaster and HOF third baseman earned many accolades throughout his illustrious career, but it's his tireless commitment to philanthropy that remains his greatest legacy. Ron raised over $60,000,000 for type 1 diabetes research. Members of the Santo family down in Texas partnered with Nine Brand brewing to craft this commemorative ale and a portion of all proceeds from Ron Santo 10 Ale are donated to JDRF, the largest charitable funder of type 1 diabetes research.
Ron Santo 10 Ale
6 Pack of 12oz Cans
...
Pouring brilliantly golden in color, this classic Kolsch style ale features a fruity nose, with hints of honeydew melon and buttered biscuits. Soft and creamy across the palate, an initial touch of honeyed sweetness gives way to a refreshingly crisp and tangy finish. Pair with sunshine, baseball and a hot dog smothered in brown mustard and relish.
In 2013 a humble South Loop startup began a journey to becoming Hop Butcher For The World. A slew of collaborative efforts and a handful of brewing spaces later, Hop Butcher continues to hone their skills. By actively interacting with their burgeoning fanbase on social media, they've stayed in tune with the pulse of the Chicago craft beer scene. Recognizing the thirst for New England style IPA was real, Hop Butcher went all in and their hazy masterpieces fly off the shelves. Ironically, it was a somewhat conventional APA by the name of Grid that garnered them national attention. Ready to see what Hop Butcher is all about? Grid is a great place to start.
Hop Butcher Grid
4 Pack of 16oz Cans
...
Golden in color with a crown of white foam, the nose offers an enticing mix of papaya, passionfruit and guava. Medium in body and clean across the palate, an initial burst of sweetness is quickly followed by a rush of resinous pine and a touch of grapefruit. An impeccably balanced and satisfying pale ale - grab some Grid before it's gone. *Not available in Champaign, Bloomington or Springfield.
Sour beer comes in all shapes and sizes. From the nuanced complexity of funky oak aged gueuze, to the racy acidity of a bright Berliner Weisse - this expansive category includes variety of styles, each offering some degree of mouth puckering potential. Interest in "sessionable" sours continues to grow. Attractively priced and packaged for portability – take a break from the same old summer selections and pack your cooler with some of these tangy treats.
Dogfish Head SeaQuench
6 Pack of 12oz Cans
...
Part Kölsch, part Gose and part Berliner Weisse; this unique mashup is brewed with black limes - an unsightly, yet highly flavorful ingredient, common in Middle Eastern cuisine. SeaQuench is sharp, tangy, salty and citrusy - yet somehow it maintains balance and drinkability. A restorative thirst quencher and a must try with your favorite seafood dish.
Boulevard Jam Band
6 Pack of 12oz Cans
...
Curious about sour beer but not ready to dive in head first? Boulevard's latest is a perfect way to get your feet wet. Jam Band's tangy tartness is thanks to the use of acidulated malt and tart fruit juice. Juicy to the core, rich jammy blueberry, raspberry and cherry is matched by just enough bitterness and acidity to leave you thirsty for the next sip.
Sweetwater Tropical Lover
6 Pack of 12oz Cans
...
The craft scene down south has fallen in love with sours. It makes sense - what better way to beat the heat than with a refreshing Gose or Berliner Weise? Tropical Lover is a fruited Berliner style Weisse from Atlanta's Sweetwater Brewing Company and it's a crusher. A clean Berliner base provides a nice tangy backdrop for a tongue tingling mix of mango, passionfruit and guava. *Not available in Bloomington.
Epic Tart 'N Juicy Sour IPA
6 Pack of 12oz Cans
...
Sour IPA? It's the latest trend in the forever expanding IPA category and Epic took nearly two years perfecting this unique twist on a session IPA. Clocking in at 4.5% ABV, it highlights bright citrus and tropical fruit on both the nose and the finish, with pronounced tangerine, tamarind, and pineapple. Think of it as New England IPA meets Berliner Weisse.
The selection of beer in the US has never been better, but how often do we find ourselves talking about the same handful of styles? Have you tried the latest hazy IPA…Did you try that stout brewed with fill in the blank wacky adjunct? Sometimes revisiting a time-tested classic ends up being a refreshing change of pace. Right on cue, we hear one of our favorite English ales made its way across the pond in six packs – now that's a bloody good deal worth talking about!
Wells Bombardier
6 Pack of 11.2oz Cans
...
Fuggles hops, hard water, and crystal malt – these simple building blocks lay the foundation for this iconic English ale. Bombardier pours deep copper in color, offering aromas of marmalade, toffee, and fresh baked biscuits. The palate begins with a burst of fruity sweetness that quickly tempered by citrusy and herbaceous Fuggle hops. Bold in character, yet refreshingly balanced, this food friendly ale pairs with a wide variety of dishes, but it really shines alongside a slice of Shepard's Pie or a basket of fish and chips. *Not available in Champaign, Bloomington or Springfield.
Wells Banana Bread Beer
6 Pack of 11.2oz Cans
...
So maybe conventional is not your thing, well it just so happens that Wells has a few tricks up their sleeve. Their Banana Bread Beer delivers as promised. Rich caramel malt, fruity British ale yeast and real bananas combine to deliver a silkenly smooth amber ale with an amazingly aromatic nose and a pleasantly balanced finish. A great candidate for beer floats, and/or try mixing some into your favorite stout. *Not available in Champaign.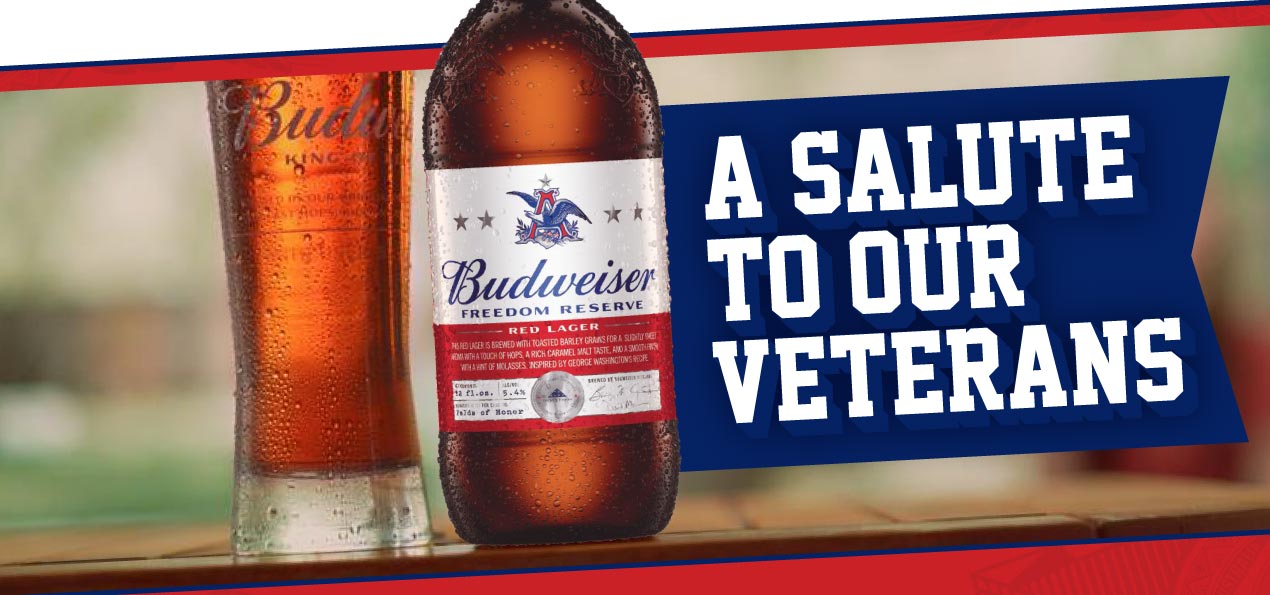 A trio of Budweiser brewers, all veterans of the US Armed Forces, gleaned inspiration from none other than George Washington when crafting Budweiser Freedom Reserve. His 1757 recipe for "small beer" is less a reflection of colonial tastes, as it is a reminder of the many hardships soldiers face in the field. Washington's recipe utilized a quick fermentation time and a heavy dose of molasses to essentially transform questionable water into something potable. Freedom Reserve on the other hand, is a solid amber lager with a touch of molasses on the finish.
Budweiser Freedom Reserve
6 Pack of 12oz Bottles
...
Pouring amber in color, the nose is rich and bright with notes of toffee and caramel. Medium in body, a biscuity malt character is accented by a touch of bittersweet molasses on the finish. Budweiser donates a portion of all proceeds from Freedom Reserve to Folds of Honor – a nonprofit organization that provides educational scholarships to military families.
Brewing is a melding of art and science – it's an old adage that still rings true. Ontario's Collective Arts aims to celebrate brewing as an art form, and their cans serve as forever changing canvas for artist submitted creations. Attractive packaging aside, ultimately the proof is in the pour, and Collective Arts consistently delivers. Here's a taste of the latest liquid artistry from their eclectic portfolio.
Collective Arts Life in the Clouds
4 Pack of 16oz Cans
...
There's no use denying it, "New England style IPA" is officially a thing – it's gone international. Dry hopped with ludicrous amounts of hops, these hazy enigmas explode with massively fruity aromas and flavors, but finish with little to no bitterness. Collective Arts' Life in the Clouds features Simcoe and Mosaic hops, imparting loads of pineapple and guava. The fruit forward finish is refreshingly dry, with just a hint of sweet basil and pine. A great beer at a killer price.
Collective Arts Mash Up the Jam
4 Pack of 16oz Cans
...
Sours and IPAs – two of the most popular styles on the market today. Why not combine the two? This refreshing mash up from Collective Arts features a pair of hops from down unda. Vic Secret produces pronounced passionfruit and pineapple, while Nelson Sauvin delivers its famous wine like topicality. Refreshingly crisp, with a unique finish that's tangy and herbaceous.
Collective Arts Ransack the Universe
4 Pack of 16oz Cans
...
Utilizing hops from both the Northern and Southern hemispheres, this fruit forward IPA adeptly combines the tropical aromatics of Galaxy and Mosaic with some old school citrusy hop bitterness. A bright, lively and refreshing IPA.
Each spring the folks in Decorah take to the forest in search of a woodland delicacy. The delectable Morchella (morel) mushroom is the tiny treasure everyone has their eyes on. Scorpius Morchella is brewed in commemoration of the hunt and for the first time this celebratory brew made its way into bottles. If mushrooms aren't your thing, rest easy, Scorpius Morchella isn't brewed with the illusive fungi, it's simply another delicious double IPA from Toppling Goliath.
Toppling Goliath Scorpius Morchella
4 Pack of 16oz Cans
...
The nose is citrusy and floral, with hints of guava and pine. On the palate there's an initial burst of passionfruit, followed by pine and black pepper. At 100+ IBUs this scorpion's got some sting, delivering a long resinous finish that harkens back to the DIPAs of yesteryear.
When we first tried Founders ReDANKulous we knew it was something special. A massive imperial red IPA - with Chinook, Mosaic and Simcoe hops providing a remarkably dank aroma and finish.h. What would happen if you took this GABF Gold Medal winner and laid it to rest in bourbon barrels? Founders was crazy enough to give it a go. This is Dankwood.
Founders Dankwood
4 Pack of 12oz Bottles
...
A complex mixture of aromas provides a hint of what's to come - toffee, pineapple and pine with a wisp of candied citrus. The palate begins with a blast of caramel, followed by a long bittersweet wave of marmalade and vanilla bean. Dankwood delivers the bold complexity of a barleywine, yet with body and finish of a resinous double IPA. Quite a beer, and a nice change of pace from your typical barrel aged stout.