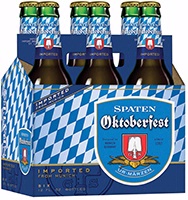 Select Quantities
This item is only available in store. Please select a store to see prices.
Item #821772
Size: 12oz
Type: Lager
Varietal: Oktoberfest
Country: Germany
"Super clear bronze hue. As with most German brews, it has a thick head. Toasty, bready, raisiny and complex maltiness make for a wonderful but not overpowering malt aroma. Medium in body...."
Reviewed by: Beeradvocate.com
Prices, promotions and availability may vary by store and online.
---
Customer Reviews
Most Recent Reviews

Oktoberfest at its Best

Reviewed by: Seeker1114 |

September 04, 2016

This brew is smooth, inviting, with just enough hoppiness so that you don't confuse it with an IPA. I wish this was available all year long. A great everyday brew. I will look into other selections from this brand.

Helpful? 0 0