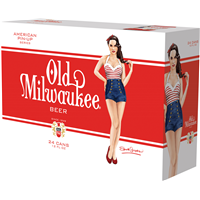 Select Quantities
This item is only available in store. Please select a store to see prices.
Item #812365
Size: 12oz
Type: Lager
Varietal: Big Brewery Lager
Country: United States
Region: Wisconsin
"Old Milwaukee uses a tried and true brewing process and fermentation profile to convert a variety of hops and 6-row blend malt into an award winning, full-bodied, carefully balanced beer. Old Milwaukee has a creamy mouth feel, slightly malty flavor with a hint of corn, low to medium hop bitterness, and a clean finish. 4.6% ABV"
Reviewed by: Producer
Prices, promotions and availability may vary by store and online.
---
Customer Reviews
There are currently 0 reviews for this product