Michelob ULTRA Aluminum Bottles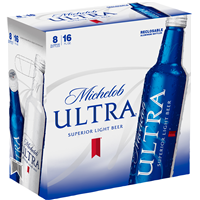 Select Quantities
This item is only available in store. Please select a store to see prices.
Item #943561
Size: 16oz
Type: Lager
Varietal: Big Brewery Lager
Country: United States
Region: Missouri
"Discover Michelob ULTRA, a low carb and low calorie light beer. 4.2% ABV, 95 Calories, 2.6g Carbs (per 12oz)"
Reviewed by: Producer
Prices, promotions and availability may vary by store and online.
---
Customer Reviews
There are currently 0 reviews for this product