Bieken Honey Ale from Belgium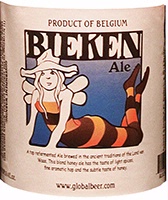 Select Quantities
This item is only available in store. Please select a store to see prices.
Item #28070
Size: 25.4oz
Type: Ale
Varietal: Belgian Golden Ale
Country: Belgium
"...Sweet honey flavour initially that turns very smoky in the middle. A tart, sour bite comes through at the end and lingers into the aftertaste with a bit of alcohol warmth..."
Reviewed by: Beeradvocate.com
Prices, promotions and availability may vary by store and online.
---
Customer Reviews
There are currently 0 reviews for this product