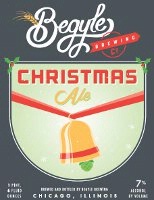 Select Quantities
This item is only available in store. Please select a store to see prices.
Item #66190
Size: 22oz
Type: Flavored / Fruit
Varietal: Spiced
Country: United States
Region: Illinois
"Our Christmas Ale is a spiced beer featuring bay leaves, cinnamon and sassafras. The spices are rounded out by a blend of European style malts and an American ale yeast."
Reviewed by: Producer
Prices, promotions and availability may vary by store and online.
---
Customer Reviews
There are currently 0 reviews for this product