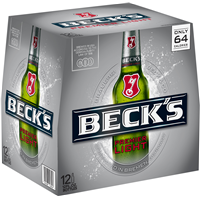 Select Quantities
This item is only available in store. Please select a store to see prices.
Item #820169
Size: 12oz
Type: Lager
Varietal: Big Brewery Lager
Country: United States
Region: Missouri
"Beck's Premier Light, with 64 calories and 3.2 grams of carbohydrates per 12-ounce serving, has a crisp, refreshing flavor uncommon in a light beer. Like original Beck's German Pilsner, Beck's Premier Light features a slightly fruity but firm crispness and a dry, clean finish. 2.3% ABV"
Reviewed by: Producer
Prices, promotions and availability may vary by store and online.
---
Customer Reviews
Most Recent Reviews

A Mighty Fine Brew

Reviewed by: billionaire54321 |

July 19, 2016

At 64 calories, Becks Light will surprise. This culinary delight is smooth, light, and full-bodied simultaneously. A very tasty product that can be enjoyed with everything. Remember, that the 64 includes the entire bottle. So drink as you please but drink with water on the side for hydration.

Helpful? 0 0

best light beer ever!

Reviewed by: abs1213 |

May 29, 2015

Clean, light, low calorie with beck taste

Helpful? 0 0