Our dedicated wine staff is eager to share our knowledge and excitement about all things wine. Stop by your favorite Binny's location, or ring us up at the new and improved Wine Hotline: (866) 975-6188 • wine@binnys.com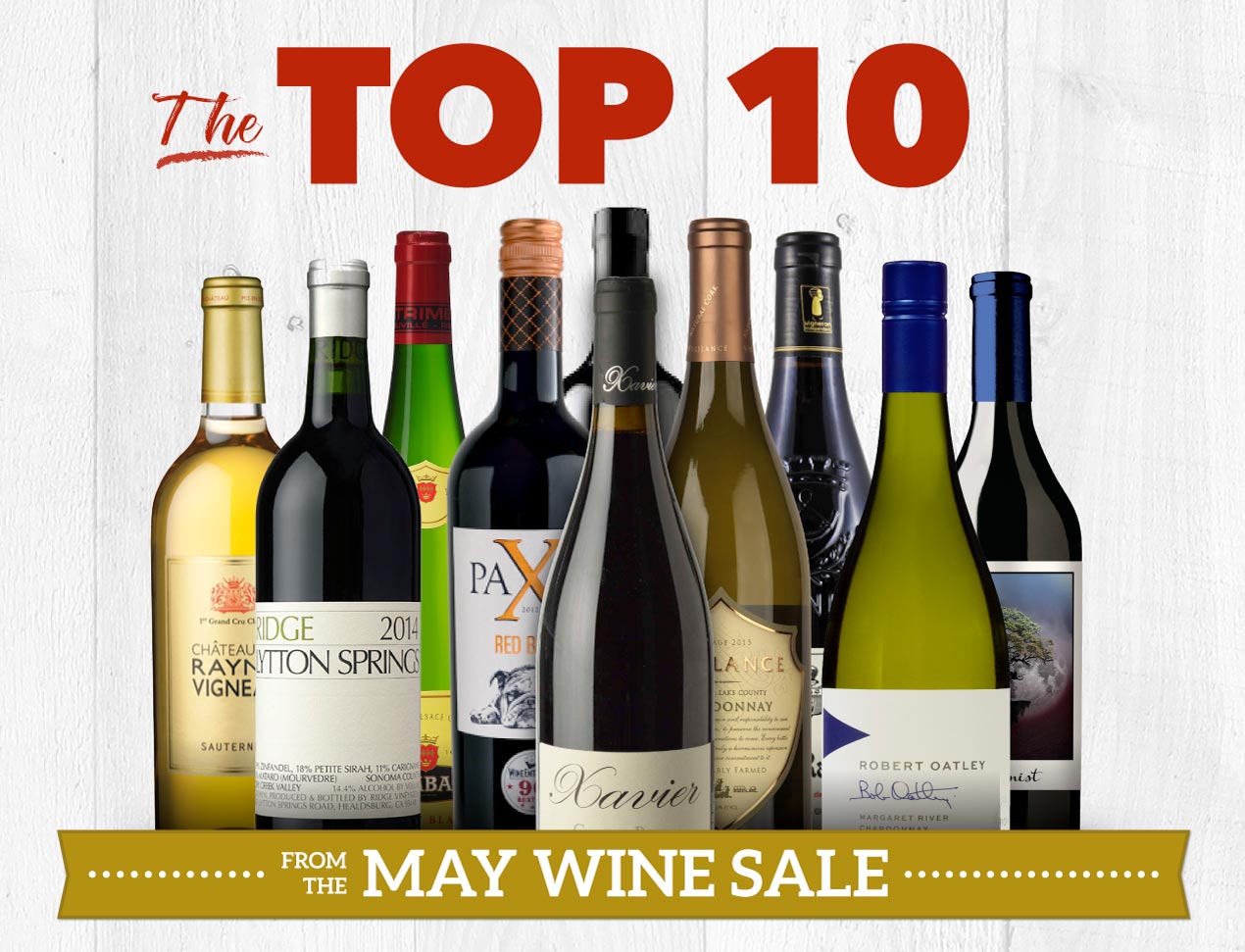 Overwhelmed by the hundreds of wines now on sale at Binny's? Below are what we consider the Top 10 wines from the May Wine Sale. BUY NOW!
#1
90pt Red, Less Than $9
2013 Paxis Red Blend
...
The Douro Valley is one of the world's most dynamic wine regions. Not only is a new generation of winemakers taking the helm. Moreover, its sun drenched vineyards and arid soils prove the ideal location for the vine. There, vines yield dry reds that possess an almost incomparable power and intensity. The 2013 Paxis hammers home the point - blackberries, violets, and exotic baking spices, with soft tannins buried in the fruit. Perfect with BBQ.
2015 Vigilance Chardonnay
...
A New World take on a French classic. Though Burgundy may be the benchmark for chardonnay, the more lush expressions from California are irresistible, as the 2015 Vigilance chard proves. Golden, with citrus notes on the nose. Ripe orchard fruit on the palate, with apples and apricots coming to the fore. Lush, even muscular, this is spot on California chard selling for a song.
#3
Worth Twice the Sales Price
2012 Xavier Vignon Cotes du Rhone
...
A vivacious red from the Southern Rhone crafted by wine consultant Xavierr Vignon, whose clients are among the who's who of the Southern Rhone. From this list of clients he sources barrels of wines, making his among the most expressive and graceful in all the Southern Rhone. And also among the best deals. His 2012 Cotes du Rhone is a case in point. Sweet black fruit, aromatic herbs, black pepper and exotic spice notes emerge with time in the glass, and lingers on the long silky finish. Pure elegance.
2014 Trimbach Pinot Blanc
...
An energetic and muscular white fit ideal for the warm weather ahead of us. Pinot blanc's greatest expressions are undoubtedly from Alsace, where along the region's east facing hillsides the varietal gains an intensity and complexity that other regions can only hope to match. Trimbach is among the more bright and dry expressions of the varietal. Stone and orchard fruit dominate the nose, with mangoes, green apples, and jasmine on the palate. Muscular, precise, and polished.
#5
Drinks Like California Chard - For Half the Price
2015 Robert Oatley Margaret River Chardonnay
...
The Margaret River and its wines have long enjoyed a high regard among discerning enthusiasts. The region enjoys more sunshine and dry weather than others, and more healthy and blight free fruit. Fruit that yields wines marked by a purity and persistence of flavors, as the 2015 Robert Oatley Chardonnay illustrates. Tangerines, peaches, lemons, and vanilla linger long on the palate and the finish. A gem.
#6
As Bold As Anything from Napa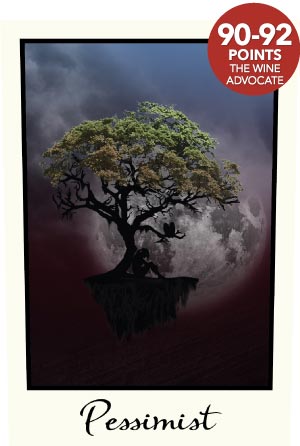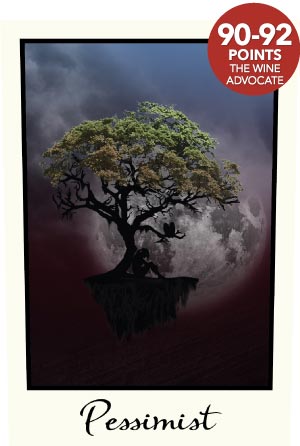 2015 DAOU Winery The Pessimist Red Blend
...
Brothers Georges and Daniel Daou were debating upon purchasing land in Napa. However, they discovered high altitude limestone-rich plots in Paso Robles that yielded not only ripe fruit but also fruit dense with fresh and vibrant flavors. That is, fruit every bit the equal to anything from Napa - as the 2015 Pessimist proves. Black raspberries, cassis, plums, licorice, and mint - all you will find in this voluptuous Napa - excuse me, I meant to say Paso Robles! - wine.
2014 Domaine Raspail Ay Gigondas
...
Gigondas as a whole enjoys higher elevations and limestone soils, both which encourage vivacious expressions of grenache. Bright red fruit, lavender and violets, as well as a cabinet full of baking spices - all you will find in a deftly crafted Gigondas. No one does it more consistently, vintage after vintage, than Domaine Raspail-Ay. Simply put, the estate can do no wrong, as the 2014 vintage illustrates. It's a perennial favorite, and will always have a place on our shelves. Definitely deserves a place in your cellar or on your table.
#8
World Class, and a Comparative Value
2014 Ridge Lytton Springs
...
An uncommonly refined zin masterfully crafted under the watchful eye of Paul Draper. Monte Bello, his iconic Bordeaux blend, earned him lasting fame, but most Ridge fans know him for his powerful yet polished zins. His secret? Old vines, wild yeasts, and submerged cap fermentations - all which yield densely flavored yet vibrant reds whose polished tannins lend a refinement rarely seen in other reds.
2011 Chateau de Rayne Vigneau Sauternes
...
Sauternes and its telltale flavors - an explosion of orchard/tropical fruits with notes of marzipan or honey, and all clothed in the luxuriant feel of cashmere or silk - all come about through the activities of botrytis cinerea, affectionately known as noble rot. Encouraging the attack of noble rot involves risk, and the ROI is modest at best. But should you welcome it, what you may have at the end of your efforts is one of the wine world's greatest delights, as the 2011 Rayne Vigneau illustrates. Honeyed fruit, apricots, oranges, smoked walnuts - all you will find in this tightly corseted dessert wine.
#10
One of Napa's First Cult Cabs
2013 Robert Mondavi Cabernet Sauvignon Reserve
...
Bordeaux, of course, is where cabernet sauvignon first found fame. But the Napa Valley enjoys envious advantages that in turn yield some the world's finest cabs, deep and dense wines whose concentration and depth of flavors can match anything from France. The late Robert Mondavi was among the very first to promote Napa cabs. His Reserve Cab remains a textbook example, and is still one of the finest not only from California but in all the world. A cellar treasure.
Every day our buyers taste new wines and stock our shelves with the latest releases. The Top 10 New Releases below are Binny's approved and ready to enjoy tonight!
2015 Domaine de la Mordoree Cotes du Rhone
...
By all accounts the 2015 vintage throughout the Southern Rhone was an unqualified success, yielding sumptuous wines that seduced all of the critics. And no wonder; overwhelming with red fruit laced with baking spices and aromatic herbs, these hell-bent reds will satisfy both the critic and the connoisseur. As the 2015 Mordoree Cotes du Rhone ably proves.
2015 Barrique Chardonnay
...
A chardonnay that takes the best from both the Old World and the New. Sunny, cool, and dry, the Sonoma Coast yields wines where citrus/orchard fruit notes and mineral hints take center stage. The 2015 Barrique Chardonnay is a telling example. What's more, the fruit is fermented in barrel, which rounds out the wine and imparts a creamy texture without at all obscuring the vibrant fruit notes. A real balancing act of a wine and a stunning chardonnay, especially for the price.
2014 Sivas Sonoma Zinfandel
...
A classic from one of California's longstanding family producers. Boldly flavored, spice inflected, as well as lushly textured - a California zin is all about sinful pleasure. And made so not only by the Sonoma Valley's sunny and cool climate, but also by the clutch of old vines that yielded this wine. Old vines are well known to yield especially concentrated wines, as the 2014 Sivas Sonoma Zin illustrates. Ripe blackberries, peppery spice, and mint suggestions - this is a spot-on zin, enjoyable on its own or with grilled meat.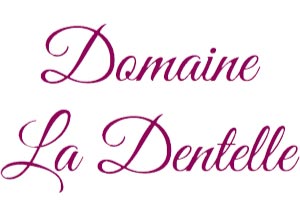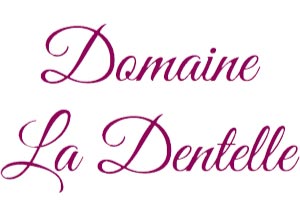 La Dentelle Rose Demi Sec
...
From an obscure region of France, a sparkling wine whose off dry notes and low alcohol content will convince even the most jaded of palates. Though Bugey itself is a tiny appellation and only a stone's throw away from the Swiss border, its sparkling rose wines are known the world over. For good reason. Overflowing with off-dry notes of honey crisp apples and strawberries with just a kiss of bubbles for good measure, a Bugey Cerdon like the La Dentelle is simply irresistible.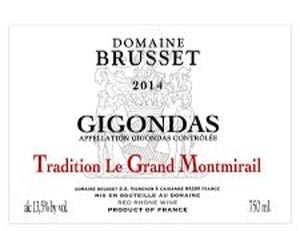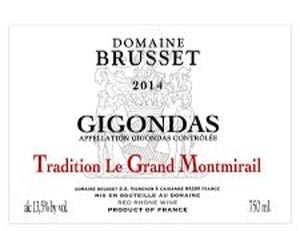 2014 Domaine Brusset Gigondas Le Grand Montmirail
...
The sloped, elevated vineyards common in Gigondas instill into its wines brighter fruit notes and more aromatic nuances, a departure from the more burly, black fruit flavored wines of Chateauneuf-du-Pape. But make no mistake. Though a classic Gigondas expresses the more sensual side of the Southern Rhone, it does so without losing any of the power or intensity that you should expect from grenache. As Brusset's 2014 Gigondas Tradition Le Grand Montmirail proves. Dark fruit on the nose, with black berries, blueberries, and lavender on the palate. Ripe yet lively and vibrant, the wine displays a clarity and persistence that mark it as an especially fine wine for the price.
#6
Drinks Like Twice the Price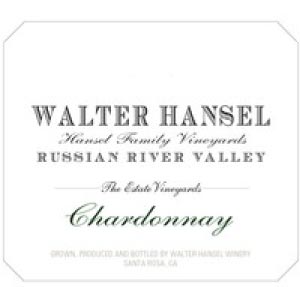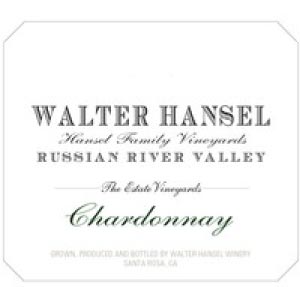 2014 Walter Hansel Chardonnay Estate
...
A California chard that enjoys the Grand Cru treatment in both the vineyards and cellar, and a stunning value according to noted wine critic Antonio Galloni: "A commitment to delivering high quality and fair prices makes Walter Hansel one of the most consumer-friendly wineries in Sonoma." And it is no easy task to keep prices down. Hansel's wines are crafted with biodynamically cultivated clusters, which are fermented with indigenous yeast and see only a kiss of oak - all which add to the final cost. In sum? His chards are some of the best deals in California.
#7
Top Notch California Pinot
2014 Walter Hansel Pinot Noir Estate
...
Chardonnay isn't the only wine that Walter Hansel crafts. His pinot noirs enjoy just as high a regard as his chards, and also enjoy the Grand Cru treatment in both the vineyards and cellar. Demanding backbreaking work in the vineyards to keep yields down, and a light touch in the cellar to ensure the vibrant and haunting flavors that only it can achieve, pinot noir is perhaps the most challenging varietal to craft. Yet somehow Hansel does so with an enviable consistency that sets him apart from his peers.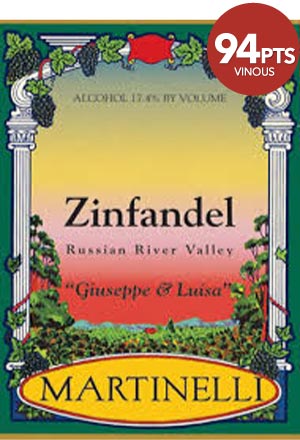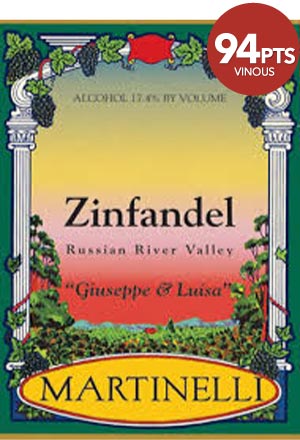 2015 Martinelli Zinfandel Giuseppe & Luisa
...
Crafted by one of the elder statesmen of Sonoma, a bold red made in honor of Giuseppe and Luisa Martinelli, who after eloping established their now highly regarded winery. Their success is due in no small part to their ancient vines of zinfandel, whose scion (grafted onto devigorating rootstock) yield especially dense and flavorful clusters for the estate's G&L cuvee. Red toned fruit, exotic spices, and a bloom of violets - this is an explosive red that somehow remains vibrant and energetic. A wonder of a wine.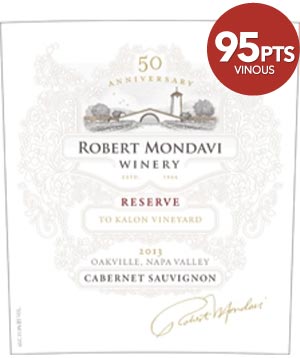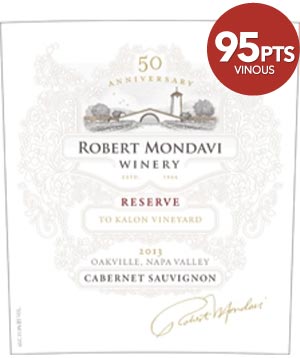 2013 Robert Mondavi Cabernet Sauvignon Reserve
...
More than anyone else, it was the late Robert Mondavi who first championed the wines of the Napa Valley, introducing to the world the wines that today enjoy a renown that is second to none. The estate's 2013 Reserve Cabernet - sourced from the legendary To Kalon Vineyard and now in its 50th vintage! - is among Napa's finest. Broad shouldered and rich, and with a seduction of flavors that that will charm even the most jaded of palates, this is a cabernet that somehow balances both complexity and power. Cassis, savory tobacco, vanilla hints, polished leather, and fine chocolate - this is as classic a Napa cab as you'll likely find.
2007 Vega Sicilia Unico
...
Broad-shouldered and bold, undoubtedly one of Spain's Grand Cru reds. Rioja remains Spain's finest source for classic reds. Yet the Ribera del Duero has proven a fine source for tempranillo, which thrives in the region's unforgivingly hot days and cool nights, yielding especially rich and flavorful reds that can stand toe to toe with any Gran Reserva. Though a number of Ribera estates have emerged, the very first was Vega Sicilia. The Unico is crafted with fruit from some of the Ribera's oldest vines, yielding a wine whose density and concentration of flavors require years to mellow. It is often sold a decade after the vintage - and today's wine is the latest release. The equal to any Gran Reserva, or Grand Cru Bordeaux or Burgundy for that matter. One of Spain's national treasures.
Every day our buyers taste new wines and stock our shelves with the latest releases. The Top 10 New Releases below are Binny's approved and ready to enjoy tonight!
2015 Ninety Plus Cellars Chardonnay Mendocino Lot 122
...
Ninety + Cellars make it their mission to source fine surplus juice for bottling. Not easy. But over the years 90+ established enduring relationships with benchmark estates, and today are reaping the benefits. AND passing the savings onto their customers. This chard illustrates the point: a vibrantly flavored white overflowing with green apples, white peach, and a touch of honey. Simply a stunning value.
2015 Nava Real Rueda
...
Comprised entirely of verdejo, a Spanish varietal that is both rich and aromatic. No easy task to achieve both, yet Nava Real is up to challenge, as this white shows. Overflowing with citrus and tangerine suggestions, with a spicy ginger note emerging on the long finish. A stunning value that would be twice the price were it from France or California.
#3
Tall, Dark, and Handsome
2014 Barone Cornacchia Montepulciano d'Abruzzo
...
Though grown as far north as Romagna and as far south as Puglia, the varietal known as montepulciano earned its fame in Abruzzo. There it gains a ripeness and full-bodied texture matched by few other Italian varietals. Those crafted by Cornacchia, who has cultivated vineyards in Abruzzo since the early 19th century and today does so organically, are especially pure examples. Black cherries, plums, savory herbs and spice - it's all in there.
#4
A Rose for Red Wine Drinkers
2016 Domaine Chantepierre Tavel Rose
...
Tavel is one of the very few appellations in France where rose wines take pride of place, for there grenache vines yield some of the world's most potent roses. The Chantepierre is a hallmark example with its red berries, blood orange, and floral nuances. Its hint of minerality make this ideal to serve with either salmon, tuna, or chicken. But don't hesitate to serve this with BBQ if it strikes your fancy. This is the ideal rose for those who say they drink only red wines.
2016 Storm Point Red Blend
...
From South Africa, a red that can match any southern French blend. Any. South Africa enjoys a centuries old tradition of winemaking, a broad array of soil types, and a wealth of old vines. Aussie Mick Craven of Craven Wines seized the opportunity that the Western Cape provided, and now crafts a a red blend that captures all the power and complexity that the WC's vineyards can yield. Strawberries, blueberries, and plums on the attack, with a floral note that emerges with time. A sumptuous red that is every bit the equal to anything from southern France.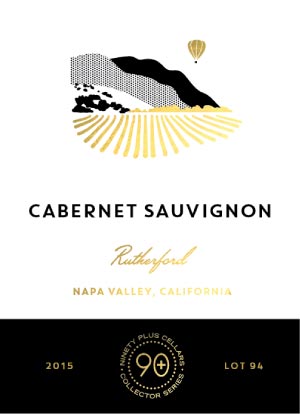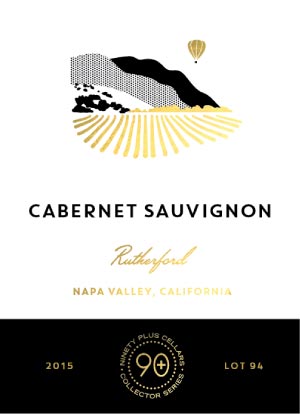 2015 90 Plus Rutherford Cabernet Sauvignon Lot 94
...
With a basket of full of fruit flavors that can overwhelm the senses, this is cabernet at its most ripe. Due largely to the advantages that Napa enjoys: cool bay breezes and morning fogs, as well as southeast and southwest facing hillsides - all which yield thoroughly ripe and full-bodied wines with an envious ease. Inexpensive examples are almost as rare as hen's teeth, yet somehow Ninety + Cellars finds a way. Black currants plums, cinnamon hints, and chocolate suggestions - this 2015 cab is a stunning value.
#7
Benchmark Sauvignon Blanc
2014 Lucien Crochet Sancerre La Croix du Roy
...
A time-honored expression of sauvignon blanc from Sancerre, which to many yields the definitive take of this noble varietal. There, sb is rooted upon limestone rich soils, which yield crisp whites whose punchy, savory flavors have come to define the more classic expressions of this French varietal. Crochet's Sancerre is a telling example with its grapefruit hints and gooseberry savor. Enjoyable on its own, the Crochet is ideal with whatever you might be serving these spring and summer months - from salads to grilled chicken or white fish.
2015 Herman Story Nuts & Bolts Syrah
...
Napa isn't the only place in California where you'll find ripe fruit for sumptuous wines. From high altitude limestone-rich plots in Paso Robles to the ocean cooled vineyards of Santa Barbara, coastal California is awash with sites that yield ripe fruit dense with fresh and energetic flavors. That is, fruit every bit the equal to anything from Napa - as the 2014 Nuts & Bolts Syrah proves. Confited blueberries, maple syrup, black pepper, a bouquet of violets - this hard hitting wine is a knockout.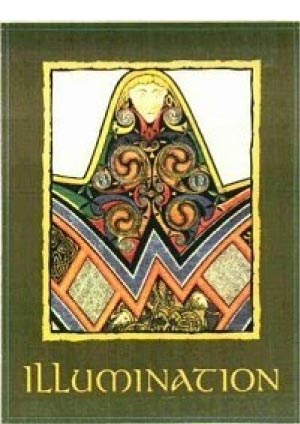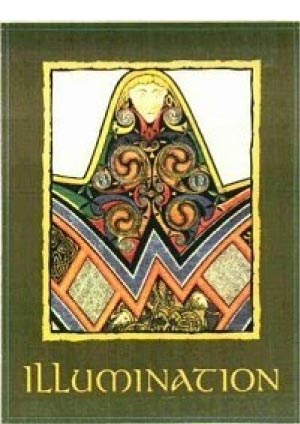 2015 Illumination Sauvignon Blanc Napa Sonoma
...
A top notch California white that can stand shoulder to shoulder with any white wine from Bordeaux or the Loire Valley. Owned by Augustin Huneeus of Quintessa and Veramonte fame, the Illumination is a complex blend of barrel, concrete, and stainless steel fermented sauvignon blanc that somehow captures both the exotic richness and savory/citrus vivacity of this noble varietal. A touch of lees stirring as well as a judicious addition of semillon impart even more richness - yet without compromising any freshness or energy. A powerful wine that is somehow light on its feet.
2012 Altesino Brunello di Montalcino Montosoli
...
For many, the arid, sunny, high-altitude vineyards of Montalcino are Italy's best. There sangiovese thrives, yielding formidable, full-bodied reds that gain a stunning complexity of flavors with time in the cellar. Those from the vineyards of Altesino are among the most refined. Their Montosoli is sourced from a single vineyard, which is planted with a distinctive sangiovese clone that consistently yields a powerful and polished red irrespective of vintage. Black cherries, blackberries, plums, spice, pipe tobacco, wild herbs, earthy hints, even fine polished leather - all you will find in the Montosoli, one of Montalcino's finest wines.
From the strawberry and pomegranate hints of a Loire rosé to the savory mandarin orange suggestions of a majestic rosé from Provence and everything between the two, rosé wines offer a broad range of flavors! Here are the newest arrivals, all from the 2016 vintage, ready to enjoy tonight and this weekend.