Our dedicated wine staff is eager to share our knowledge and excitement about all things wine. Stop by your favorite Binny's location, or ring us up at the new and improved Wine Hotline: (866) 975-6188 • wine@binnys.com
Every day our buyers are tasting new wines and stocking our shelves with the latest releases. Below is this week's Top Ten New Releases, and why we think you should buy a bottle. All are Binny's approved, and ready to enjoy tonight!
#1 Drinks like twice the price
2015 Flaco Tempranillo
...
We've said it before, and we'll say it again - Spain is by far the greatest source for boldly flavored wines that sell for a song. The 2015 Flaco Tempranillo is yet another red that proves the point. Produced from organically cultivated vineyards, the 2015 Flaco is a densely flavored red that would be twice the price were it from France or California. Raspberries, baking spices, violets - its breadth of flavors is mind boggling. Buy it by the truckload.
#2

Owned by a duo Grand Cru Burgundy producers
2014 Triennes Saint Auguste Syrah Cabernet Merlot
...
Can't afford a wine from Aubert de Villaine (a bottle of his Romanee Conti will set you back thousands of dollars!) or from Jacques Seysses (a bottle of his Romanee-St.-Vivant is well north of a thousand dollars!)? Think again! Both teamed up to form Triennes, where affordability is the name of the game. Though cultivated in Provence, the wine reveals a more Burgundian sensibility with its freshness and energy. While still packing a ton of flavor: ripe black cherries, raspberries, nutmeg, and cloves dominate the palate.
#4 From the same producer who crafts First Growth Haut Brion
2015 Clarendelle Blanc
...
Bordeaux blancs match and even outpace the Sancerres of the Loire Valley and the Grand Cru chards of Burgundy, and do so by striking a balance between richness and freshness. A blend of semillon and sauvignon blanc, a classic Bordeaux blanc will capture the best of each - white orchard fruit and exotic tropical hints, a creamy texture, and a savory suggestion and citrus splash that frames all. The 2015 Clarendelle, from the same producer who crafts the iconic Haut Brion blanc, is a textbook example.
#5 From one of California's under the radar AVAs
2013 Falcone Family Cabernet Sauvignon
...
From Paso Robles, whose hillside vineyards are as sundrenched as those in Napa. But what's more, Paso Robles and its soils enjoy traces of limestone, which encourages more healthy berries with fresher flavors. So what we have in the 2013 Falcone is a cab not only as flavorful as a Napa cab, but also more pure and with more spring in its step. And a cab that sells for well under what a comparable Napa cab would cost.
#6 Made with an award winning chef's touch in the cellar
2014 Jerome Gradassi Chateauneuf du Pape
...
Literally. Jerome Gradassi was once a Michelin starred chef. Now a self-taught winemaker, he ferments whole cluster with native yeasts and ages his wines in old barrels. The results? An exceptionally pure expression where energy and freshness come to the fore. A wine that his grandfather would likely recognize and you'd enjoy: dark berries, black pepper, exotic spices on the palate, with a floral perfume lingering in the long finish. this is a wine of a bygone era.
#7 From an estate that consistently over delivers
2015 Gilles Robin Crozes Hermitage Cuvee Papillon
...
The appellation Crozes Hermitage itself surrounds the legendary hillside of Hermitage, and is second in size only to Saint Joseph. In Crozes, northern Rhone syrah is at its most immediate, and often ready to enjoy the day of purchase. Gilles Robin's Papillon is a case in point with its vibrant berry fruit, briny olives, black pepper notes, and lavender/violet finish. This is what syrah is all about.
#9 A perennial favorite
2014 Domaine Raspail Ay Gigondas
...
No one does it more consistently, vintage after vintage, than Domaine Raspail-Ay. The estate can do no wrong. Josh Raynolds scored it 91-93 points: "Spice-accented red and dark berries on the highly perfumed nose. Excellent clarity and lift in the mouth, offering juicy raspberry, bitter cherry and lavender pastille flavors that deepen and become sweeter with aeration."
Every day our buyers are tasting new wines, and every week our stores receive fresh stock. Below are some of the newest releases on our shelves. All are Binny's approved, and ready to enjoy tonight!
2015 Sierra De Viento Garnacha
...
It thrilled our buyers, it thrilled our wine staff, and we're sure it will thrill you. Sourced from old vines of Spanish grenache, the Sierra packs a wallop of flavors. It was a no brainer stocking this on our shelves, and it's a no brainer for your table. Wild black cherries and blueberries on the palate, seasoned with black pepper and violets. Has some real heft on the palate, with not a hint of tannins to be found. Delivers serious bang for the buck.
2015 Jeromin Zestos Blanco
...
A full figured white white whose citrus and orchard fruit notes somehow maintain a cool poise and grace. Made with fruit sourced from old vines of malvar (an indigenous Spanish varietal), that impart an uncommon concentration of flavor. Ginger as well as rose petals emerge with time. A distinctive white, and for those looking to walk beyond the beaten path of chardonnay or sauvignon blanc.
2013 Pinyolet Grenache
...
A diamond in the rough. From Montsant, which surrounds Priorat, one of the world's greatest sites for the vine. Like Priorat, Montsant is an inhospitable environment where the vine can yield especially dense wines. But what's more, the soils that nourish the vines for the Pinyolet enjoy limestone pebbles, which in turn impart an energy and floral freshness into the wine. Ripe berries and lavender, with floral hints and cherries that seem to go on an on in the finish. Like a pinot noir with its tension.
2015 Stringtown Pinot Noir
...
Cool, overcast, unpredictable - Oregon seems an unlikely place to cultivate the vine. Yet here pinot noir thrives, yielding a richer and darker expression of this tantalizing varietal: medium-bodied, with ripe red and blue fruit, with toasty notes, svelte tannins, and dark roasted coffee framing all. The flavors are especially pure and expressive - all the grapes for Springtown are grown without pesticides or chemical fertilizers.
2014 Castello di Volpaia Chianti Classico
...
Another great red made with organically cultivated fruit. The vineyards of Volpaia themselves are among the most highly elevated in all of Chianti Classico, and are therefore not only sundrenched but also especially cool, even for Chianti Classico. These dueling conditions in turn yield vibrantly fresh and graceful wines whose persistence on the palate really stand out among the pack. This is a Chianti Classico for the pinot lover.
2013 Salcheto Vino Nobile di Montepulciano
...
Among Italy's first four DOCGs (Barolo, Barbaresco, and Brunello di Montalcino were the others), nevertheless Vino Nobile di Montepulciano wines are often in the shadow of Chianti Classico. Yet like Chianti, VNdM is comprised of sangiovese, called prugnolo gentile in Montepulciano, whose warmer low-altitude vineyards imbue into its reds a weight and flavor approaching the great reds of Montalcino - yet for only a fraction of the price. Ripe red berries and cherries, savory dry herbs and exotic spices - the breadth and intensity of this organically cultivated 2013 VNdM is mind-boggling.
2011 Nervi Gattinara
...
Old school nebbiolo, from one of the Piedmont's historic producers. Long fermentations/macerations and elevage in ancient oak casks - such hands-off techniques owe their origin to the modest way of life that once dominated the Piedmont, when farmers had little time to manage fermentation or to rack barrels of wine throughout elevage. The resulting wines after time in a cellar were a revelation. There is no better and more affodable introduction to an Old-School nebbiolo wine than those from Nervi. Red cherries, savory tobacco, licorice, game, and rose petal hints - all you will find in this stunning red.
2013 Bodegas Volver Triga
...
Most other varietals simply shrivel in the heat. Monastrell, however, thrives under Spain's summer sun, yielding wines that almost overwhelm the senses. Often, it is tamed by blending with less forceful varietals; yet some dare to bottle the beast either as the dominating varietal or even on its own. Those that dare - like Bodegas Volver - succeed by bringing freshness to the fore. The Triga is an excellent exampple that illustrates what proprietors achieve today with the varietal. Broad-shouldered and muscular with its upfront fruit flavors, the Triga definitely is - but polished and poised as well with its lavender finish.
2012 Fanti Brunello di Montalcino
...
A broad-shouldered, vibrant red from arguably Italy's greatest denominazione. To many, the arid, sunny, mountainous vineyards of Montalcino are Italy's best. There, an especially well suited sangiovese clone thrives, yielding formidably structured, full-bodied, wines that can age for decades in a cellar and gain an almost incomparable complexity of flavors. Those from the cellar of Fanti are among the most polished and vibrant. There you'll find you'll find temperature-controlled stainless steel fermentation vats, which yield a more vibrant and supple red, as well as barriques, which preserve the fresh flavors earned in the vineyard. Dark cherries, raspberries, plums, spice, black licorice, savory tobacco, wild herbs, earthy hints, even fine polished leather - all you can find in this deftly crafted Brunello.
Looking for high-scoring wines that pack a hard hitting price-to-quality punch? Check out the wines below to find the best value wines that punch above their weight class. We took the added measure of highlighting why you're getting more for your money!
2015 Pine Ridge Chenin Blanc Viognier
...
"Silvery straw color. Bright, attractive, tropical aromas and flavors of guanabana, guava, peach cobbler, and figs with a silky, bright, fruity medium body and a smooth, layered, medium-long orange, apple, melon, and banana finish with fine, crunchy, fruit tannins and no oak. A delicious and nuanced white wine with great table appeal."
91 points, Beverage Tasting Institute
5 April 2016
2013 Bodegas Breca Breca
...
"Vivid ruby. Sexy, mineral-laced aromas of fresh red berries, candied flowers and Asian spices, with a hint of cola in the background. Sweet, concentrated and seamless, offering intense raspberry and cherry compote flavors and a touch of vanilla. Clings with impressive authority on the finish, which features supple tannins and lingering floral character. This wine was fermented in stainless steel tanks, then went through malolactic fermentation and 21 months of aging in used French oak barriques. Yields here were reportedly less than a ton per acre in this vintage."
91 points, Josh Raynolds
from Anonio Galloni's website www.vinous.com, September 2015
2012 Xavier Vignon Cotes du Rhone
...
"The 2012 Côtes du Rhône is another beauty by this team. Licorice, roasted herbs, pepper and plenty of sweet fruit come together in this medium to full-bodied, layered, and textured effort. Made from 60% Grenache, and Mourvedre and Syrah that saw mostly concrete tank, it's a smoking Côtes du Rhône (and a fabulous value) to drink over the coming 3-4 years."
90 points, Jeb Dunnuck
from Robert M. Parker, Jr.'s, The Wine Advocate #215
2015 Balthasar Ress Hattenheimer Schützenhaus Riesling Kabinett
...
"Zesty lime pith and lemon notes abound in this lively off-dry Riesling. It's feather-light in body yet radiant, offering loads of pristine tangerine and apricot flavors. It's juicy and approachable yet effortlessly elegant. A widely appealing sip to enjoy from now to 2021."
91 points, Anna Lee C. IIjima
from Wine Enthusisast, 1 February 2017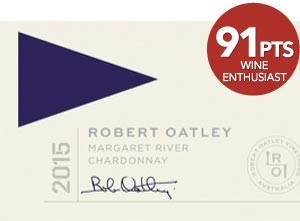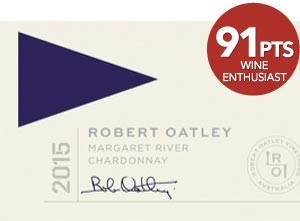 2015 Robert Oatley Margaret River Chardonnay
...
"At the suggested retail price, this constitutes a fine value. It's rich and full in body, but balanced, with "tangerine dream" notes of ripe citrus backed by hints of peach and vanilla. Plush and mouthwatering on the finish, it should drink well through at least 2018."
91 points, Joe Czerwinski
from Wine Enthusiast, 1 February 2017
2014 Chateau Ste Michelle Cabernet Sauvignon
...
"This terrific Washington Cabernet blends French sensibilities with New World energy and vigour. Classic Cabernet with blackberry and cassis, mocha-espresso aromas from the oak and very balanced. Full-bodied and smooth. This Chateau Ste. Michelle Cabernet also includes small amount of Malbec, Cabernet Franc, Petit Verdot and Syrah in the blend. Pair with a pepper steak."
92 points, Natalie MacLean
from her website www.nataliemaclean.com, 30 December 2016
2012 Guigal Cotes du Rhone Red
...
"A wine that should be on the market by the time you read this, the 2012 Cotes du Rhone from Guigal is a smokin' value that offers classic southern Rhone notes of peppery herbs, smoked earth and almost chocolatey dark fruits. Medium plus-bodied, concentrated, with both fine tannin and bright acidity, it will deliver the good for at least 5-7 years."
90 points, Jeb Dunnuck
from Robert M. Parker, Jr.'s, The Wine Advocate #222
2014 Bodegas Borsao Tres Picos
...
"Bright violet color. Heady, exotically perfumed bouquet of ripe red and dark berries, incense and candied flowers, with a smoky mineral overtone and a hint of Asian spices. Intense, deeply pitched raspberry liqueur and cherry-cola flavors stain the palate while displaying a distinctly vibrant quality. Blends power, depth and finesse in a way that's uncommon at anywhere near this price point. Closes sweet, supple and very long, with velvety tannins coming in late to add shape and gentle grip. These bush vines date back to the early 1920s and yield less than two tons of fruit per acre."
92 points, Josh Raynolds
from Antonio Galloni's website www.vinous.com, December 2015
2015 Daou Winery The Pessimist Red Blend
...
"The 2015 Pessimist is one of the more forward, ready to go and sexy releases in the lineup. Made from 37% Syrah, 27% Zinfandel, 31% Petite Sirah and the rest Tannat and Grenache, it gives up tons of sweet dark fruits, spice box, vanilla bean and sweet oak in its full-bodied, nicely balanced, mouth-filling style. It will be ready to go on release."
90-92 points, Jeb Dunnuck
from Robert M. Parker, Jr.'s, The Wine Advocate #226
2010 Chateau Tronquoy Lalande Saint Estephe
...
"A major sleeper of the vintage from the proprietors of Montrose, this wine is now overseen by the man who replaced Jean-Bernard Delmas, Herve Berland, who worked for many years at Mouton-Rothschild. With stunning richness, this blend of 50% Cabernet Sauvignon, 40% Merlot and the rest Petit Verdot exhibits lots of blueberry, boysenberry and mulberry notes, a full-bodied, voluptuously textured mouthfeel and terrific purity and length. The wine is very drinkable now and should continue to drink exceptionally well for at least another 12-15+ years."
92 points, Robert M. Parker, Jr.
from The Wine Advocate #205
"A rich, chocolaty wine, with the structure right up front. Under the same ownership as Château Montrose, this is a wine that reveals all its attractions early with sweet blackberry fruit and powerful tannins. There is some freshness as well, giving fruitiness and acidity at the end."
93 points, Roger Voss
Wine Enthusiast, 1 May 2013
2014 Ridge Geyserville
...
"A classic 2014, the downright sexy, hedonistic and ready to go 2014 Geyserville Proprietary Red Wine (60% Zinfandel, 24% Carignan, 12% Petite Sirah and 4% Mourvèdre) is medium to full-bodied, perfectly balanced and loaded with notions of blackberries, plums, brambly herbs, licorice and spice. It's relatively soft and already approachable, but it will nevertheless keep through 2024."
93 points, Jeb Dunnuck
from Robert M. Parker, Jr.'s, The Wine Advocate #227
"The proprietary red wine, the 2014 Geyserville from Alexander Valley is a big boy at 14.6% alcohol. Made from a blend of 60% Zinfandel, 24% Carignan, 12% Petite Sirah and the rest Mourvèdre, this is a big-time winner in 2014, with copious quantities of juicy blackberry and black cherry fruit, some wood spice and loamy soil undertones. Full-bodied, fleshy and seductive, the wine is clean, pure, textured, and offers sensational drinking now and over the next 7-8 years"
93 points, Robert M. Parker, Jr.
The Wine Advocate #226
As the critics say, the 2014 Bordeaux vintage is outstanding, so don't pass up on the opportunity to buy futures. Critics are now delighted with this sleeper of a vintage and its magical transformation in barrel, and have adjusted their scores accordingly:
"Many wines outperformed their barrel scores by one to three points when I tried them two years ago," writes James Suckling, former critic for Wine Spectator.
"But now comes 2014, which delivers outstanding wines—and at prices that look to be very attractive for U.S. buyers," writes James Molesworth of Wine Spectator.
It bears repeating: the wines remain especially well priced given their outstanding quality! All the wines below offer more for the money. The proof? It's in the bottles below.
Please see individual wines for minimum purchase requirements.