Our dedicated wine staff is eager to share our knowledge and excitement about all things wine. Stop by your favorite Binny's location, or ring us up at the new and improved Wine Hotline: (866) 975-6188 • wine@binnys.com
The Top 10 below are among our best New Releases. All overdeliver, and all are Binny's approved and ready to enjoy tonight!
#1
One of Wine Spectator's Top 100 Wines of 2016

2014 Quinta de Cabriz Dao Tinto
...
Portugal is fast emerging as a source for stunning values, as the Dao's 2014 Cabriz Tinto proves. Situated in the upper third of Portugal, the Dao and its elevated vineyards are surrounded by mountains. Those mountains leave in turn a sunny and dry climate throughout the summer months. That ideal climate - with less work and lower labor costs! - yield not only award winning wines but also value reds such as the 2014 Cabriz Tinto. This is a steal - buy it by the case.
#2
"....value priced… a little gem of a wine."
2015 Delas Cotes du Ventoux
...
From a recently revived estate, one of the southern Rhone's great values. With the arrival of winemaker Jacques Grange, Delas Freres is flying high again. He worked with one Michel Chapoutier, one of the wine world's greatest winemakers, as well as with Jean Luc Colomobo, a leading winemaker in Cornas. And he draws upon all of that experience when crafting wines in the dellars of Delas Freres. Concentration is the hallmark of the estate's wines, as is the sharp pricing.
#3
"....another incredibly high quality Côtes du Rhône from this family."
2015 Clos du Mont Olivet Cotes du Rhone Vieilles Vignes
...
A rocking deal from one of the Southern Rhone's greatest estates AND best values. From hand harvesting to fermenting with native yeasts and cement tanks, everything that Clos du Mont Olivet does is to highlight the fresh flavors of their savory wines, irrespective of the costs involved. What's more, they source the fruit for their wines from old vines, which yield berries dense with flavors. This red can stand shoulder to shoulder with many higher end Southern Rhone wines.
#4
"The importance of Frescobaldi to the Chianti Rufina denomination cannot be exaggerated."
2013 Frescobaldi Nipozzano Chianti Rufina Riserva
...
Grown upon some of the finest hillside plots in all of Tuscany, the 2013 Nipozzano is also crafted by the Frescobaldi family - whose 700 years and 30 generations of family history and collected experience are matched by few others the world over. And the results? One of Italy's finest expressions of its most Italian varietal! Morello cherries, red currants, savory tobacco, and fine polished leather - all you will find in this benchmark Chianti.
#5
"Eroica single-handedly has elevated Washington riesling... into the realm of more serious, German-style wines…."
2015 Chateau Ste Michelle Riesling Eroica
...
A home-grown riesling, and proof positive that Washington state crafts world class wine. A joint collaboration between Chateau Ste. Michelle and Dr. Ernst Loosen of the Mosel, the Eroica successfully marries both Old World charm and New World power. This is an almost exotic expression of riesling that somehow maintains a European poise.
#6
"....a wine you never get tired of drinking."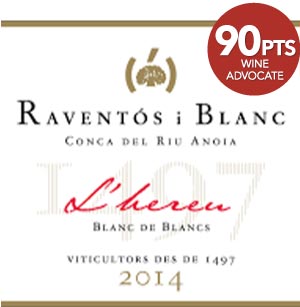 2014 Raventos i Blanc l'Hereu Blanc de Blancs
...
One of the best sparkling wine deals on our shelves, bar none. Biodynamic viticulture here is the rule. Compost and manual labor (rather than chemical fertilizers) are used to sustain their vineyards, and native yeasts are used for fermentation. Doing all this is not cheap, but it ensures that the flavors earned in the vineyards are more purely expressed. The final result? A sparkling wine whose precision and punch can match anything from California or France.
#7
"....in the forefront of Mosel growers."
2015 Monchhof Slate Riesling Spatlese
...
From one of the oldest estates in the Mosel. Upon its cool yet sunny slopes riesling gains an intensity of flavors and a lightness of touch that cannot be matched anywhere else. Creamy white peaches and red apples dominate the palate, with subtle aromatic herbs framing the fruit. Perfect with summer salads or on its own!
#8
"Rich and opulent wine...."
2012 Finca Villacreces Tinto
...
One of the wine world's best kept secrets, an insider's wine to purchase by the case. Not only does Finca Villacreces and its vineyards neighbor Vega Sicilia, one of Spain's undisputed First Growths. Moreover, FV's vineyards yielded fruit for the first few vintages of Peter Sissick's Pingus - one of Spain's greatest and most expensive cult wines. And you'll find that same Pingus DNA and character gloriously expressed in the 2012 Finca Villacresces - but at a fraction of the price.
#9
"....a stunner and another great example from Todd Anderson's vineyard…."
2014 Anderson's Conn Valley Vineyards Cabernet Sauvignon Reserve
...
A standard bearer of the Napa Valley style. Founded by the late Dr. Gus Anderson, who (after graduating from Northwestern University's dental school) worked decades as an orthodontist before establishing his vineyards and winery in Napa's Conn Valley. His geologist son Todd (and current proprietor) was mindful of matching varietals to soil type, a match that in turn laid the groundwork of the winery's enduring success. His wines often fly under the radar, and yet are among Napa's very best. The pricing remains especially sharp given the quality in the bottle.
#10
"True to place and vintage, Clos Erasmus is better than ever."
2014 Clos Erasmus
...
One of Spain's greatest red wines. Crafted by former Parisian attorney Daphne Glorian who in 1988 spent her life's savings on 17 terraces of hillside vines just outside the village of Gratallops. It seemed an act of folly at the time. Today her modest estate and cuvee known as Clos Erasmus are regarded as Priorat's finest, and among the world's great reds. The 2014 vintage proves the point. Silky, persistent, and palate staining - this is an iconic red and cellar treasure.
Binny's Beverage Depot is staffed with the most knowledgeable and OPINIONATED enthusiasts in the industry, and we're thrilled to share our discoveries and with you. Many are rare hidden gems, so ask if you don't see it on the shelf!
2015 Castano Monastrell
...
From the original winemaking pioneers in Yecla, the Castano family monastrell vines (also known as mourvedre) are farmed with sustainable, organic practices. They range in age from 30 to 60 years old... incredible for a wine this price! Stainless steel tank fermentation and aging preserve the natural red fruit driven flavors. This medium bodied, dry wine is a perfect choice for grilled meats or Gruyere cheese. - Tom N., Wine Manager; Champaign
2015 Contini Pariglia Vermentino di Sardegna
...
Beautiful wine for grilled chicken, fish and shellfish. Creamy texture, crisp acidity and a hint of salinity make this an elegant wine for any occasion! - Stephanie K., Wine Consultant; Hyde Park
2015 Niepoort Twisted
...
An easy drinking red made from the classic Douro grapes used for Porto: touriga nacional, touriga franca, tinta roriz & others. Robust, rustic and dry. Just what the Doctor ordered!- Gregory F., Wine Consultant; Hyde Park
2014 Chateau Puech Haut Coteaux de Languedoc Le Prestige
...
The blend is 55% grenache from 60-70 year old vines and 45% syrah from 40 year-old vines. It spends 12 months in concrete and drinks smoothly for a wine that sees no oak. On the nose, you'll notice plum, cherry cola, mint, and the area's herbs de provence and minerality. Dark fruit, spices, lively acidity and a dynamic complexity define the palate. Drinks like a $30+ bottle, and a real steal at $16.99. - Tom P., Wine Consultant; Skokie
2015 Pali Huntington Pinot Noir
...
The goal at Pali is to make terroir-driven wines and to bring these wines to the consumer at the best prices without compromising quality. The 2015 Huntington shows a candied nose of sweet cherries, dark chocolate, cinnamon, ripe strawberries, boysenberries, toasted oak, and dried thyme. The palate offers up bright red fruits, cherries and raspberries up front, with earthy tones of wild mushrooms and black truffles. Long, elegant finish with black licorice, red fruit and hints of black tea. - Barry, Wine Consultant; Plainfield
2016 Chateau Margui Coteaux Varois en Provence Rose
...
This wine has been a great rose option for the last five years or more that I've known it. Structured and complex, it took a while to open up, but eventually it emerged beautifully. Elegant, with a quiet power, subtle garrigue, and dried wild fruits.- Dan S., Wine Manager; Orland Park
La Cle de la Femme Brut
...
Magic Door is, without a doubt, the best bang for your buck when talking champagne! Copious bubbles burst through the pale goldenrod juice, bringing forth delicate scents of herbs, white peach, and apple blossom. Layers of zippy citrus dance around the palate, with just a touch of honey & a hint of spice. Flavors of toast and almond round out the crisp apple notes, ending with a smooth and elegant finish. - Violet E., Wine Consultant; Lincoln Park
2015 J J Prum Wehlener Sonnenuhr Riesling Kabinett
...
J.J Prum is consistently an outstanding producer of traditionally produced German riesling, so I was unsurprised when this was my wine of the night from our recent riesling tasting. Sweet yellow fruits infused with minerality. Love the viscous texture and interplay of fruit and acidity. Showing very ripe for a Kabinett, yet not overly sweet. Delicious wine with food or on its own. - Dan S., Wine Manager; Orland Park
2014 Klinker Brick Old Ghost Zinfandel
...
Made from the same estate as Klinker Brick, this wonderful expression of old vine zinfandel exhibits beautiful dark fruit with a smooth finish. Time to start the grill!- Stephanie K., Wine Consultant; Hyde Park
Guiborat Fils Prisme 11 Blanc de Blancs
...
Fine bubbles with lovely floral, citrus notes that linger on an elegant dry finish. Next generation Champagne at a very reasonable price. This is the wine you talk about while you drink, not drink while you are talking. - Vincent Wong, Wine Consultant; Hyde Park
Overwhelmed by the hundreds of wines now on sale at Binny's? Below are what we consider the Top 10 wines from the July Wine Sale. BUY NOW! All are not only delicious wines, but also great values.
2015 Dona Paula Malbec
...
The ideal wine to serve with bbq. How can you go wrong with a wine that many Argentines consider the ideal beverage to serve with asado (an assortment of grilled meats), their national dish? A robust red, the 2015 Dona Paula Malbec almost overwhelms with red and black berries that are framed by chocolate hints and herbal notes. Where's the beef?
2016 Domaine de Triennes Rose
...
Can't afford a wine from Aubert de Villaine of Domaine Romanee Conti (a bottle of his Romanee Conti will set you back thousands of dollars!) or from Jacques Seysses of Domaine Dujac (his Romanee-St.-Vivant is well north of a thousand dollars!)? Think again! Both Mssrs. de Villaine and Seysses teamed up to form Triennes, an estate in Provence where affordability is the name of the game - without any compromise to quality. Their rose packs a ton of flavor.
2014 Louis Martini Cabernet Sauvignon Sonoma
...
A model California cab at a deal of a price. A long time producer, Louis Martini established vineyards not only in Napa but also in Sonoma, where the sunny yet cool vineyards yield flavorful wine. But at a fraction of the cost when compared to wines from Napa. Blackberries, dry herbs, and toasty hints - it's all in there.
2015 Bodegas Borsao Tres Picos
...
Super-ripe, savory, and sumptuous - grenache has something for everyone! There's no better intro to this varietal than Spain's Tres Picos. One of the world's best wine deals, the Tres Picos overwhelms with red fruit, baking spices, and aromatic herbs. This high-octane red will satisfy any palate.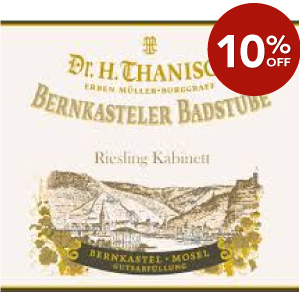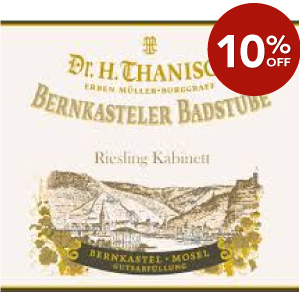 2015 Dr H Thanisch Bernkasteler Badstube Riesling Kabinett
...
The fact that this vibrant and flavorful riesling is from the stellar 2015 vintage makes it a must buy. But what's more, the fruit sourced for this superb white is from Bernkasteler Badstube, one of Germany's most famous vineyards. Its westerly slopes enjoy the warmth of the afternoon sun, which in turn yields ripe and riveting rieslings that have come to define not only the Mosel but also the German style: fragrant, ethereal, and packed with flavor.
2015 DAOU Winery Cabernet Sauvignon
...
Napa isn't the only place in California where you'll find sumptuous cabs. In recent years DAOU has emerged as a reliable source for voluptuous California cabs. Brothers Georges and Daniel Daou discovered that high altitude limestone-rich plots in Paso Robles yielded fruit every bit the equal to anything from Napa or Bordeaux. As their 2015 Cabernet Sauvignon proves.
2014 Flor de Pingus
...
The estate is in the fast rising Ribera del Duero, where tempranillo ripens like no other, oftentimes more ripe than the fruit grown in Rioja. And the Ribera's newfound fame is largely due to winemaker superstar Peter Sissick, who is at the helm of Dominio de Pingus. Ripe black fruit, exotic baking spices, floral hints, and smoky oak nuances - it is all in there.
2012 Beringer Cabernet Sauvignon Private Reserve
...
This is cabernet at its most ripe. Due largely to the advantages that northern California enjoys: cool bay breezes and morning fogs, as well as southeast and southwest facing hillsides (rare in the plains of Bordeaux) - all which in turn yield thoroughly ripe and full-bodied wines with an envious ease. All this the Beringers knew when they first established their estate in 1875. Today, Beringer remains the only winery to have both a red and a white wine named #1 Wine of the Year by Wine Spectator, and the Private Reserve cab is one of those two award-winning wines.
2013 Inglenook Rubicon Cabernet Sauvignon
...
Among the oldest of estates in all the Napa Valley and among the California's very finest wineries throughout the first half of the 20th Century, Inglenook suffered decline and disrepair for a number of years before Francis Ford Coppola (yes, THAT Francis Ford Coppola!) purchased the estate in 1975 and restored to its former glory. Today, Inglenook and its finest cuvee, Rubicon, are now among the wine world's finest.
2009 Les Forts de Latour Pauillac
...
A library offering from Chateau Latour. From one of the greatest Bordeaux vintages of recent decades, the cabs from Latour are the very embodiment of fine cabernet sauvignon - a balance of power and poise that is matched by few others. Finding that balance is no easy task, demanding sometimes a decade or more in a cool cellar for the wine to achieve that harmony. Today's offer was perfectly stored, and the price in line with more current, younger releases. Which means you can buy the 2009 Les Forts de Latour with impeccable provenance and with no premium.