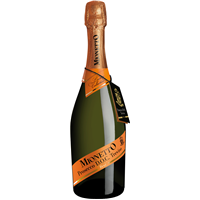 Select Quantities
Prices valid with Binny's Card
This item is only available in store. Please select a store to see prices.
Item #256440
Size: 750ml
Type: Sparkling Wine
Country: Italy
Region: Veneto
"Floral and fresh, this offers a lively bead and good cut to the flavors of apricot, pickled ginger and honey. Drink now." - Alison Napjus, Aug 31, 2014
Reviewed by: Wine Spectator - 86 pts
Prices, promotions and availability may vary by store and online.
---
Customer Reviews
Most Recent Reviews

Mionetto Prosecco Brut

Reviewed by: Bara |

October 05, 2016

Great price vs quality... I love it.

Helpful? 0 0