Over the last decade, American Whiskey has been booming. While Bourbon has the led the way in sales and recognition, America's craft producer's have been up to lots of fun things. Primarily, the evolution of American Single Malt. When we think of Single Malt, we usually think of, Scotland. But with producer's like Stranahan's, America is in the single malt game, and on different terms. These barrels of Stranahan's are uniquely in between both classic tastes from Scotland, and big booming tastes of Bourbon. The best of both worlds if you will.
Stranahan's Colorado Whiskey Barrel #13-1745 Binny's Handpicked
...
Roasted malt and oak spice up front in the aroma with sugars and red fruits underneath. Very well-layered palate with a full structure. Fruits and sugars up front with oak tannins and malt arriving to balance things out. Gorgeous, long finish. Lovely.
Stranahan's Colorado Whiskey Barrel #14-0027 Binny's Handpicked
...
The nose on this malt really jumps out of the glass. Flavors of red fruit, roasted malt, and subtle doses of clove entice. On the taste, red fruit and pepper dance nicely with caramelized sugar and oak spice. The finish fades slowly with sugar soaked red fruit and pepper.
In 2014, Charles Joly left one of the premier cocktail bars in America to focus on this wonderful line of ready to drink cocktails. While regulars of The Aviary most certainly miss this world class Mixologist, the rest of us can rejoice with the high quality cocktails he's given us for enjoyment in our own homes. The line of cocktails from Crafthouse are made with only all natural ingredients, and balanced for dangerously drinkable enjoyment. These are real drinks made by a real bartender, and we've never tasted better pre-mixed cocktails.

The Whiskey hotline would like to thank this great Chicagoan, Mr. Joly, because in all honesty we've had enough straight whiskey to last us a lifetime. We're Chicago proud, and couldn't be happier to have Mr. Joly represent our city with such wonderful concoctions. Now get out there and drink!
Crafthouse Paloma Prepared Cocktail
...
This has always been one of our favorite tequila based drinks on the Hotline. Blanco Tequila lays the base while refreshing grapefruit soda dances in slowly along with lime and cane sugar. The ingredients are in perfect harmony here. A little touch of salt on your glass and things really start to turn into a fiesta.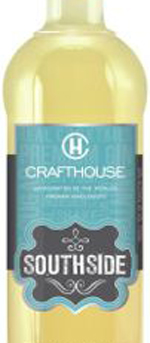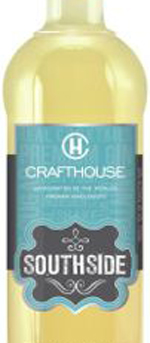 Crafthouse Southside Prepared Cocktail
...
The Southside is another great way to spice things up. We hope to see a West Side, and a Northside as well. Fingers crossed. This majestic drink is gin based. Mint, lime and sugar all blend in nicely for a refreshing delight. The key here really comes down to the fresh ingredients. The taste immediately lets you know that everything in this bottle is of the highest quality. A real treat.
Crafthouse Moscow Mule Prepared Cocktail
...
The mule's popularity has shown no sign of slowing, as we get a constant stream of requests for copper mule mugs. Again, in sipping this cocktail, the skill of the mixologist is on full display with the balance of flavors. Spicy ginger, clean crisp wheat vodka, lime juice and a touch of sugar. This mule certainly kicks, but just the way we like.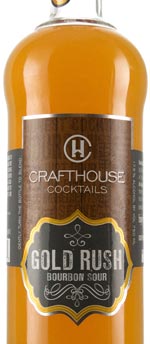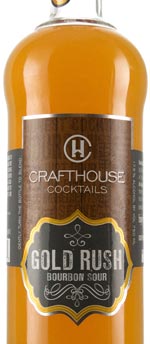 Crafthouse Gold Rush Prepared Cocktail
...
Bourbon, honey, lemon and bitters. Sign us up for this one. Everything is in perfect balance here. Billed as a punch for one, the Gold Rush has us running to the hills to find more. Origins of the Gold Rush tell us that sailors originally drank this to chase off scurvy. Made with Traverse City bourbon.
When it comes to choice and variety in distilled spirits, we have it pretty good in America. Our melting pot of immigrants and cultures over the last few hundred years has given us a selection of spirits as broad as the cultures and traditions they hail from. Sure, rum may have been America's original "native spirit," and bourbon and rye seem to be ubiquitous nowadays but there is a distinct American style and tradition to other distilled treats as well. So celebrate the 4th this year with a nationwide tour of distilled libations.
North Shore Distillery Bourbon Cask Rum
...
North Shore's rums have finally arrived! Distilled from 100% molasses and aged in used bourbon barrels for 4 to 6 years this is not your average craft rum. Rich and fruity on the nose with hints of vanilla and oak spice. Silky smooth with enough bourbon sugars to smooth it out without overtaking the fresh and tropical rum flavors. An absolute delight on its own or in a cocktail.
North Shore Distillery Doublewood Rum
...
This one starts out as the Bourbon Cask Rum but is then aged further with cherrywood and Mexican vanilla beans. Rounder and a touch sweeter on the nose with pronounced vanilla. The vanilla is kept in check on the palate with rich baking spices and oak. Still plenty of tropical fruit to make this well layered and complex. At only $35 these might be our new favorite rums.


J. Henry & Sons 5 year old Bourbon
...
J. Henry is quickly becoming one our favorite Bourbon producers. In fact, a couple of weeks ago at our meet the Whiskey Hotline event this producer defeated some pretty big names in a blind tasting. We can't mention the name here, because we do not keep waiting lists for said item that is released in the fall and of the wheated variety of bourbon in ages that range from 10 to 23 years old and are quickly flipped on the secondary market for ludicrous amounts of bitcoin. On the nose, this bourbon exudes lovely fruit. Baked orchard and tropical fruits mingle nicely with vanilla, toffee, toasted oak and a healthy dose of oak spice. On the taste, dark chocolate and butterscotch intertwine nicely with baked orchard fruits, pepper, oak spice, soft citrus and hints of tobacco. The finish is pleasant in length with spice and toasted oak lingering. An Absolute delight. *Pro-Tip – Make your way to Lincoln Park and purchase the single barrel hand selected by The Bourbon Women of Chicago. Easily one of our favorite single barrels of Bourbon to hit the shelves this year.
Jack Daniel's 125th Anniversary of the Red Dog Saloon Commemorative Bottling
...
It's not technically bourbon, but we can't leave Mr. Jack out, can we? The newest special release from Jack Daniels has just arrived. This bottling celebrates the 125th anniversary of Mr. Jack's "Red Dog Saloon". Those familiar with Lynchburg history will note that The Red Dog preceded Mr. Jack's second establishment "The White Rabbit". The Red Dog opened in 1892, and until now, all that remained was myth and legend. Grab a bottle while you can and sip some of Mr. Jack's fine Tennessee Whiskey.
Whiskey Acres Rye Farmcrafted Whiskey
...
Much like the Whiskey Hotline, Whiskey Acres defies age. This young rye drinks far beyond its years and is one of our favorite new whiskies from the past year. Whiskey Acres is a true grain to glass operation with their ingredients grown on site in Dekalb, Illinois. On the nose, soft wintergreen and warm vanilla undertones with soft spice and pecan in the background. On the taste, round anise notes and dark red cherries arrive along with some clove. The finish is quite pleasant with soft pepper and anise fading slowly. Gorgeous young rye. Distilled from 75% rye and 25% corn.
A.D. Laws Secale Rye Bottled in Bond
...
The age of the Craft Producer is just now beginning to bear fruit. A.D. Laws started production in Denver back in 2011 and has been making waves ever since. Through sourcing top notch local grains in Colorado, perfecting their distilling techniques, and patiently waiting while Father Time did his thing with the barrels, they are now bringing some of our favorite products to market. This is a grain forward rye with lovely notes of fruit and warm oak spice. Wintergreen certainly leads the way both on the nose and the taste. Rich flavors of vanilla, clove, and anise join wintergreen on the tongue for a wonderful layering of flavor. The finish is long and dense with wintergreen and anise fading slowly alongside oak and clove. Layer upon layer of flavor, and well worth a visit. Maybe we should change the lyrics to, "Rocky Mountain Rye".
Chicago Distilling Finn's Gin
...
A more balanced gin than some classic London Dry's with more citrus to round out the juniper, very typical of the new American style. This easy sipping, lemon forward gin is a versatile mixer for any of your favorite gin cocktails.
North Shore Distillery Gin No 6
...
This balanced, citrus-y and floral gin is about as easy drinking as gin gets. Perfect for those new to gin, or for cocktails that need lighter flavors. It really jumps in a classic like the Aviation where it doesn't overpower the violet.
St. George Gin Gift Pack
3 Pack of 200ml Bottles
...
St. George released not one, but three gins to fully express their love for the spirit. Linked by their passion for the art and craft of distillation - and the desire to say something new through the language of gin - Botanivore Gin, Terroir Gin, and Dry Rye Gin each help define the dynamic range of this eloquent spirit. 3 Pack of 200ml Bottles.
Copper & Kings Craft Distilled Brandy
...
Brandy for the Whiskey drinker. This brandy may actually fool you into thinking you're drinking a fruit forward bourbon. At an average age of 8 years old, and aged in a combination of new American oak and ex-bourbon barrels, Kentucky is making noise in the world of Brandy. On the nose, Caramel and vanilla soaked fruit with a lovely backbone of bourbon wood and oak spice. On the taste, fruit and sweet sugars jump out front while cinnamon and pepper mingle in the back with clove and caramelized sugar. The finish is pleasant with fruit lingering longest. Dangerously drinkable and a wonderful Brandy for sipping or mixing. We like to spike our iced tea with a bit of this.
Copper & Kings Double Barrels Cask Strength Handpicked Brandy
2 Pack of 375ml Bottles
...
The brandy wizards at Copper & Kings have a wonderful new gift pack that illustrates brandy's range. These two side by side bottles started from the same raw materials, but through blending and barrel finishing in different sized barrels, now show stark contrast. Volume 1 (60% bourbon, 40% new oak) is a brandy for the whiskey drinker, with notes of nuts, tobacco, dark stewed fruits and toffee from finishing in brandy barrels. Volume 2 (60% new oak, 40% bourbon) is a big, chewy, bourbon-like product of three months finishing in used FEW barrels. Plus, each set comes with a double album sampler download from Bloodshot Records.
Osocalis Rare Alambic Brandy
...
Osocalis has been consistently producing traditional brandy since the early 1990's in the Santa Cruz, California area. This brandy is made from a blend of grape varietals, with an emphasis on Pinot Noir, Semillon and Colombard. Rich, fruity, and floral this is a beautiful brandy with depth and character. A brandy that can go toe to toe with French distillate any day of the year, but especially on the 4th of July.
Variety packs are always great options, because the best whiskey gift is always more whiskey.
Glenmorangie Taster 4 Pack
4 Pack of 100ml Bottles
...
Experience the difference wood finishing makes with this trip through Glenmorangie's range. Known for its beautiful, graceful spirit this set include four 100mL bottles. Taste the original 10 year old plus expressions of the same whisky finished for an additional 2 years in special casks: Lasanta in Sherry, Quinta Ruban in Port and Nectar D'or in Sauternes.
A special treat for a special Dad – Get Dad the gift he'd never splurge for himself.
Wild Turkey Master's Keep Bourbon Decades
...
A blend of whiskies ranging from 10 to 20 years old and bottled at 104 proof. One of the more elegant Turkeys we've tasted, but it still keeps all the distillery's signature notes. Some soft fruit and vanilla oak on the nose along with cedar and tobacco. The fruit kicks in more on the palate but is tempered by anise and a touch of pepper. Silky smooth finish at the high proof. One of the better bourbons we've tasted recently.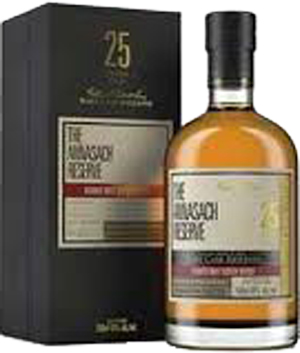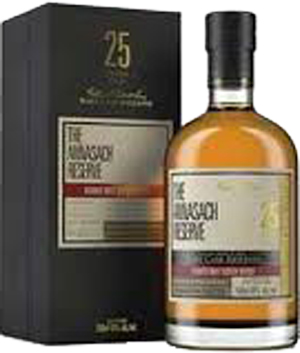 Macallan Rare Cask from First Fill Sherry Casks
...
If Dad loves old, contemplative and sherried whiskies look no further. On the nose, big rich and welcoming flavors of chocolate, raisin, vanilla, and spice. On the tongue, this malt reveals itself as rich and opulent. The taste brings forward dark fruit with chocolates and raisins prevailing alongside perfectly balanced spice. The finish is pleasantly long with raisins, vanilla, chocolates, and spice lingering. Phenomenal with a cigar.
Casa Dragones Luxury Sipping Tequila Joven
...
This smooth sipper is a blend of blanco and extra anejo tequilas. Don't let the crystal-clear appearance fool you, this is a flavor packed tequila. Smooth and soft with honeyed agave notes and a hint of pepper. A touch of vanilla reminds that there is some older, barrel aged tequila in there as well.
Binny's Handpicked Barrels – You won't find a more unique gift than a single cask hand selected by the pros and as usual we have the widest variety around.


Corazon Anejo Tequila Binny's Handpicked
...
This Anejo shows off quality time spent in oak, while retaining its youthful agave flavors. On the nose, vegetal agave in front of cooked green beans, butter, citrus, and white pepper. On the taste, citrus exudes with cooked agave and more pepper. the finish is pleasantly lengthy with anise and stewed citrus lingering while a passing whiff of clove exits stage left.
Corazon Reposado Tequila Binny's Handpicked
...
This Reposado picked up some lovely flavors with time in oak. Up front on the nose, toffee, vanilla and toasted oak. Cooked agave, pomegranate, citrus, and pepper round out the aromatics. The palate reveals deeper oak sugars, rich citrus, cooked agave, and drying white pepper. The finish is pleasant with citrus and white pepper lingering. Dangerously drinkable candidate of the week.
Patron Reposado Barrel #8 Binny's Handpicked
...
Nice cooked agave and butter on the nose with soft pepper and some citrus fruits. Full, fat and round on the palate with soft fruits, dry white pepper, honeyed agave and soft oak spice. Finishes long with vegetal agave and cooked peppers.
Patron Reposado Barrel #9 Binny's Handpicked
...
More delicate on the nose than barrel 8. Soft cooked agave with vegetal notes, pepper and soft oak with a faint whiff of butterscotch in the background. Grassy and vegetal on the palate entry but turns quickly to soft citrus fruits with pepper and some dry oak. Really lovely finish with white pepper and lingering drying spices.
Patron Anejo Barrel #52 Binny's Handpicked
...
Big citrus on the nose with agave nectar, butter and orange spice. Red fruits and citrus jump on the tongue with caramelized agave and oak. Finishes very long with honeyed agave and more citrus.
Patron Anejo Barrel #72 Binny's Handpicked
...
Green apple, cooked agave and orange citrus start the nose with background notes of butter and pepper. Big and full bodied with lots of oaky vanilla and butterscotch on the palate with more of the citrus notes as well. Drying white pepper on the long finish with more citrus and green apple.
Bourbon barrel aged wines have exploded in popularity alongside bourbon. We're happy to offer three different takes on this up and coming style. These wines are aged in traditional oak and then finished for several months in used bourbon barrels to add complexity without the sweet bourbon notes overwhelming the wine.
Barrel Road Bourbon Barrel Aged Red
...
On the nose, notes of black cherry, molasses, and toasted oak. The palate highlights ripe notes of blackberry and plum, followed by toffee, maple syrup, and a hint of caramel oak. The finish is soft and long lasting.
1000 Stories Zinfandel
...
This wine is a blend of Zinfandel grapes from Mendocino and Sonoma counties with some Syrah and Petite Sirah blended in as well for added depth. Red and black fruits on the nose with pepper notes coming in on the palate. The wine is then rounded out with a layer of smoky oak from the bourbon barrel aging.
Robert Mondavi Private Selection Bourbon Barrel Aged Cabernet Sauvignon
...
The base is Cabernet Sauvignon from Monterey County with added Malbec, Petite Sirah and Petit Verdot. The nose opens with dark fruits, red berries and brown sugar. More bourbon aging is evident in the background with notes of coffee, chocolate and a whiff of smoke. Soft tannins and toasted oak balance out the palate and give a long finish.
Glenfiddich Project XX Single Malt Whiskey
...
Finally!! The Glenfiddich XX was one of our favorite drams during our trip to Scotland back in October. This is a combination of 20 barrels selected by 20 different Glenfiddich brand ambassadors. They selected 17 bourbon barrels, 2 sherry butts, and 1 port pipe. The result is wonderful, and one of our favorite Glenfiddich bottlings. The nose is quite lovely with orchard and citrus fruits, nuts, raisin, and oak spice. On the palate, dark stewed fruits arrive with baked orchard fruits, vanilla, toffee, raisin, and clove. The finish lingers with dark fruit and lovely toasted oak flavors. An exquisite creation by the team at Glenfiddich, and well worth seeking out.
broVo Orange Curacao
...
Designed with margaritas in mind by Laurent Lebec from Chicago's very own Big Star. This liqueur starts as a blend of rum, vodka and French brandy. It's then aged on three different orange peels before spices, vanilla and simple syrup are added.
Jefferson's Grand Selection Kentucky Straight Bourbon Finished in Chateau Suduiraut Sauternes Casks
...
Classic Jefferson's bourbon finished in Chateau Suduiraut Sauternes casks. On the nose, sauternes aging is evident but not totally in control. Beneath the golden raisin sauternes notes lay flavors of vanilla, toffee, cooked grain, cinnamon, and dark cacao. The palate reveals large doses of vanilla, toffee, cinnamon, and sauternes all in balance while threatening to jump off the rails. The finish is rather lengthy with sauternes, anise, dark red fruits and cinnamon lingering. Another wonderful twist on America's native spirit.
A.D. Laws Secale Rye Bottled in Bond
...
Denver based Laws Whiskey House has been one of our favorite craft distillers of late, putting out some killer juice on the regular and sprinkling in some excellent Binny's handpicked casks of course. This bonded release is of course aged 4 years, bottled at 100 proof, and distilled in a single season.
Tin Cup American Whiskey Aged 10 years
...
A new addition to the famed Tin Cup line of Whiskey. This time, they've delivered a patiently aged 10 year old high rye American Whiskey that drinks and tastes like a classic High Rye Bourbon. On the nose, vanilla, toffee, dark red fruits, and spice. The palate reveals soft oak spice with soft red fruit, vanilla, and anise. The finish is pleasant with vanilla and cinnamon lingering alongside clove. Overall, this new bottling is rich and pleasant. At $49.99, this is an easy candidate for a daily tipple.
Clyde May's Cask Strength Aged 9 Years Alabama Style Whiskey
...
Cask strength whiskey and aged bourbon seem to be harder and harder to find these days. Clyde delivers on both age and strength with this new release. This is an Alabama style whiskey, so you will taste some apple. However, the bourbon flavors are rich and lead the way in the formidable liquid delight. On the nose, rich caramel, allspice, red apple, and cinnamon. On the palate, apple skins, vanilla, oak, and toffee. The finish is long and pleasant with spice and fruit lingering. A bonafide treat from our Southern friends.
At the Whiskey hotline, we love to study and wood finishes are always one of our favorite subjects. This collection of different wood finishes affords the scholastic drinker the ability to experience three different types of oak and their influence over a solid base control of 10 year old straight rye whiskey.
Masterson's 10 year old Straight Rye Whisky American Oak Finished
...
With a base of 100% Rye, this cask finish allows for the American Oak to shine. Lovely wintergreen notes and spice from the rye, with brown sugar, toffee, and vanilla from the American Oak along with soft clove and anise. A dangerously drinkable rye delight.


Masterson's 10 year old Straight Rye Whisky Hungarian Oak Finish
...
This Rye is matched nicely with Hungarian Oak. The Rye provides the spice, while the oak imparts a pleasant nutty quality. Wintergreen leads the way with soft fruit and nuts in the background. A wonderful example of what good wood selection can do for a whiskey.

Foursquare Rum Distillery 2004 Vintage Single Blended Rum Aged in ex Bourbon Casks Barrel Proof
...
Another incredible bottling by our friends at Foursquare. On the nose, dark rich stewed fruits. Fat vanilla and chocolate linger in the mix with a general underlying nuttiness. The palate is rich and viscous. The taste highlights the bourbon aging with toffee, vanilla, and spice marrying pleasantly with rich warm molasses notes. Finish is lengthy and warm with fruit lingering and spice. Bottled at 118 proof and pulled from ex-bourbon casks.
Papa's Pilar 24 Dark Rum Finished an Additional 120 Days Binny's Handpicked
...
Mesmerizing dark rum. Sweet brown sugar on the nose with caramel and vanilla, plus an herbal element lying just beneath the surface with sherry and port notes. Wonderfully complex and welcoming. The fat body carries loads of flavors. Vanilla, sherry and port, caramel, brown sugar and spice from the wood. Dangerously drinkable and a new Hotline fave.
Hamilton 151 Overproof Demerara Rum
...
This classic rum is distilled from fermented molasses, and aged for up to five years in wood. Complex and surprisingly approachable, this rum shows flavors of burnt sugar, toasted wood, dark fruit, and rich warm spices. A tiki drink mainstay.
Ron Zacapa Centenario 23 Rum
...
One of the richer tasting rums available. Fat and chewy with dark fruits, molasses, orchard fruit and spice on the nose. On the palate, layers of flavor with molasses, dark cacao, vanilla bean, dried fruit, and oak spice. The finish is long with sugared fruits and spice lingering. A wonderful candidate for a daily tipple.