The Whiskey Hotline team is on a never ending mission. We scour the world for the most interesting, unique and best barrels of whiskey we can find. This can take us to Scotland, Taiwan, Washington, Tennessee, Kentucky... Wherever there's good whiskey to be found, we'll find the best of it and bring it to you at the best price we can.


Old Forester Statesman Kentucky Straight Bourbon
...
The newest member of the Old Forester Distiller's Row series is blended from casks aged exclusively in the warmest locations in the warehouses. It's a worthy addition to this underappreciated and well-priced lineup.
On the nose, loads of spice and citrus alongside cooked corn and oak. On the taste, red cherry and citrus flavors spring forward with doses of pepper and cinnamon. At 95 proof the alcohol is sitting in a really sweet spot, not to hot and not to soft. The finish is lengthy with cinnamon and citrus lingering. Really lovely Bourbon and a wonderful date for the movies.
Buffalo Trace Bourbon Binny's Handpicked
...
One of the Whiskey Hotline staples is back. A meticulous marriage of 25 barrels, this hand selected small batch highlights dark chocolate and berries on the nose with a pleasant dose of clove. The palate is richly layered and round with cherry, toffee, tobacco, and mint. The finish lingers with a balance of sweet and spicy anise notes.
Old Pogue Master's Select Small Batch Bourbon
...
After several years of on-again off-again availability we've just received a nice amount of one of our favorite bourbons. Often out of stock and hard to find, this 9 year old Kentucky straight bourbon is a delight. On the nose, spicy grain notes with rye prominently placed alongside vanilla and toffee. The palate shows some soft dark fruits, wood spice, and a pleasant dose of rye. The finish lingers with clove, vanilla, and dark fruits. A wonderful sipper, and perfect with a cigar.
When Grand Mayan, makers of one of our favorite everyday Extra Anejos, offered us the chance to claim our own cask of this ultra-aged beauty we couldn't pass it up. It's not every day we get an opportunity to select a single cask of old tequila, after all tequila rarely gets older than 3 years or so, much less a luxurious tequila over 5 years old.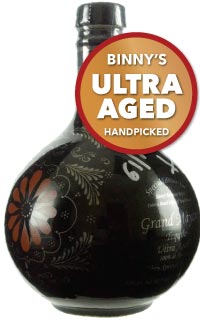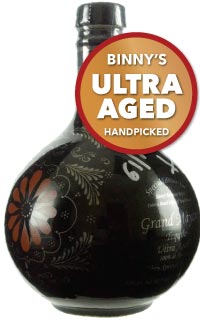 Grand Mayan Platinum Ultra Aged Binny's Special Edition Single Barrel
...
On the nose, dried citrus fruits, pepper, cooked agave, and vanilla bourbon oak spice. On the taste, gobs of juicy citrus fruits, candied orange segments and reduced citrus juice with a healthy dose of cooked agave. The mouthfeel is quite round and full. The finish is on the fruity side with a back end that centers more on pepper and agave with soft anise. One of the best extra aged Anejos we've tasted, and a real honor to have our name on this one. The label says 5 years old…in reality this is actually 7 years old.
These hot new releases just arrived, some in limited quantities. If you don't see it at your favorite Binny's, you know who to ask.
2007 Signatory Strathisla 9 year old Hogshead # 800038 bottled for Vintage Winebow
Distilled on September 13, 2007 and bottled on March 3, 2017 at 58.5%abv from a hogshead. On the nose, perfumed red berries and spice backed by vanilla and clove. On the taste, fruit and spice marry nicely with a round mouthfeel. The finish is robust with red berry and clove lingering. A lovely cask from a sleeper of a distillery.
1997 Signatory Linkwood 19 year old Hogshead # 7539 Bottled for Vintage Winebow
Hoarding alert!! $99.99 for a 19 year old single malt!!?? On top of that, this is a real show stopper and one of our favorite Linkwoods in recent memory…though we never met a Linkwood that we didn't like. Distilled on June 30, 1997 and bottled on March 23, 2017 at 56.6% abv from a hogshead. Lots of layers to unwrap on the nose. Vanilla and honey on top with a body of orchard fruit and malt backed by a savory dose of clove. A boubon-esque flavor seems to be tucked in as well with some tropical notes….guava and mango. Noses much more like an older bourbon matured malt. Much older than 19 anyway. Could really nose this all day, but what fun would that be? The taste brings big, round, lush dark red fruit sugars, tropical fruits, vanilla, and floral clove. The lengthy finish turns tropical fruity at the end with a lingering toffee clove undertone. The belle of the ball.
By the Dutch Old Genever
Genever is a wonderful addition to any summer-loving whiskey drinker's repertoire. Since receiving an AOC designation in 2007 Genever can only be produced in Holland, Belgium, and very specific areas of France and Germany. This Old Genever is nicely layered on the nose. Soft juniper with lovely malt, citrus, clove and spice. On the taste, malt and juniper intertwine nicely while citrus peel and clove balance the spirit. The finish is pleasant with clove and citrus peel lingering. A wonderful sipper, or an obvious choice for classic cocktails.
Gustoso Aguardiente Aged Artisinal Rum
Nicely layered with classic oak flavors of vanilla, toffee, and brown sugar. Orchard fruit, and baked topical fruits meld nicely. Finishes pleasantly dry with sugars lingering.
Gustoso Aguardiente Blanco Artisinal Rum
Distilled from 100% cane sugar from fields in the eastern hills of Uruapan, Michoacan. Unlike cloyingly sweet rums, this one focuses a bit more on the pure cane sugar flavors. Herbal and fruity with nice balance in this blanco form.
Hazelburn 13 year old Oloroso Cask Aged Triple Distilled Campbeltown Malt
This is the lovely triple distilled malt from Springbank. At 13 years and aged in an Oloroso cask, this expression has a wonderful depth of flavor while still allowing the soft nuance of Hazelburn to shine through.
Resilient Straight Bourbon Single Barrel #003 & #006
The latest two single barrels selected by bourbon baron Brian Ciske have arrived in limited quantities with both selections showing nice depth and balance. Distilled from 72% corn, 21% rye, and 4% barley, aged for 10 years and bottled at 107 proof. Full flavored bourbon and a great value. Well worth a try.
Kilkerrin 8 year old Cask Strength Campbeltown Malt
The works in progress were well worth the wait. This 8 year old cask strength bottling hits all the right flavors. Grab these while you can, they won't last long.
Longrow Red 13 year old Malbec Cask Aged Heavily Peated Campbeltown Malt
Longrow is the heavily peated malt from Springbank. At the whiskey hotline, we have a sweet spot for wine finished peat bombs and this bottling hits the spot. As the red series continues to mature, the flavors only deepen, and the glass seems to empty entirely too quickly. Earthy peat and bright red fruits in balance together with a touch of smoke on the finish.
Springbank 13 year old Single Fresh Sherry Cask #1003 Campbeltown Malt
Fresh sherry barrels and Springbank were made for each other. This Campbeltown icon shines brightly with lush, dark stewed fruits mingled along for the ride. Lucky 13 indeed!
Springbank 17 year old Single Fresh Rum Cask #302 Campbeltown Malt
Rich and balanced. Rum finishing is evident but not overpowering in this cracker of a dram.
Springbank 20 year old Single Refill Bourbon Barrel #70 Campbeltown Malt
Admittedly, we're suckers for mature malts in bourbon casks. Tropical fruits emanate from the barrel to give this bottling depth and weight. One of those malts that you can sip on for hours and experience different flavors throughout. A real treat.
Springbank 20 year old Single Fresh Sherry Cask #327 Campbeltown Malt
This bottling checks all the boxes. Mature malt. Whiffs of smoke. Fresh Sherry. Yup…this is good.
This trip took us from the Whiskey Hotline headquarters in Lincoln Park to a hole in the side of a hill in Loretto, KY. Normally we pick liquid from a barrel, but on this mission we were picking the wood.
We flew out on a Sunday night in January. It was cold but nice, fairly typical for Kentucky in late January. Bright and early on Monday morning we headed out to Loretto. Loretto is about 30 minutes south of Bardstown right in the heart of Bourbon country. We went straight to the Samuel mansion and met with the distillers to talk strategy... We then walked to the new cave used for storing the barrels that receive the French Oak stave treatment. One of the crucial things Makers has learned through their experimentation with hundreds of different types of French Oak staves is that they just don't like the Kentucky heat. All of the barrels with added French staves have always turned out best when kept cool. Since Kentucky is far from that for many months of the year they dug themselves a cave to store the barrels in. Well, it's more of a hole in the side of a hill, but the premise is the same. It was there we combined 5 different types of French oak staves, and used 10 total, for barrel finishing our creations for 3 to 4 months with the other hundreds of barrels in the side of the hill. The powers that be at Loretto's finest distillery thought they were great. Even going so far as to say that our spicier take on their tried and true formula was one of the more interesting experiments that had been done in that hillside.
Maker's Mark Binny's Private Select Barrel #5231 Binny's Handpicked Batch #5
...
On the nose, roasted corn leads the way with vanilla, dry spices, dark chocolate and soft fruit. The mouthfeel is quite round and viscous. On the taste, dark chocolate and white pepper with soft red fruits and roasted corn. The finish is pleasant with drying spice, clove, and caramelized sugar lingering. This bourbon shows wonderful balance, while sliding ever so slightly into spicy. It maintains the soft, supple body of Makers Mark but introduces rich spices without ever losing the essence of Makers. Drinks well below the proof, and can be enjoyed neat or in a cocktail.
Maker's Mark Binny's Private Select Barrel #5607 Binny's Handpicked Batch #6
...
Again, a nose full of roasted corn but with caramelized sugar, baked orchard fruit, clove and vanilla-laden oak spice. Lovely body with a coating mouthfeel and medium-full texture. The taste bursts with big notes of baked brown sugar apples, clove and cinnamon. The finish is lengthy with caramelized apples, soft red fruit, cinnamon and clove lingering. Overall this Bourbon is fat and sweet throughout with a nice counter balance of cardamom and clove spice on the finish. Dangerously drinkable and quite pleasant when sipped at bottle strength.
Barrell Bourbon Single Barrel #9E57 Binny's Handpicked 10 years old
...
On the nose, this bourbon shows a nice amount of spice with layers of brown sugar, cherries, and corn underneath. Soft charred oak, and vanilla sneak in on the nose as well. On the taste brown sugar, roasted grain, clove, dark red cherries and a dose of cinnamon. The finish is lengthy with clove and dried red cherry lingering. With a drop of water the nose becomes much more aromatic and floral. The taste and finish get a bit spicier with a bigger anise flavor coming through. Overall this is a fantastic Tennessee bourbon aged 10 years and bottled at 124 proof. It roars a bit at first with some alcohol heat, but with a minute or so of air the alcohol burn seemed to dissipate and all the lovely fruit notes opened up.