This Seattle distillery was founded in 2010 and has been consistently delivering quality and taste ever since. Whether it's whiskey, vodka, or gin this is a distillery that should be on your radar. Waitsburg is a 4 grain bourbon (corn, wheat, rye, and barley) and is full of depth. Lots of classic rye spiciness on the nose with an unmistakably creamy wheat mouthfeel. Waitsburg starts it's life in 10 gallon barrels before being transferred to more traditional 53 gallon barrels for extended aging. It's youthful and fresh, but without all the excessive oak you usually get from small barrels.
Oola Waitsburg Bourbon Whiskey
...
Rye spice on the nose with oak and vanilla. Chewy and spicy on the taste with a soft introduction of cherries, maple, and brown sugar. Pleasant, warm finish with fruit and sugars fading nicely with peppercorn and vanilla. - Binny's
"Pale amber color. Aromas of dill pickle, cedar saw dust, vanilla nougat and pine needle with a silky, dry-yet-fruity medium body and a savory fruit chutney, olive, and smoked peppercorn accented finish. A zesty, young whisky with an interesting range of flavors; will shine on cocktails." - TASTINGS.com
In the Whiskey Hotline's never-ending mission to seek out new and exciting specialty spirits, we occasionally have to get rid of some to make room. Don't miss your chance at some of these treasures at greatly discounted prices. Availability is limited and selection varies by store, so stop by your local Binny's soon if you're on the hunt for one of these bargains.
1999 Signatory Highland Park 16 year old Cask Strength ex-Bourbon Barrel # 800198 Chicago Cask
...
When you think Highland Park, sherry and peat come to mind. We were fortunate to find a mature Highland Park barreled in an ex-bourbon cask. Minus the classic sherry flavors, this Highland Park allows the aficionado to dig deeper into the DNA of the spirit. This malt is quite buttery with soft fruits, smoke, and vanilla cake. Certainly different from the classic profile, but an absolute treat .
Barrel Craft Spirits has been in the news lately for a new distillery they are building in Louisville that hopes to start production later this year. If you're unfamiliar with the Barrel brand they have been putting out single barrels of whiskeys and rums bottled at natural strength for the last couple of years. All the liquid has been sourced from other distilleries and all have been exceptional, especially considering their proof and price.
Barrell Bourbon Single Barrel #7B30 Aged 9 1/2 years Binny's Handpicked
...
Barrell Bourbon has been churning out some amazing juice over the last couple of years. When we were offered a shot at a single barrel, we jumped at the opportunity. The barrel we selected was distilled in Tennessee, and aged for 9 years. The color of this Bourbon is unusually dark. The nose is layered with semi dark chocolate, vanilla extract, some cooked corn, a touch of anise, clove and soft black pepper. Very approachable on the taste for a bourbon bottled at 131.72 proof. Brown sugars, orchard fruits, vanilla and spice are most notable. The lengthy finish coats and lingers with brown sugar, oak spice, and orchard fruits fading slowly with pepper hanging around the longest. With a drop of water, roasted corn and dark fruits become a touch more loud on the nose with a touch of marshmallow. On the taste, anise moves further up the ladder while dark cherries are along for the ride. Finish is still quite long and pleasant with the pepper leading to the end. Grab a bottle while you can. These are in tight supply and are quite the bang for your whiskey buck.
We have several different casks of Barrel Bourbon to choose from, but all are in limited supply. Check your local Binny's and don't miss out on these exceptional whiskies.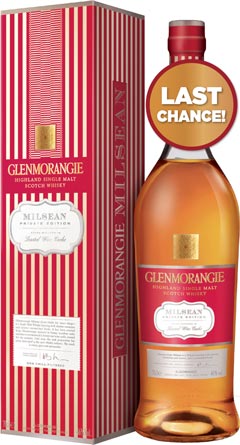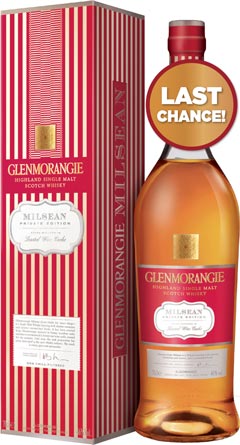 Glenmorangie Milsean 2016 Private Edition Release Finished in Portuguese Red Wine Casks
...
Milsean was the 2016 Private Edition release which was first aged in ex-bourbon casks, then finished in Portugese red wine casks. The flavors of Milsean invoke the aroma's and feelings of walking into an old fashioned sweet shop. Flavors of sugar cane, ripe fruits, and rich chocolates jump from the glass on the nose. The taste brings across flavors of candy, citrus, and cherries. The finish is quite long with brown sugars, ginger, powdered sugar and spice. If you missed out on this release the last of it is on sale for $79.99 but won't last long.
In the Whiskey Hotline's never-ending mission to seek out new and exciting specialty spirits, we occasionally have to get rid of some to make room. Don't miss your chance at some of these treasures at greatly discounted prices. Availability is limited and selection varies by store, so stop by your local Binny's soon if you're on the hunt for one of these bargains.
The Annasach Reserve 25 year old Blended Malt Binny's Select Wm Grants
...
Binny's is thrilled to partner with legendary family-owned Scotch blender William Grant to bring the US's first ever Luxury Blended Malt. Grant gave us access to their extensive library of stocks to construct a complex, rich yet subtle blending of malts aged a minimum of 25 years. Key components include first and second fill sherried malts from Speyside and the Highlands, bourbon aged Highland malts, and a bit of spice from the addition of a thirty year old Islay. If you're a fan of complex whisky, do not miss the Annasach Reserve.
1994 Gordon & Macphail Mortlach 19 year old FF Butt #8172 Binny's Handpicked
...
This Mortlach is unrelenting in its robust flavor. Having been aged in a first fill sherry barrel, this malt picked up the perfect amount of sherry to complement its robust, meaty character. On the nose, stewed meat, cooked plums, raisins, candied vanilla, dark chocolate and soft pepper all work in balance. The taste explodes with red fruits, meat, pepper, raisins and plums. The finish is tingly with a nice balance of anise and pepper dancing with stewed raisins. Just an absolutely wonderful cask of Mortlach.


These hot new releases just arrived, some in limited quantities. If you don't see it at your favorite Binny's, you know who to ask.
Baileys Irish Cream Almande
Rejoice!! This classic Irish Cream Liqueur can finally be enjoyed by those with dairy allergies with this new, dairy-free version.
Rabbit Hole Kentucky Straight Bourbon Whiskey
Nice balance on the nose with vanilla, corn, and anise. Certainly smells older than the 2 year age statement. Anise and dark cherries on the taste with some white pepper and butterscotch. Finish is pleasant and warm with pepper and wood spice lingering the longest. Wonderfully structured Bourbon.
Rabbit Hole Straight Bourbon Whiskey Finished in PX Sherry Casks
Corn and spice on the nose with the customary vanilla. The PX finish is evident with soft, subtle whiffs of dark stewed fruits. On the tongue, the bourbon feels quite round, with more layered fruits and corn. The finish has wonderful balance between pepper wood spice and dark fruits fading slowly.
Rabbit Hole Kentucky Straight Rye Whiskey
Big wintergreen notes on the nose with candied orange segments in the background. The taste reveals a resiny wintergreen texture with more candied citrus and subtle anise. The finish is solid with a distinct candied orange note lingering with wintergreen. Beautiful young rye at its finest.
Two James J. Riddle Peated Bourbon
79% Michigan corn and 21% Scottish Barley are combined in this mash for a one of a kind Bourbon experience. An old twist on a new classic…you know…if Bourbon is new, and peat is old. Think…classic Spaghetti Western where the hero wears a kilt.
Don Ciccio & Figli
At the Whiskey Hotline, we've always got our ears to the ground and cups to the heavens for new and interesting distilleries. We're glad to have Don Ciccio & Figli available for our customers. This Washington, D.C. distillery started in 2012, but the liquor making history in this family goes much deeper. All the way back to 1883.
Don Ciccio & Figli 5 (Cinque) Aperitivo
Classic bitter apertivo. Wonderful on its own or in a cocktail.
Don Ciccio & Figli Finocchietto Fennel Liqueur
A time tested recipe dating back to 1954. Big fennel flavors, black licorice and anise.
Don Ciccio & Figli Amaro delle Sirene Traditional Bitter Liqueur
Made from a recipe dating back to 1931!! This Amaro is aged for 12 months in French Oak Barrels. Flavors of eucalyptus, ripe fruits, herbs and licorice.
Don Ciccio & Figli Nocino
This recipe dates back to 1933. Dangerously drinkable nocino with flavors of green walnuts, caramelized sugars, vanilla, bright red fruits and soft spice.
Don Ciccio & Figli Concerto Espresso Liqueur
Made from a recipe dating back to 1696…..yes…..1696. A rather complex combination of botanicals, barley, espresso, and acacia wood. Pleasantly sweet and bitter with a wonderfully rich texture.
Don Ciccio & Figli Luna Amara Bitter
With a recipe dating back to 1894, Luna Amara is wonderful bitter apertivo styled in the "Italian Bitter of Turin recipe". Bittersweet and citrusy with dark fruits, vanilla, and spice.
If you've followed our handpicked casks program over the last decade or so, it's no surprise to see several bottlings from Caol Ila this year. We're huge fans of the distillery, especially when the whisky is on the younger end of the spectrum. Not that older Caol Ila's aren't good, but there's just something magical about the youthful freshness that creates so many layers of flavor to contemplate.


2006 Signatory Edradour 10 year old Cask Strength ex Bourbon Barrel #110 Binny's Handpicked - 59.9%
...
Big bold vanilla, toffee, and barley on the nose with warm spice. Nice round mouthfeel with noticeable bourbon barrel aging. Big butter, toffee, vanilla, and bourbon notes. Soft fruit and anise show up late on the finish. With water, this baby really sings. Fruit and anise become more noticeable on the nose and the finish actually lengthens. Gorgeous whisky from one of our favorite distilleries.
1988 Signatory Fettercairn 28 year old Cask Strength Hogshead #2018 Binny's Handpicked - 60.2%
...
Dark stewed plums and figs on the nose with soft vanilla and butter. A rather complex bouquet of flavors. The flavor has a floral quality with roasted prunes and cinnamon spice. Long finish with vanilla and spice falling off slowly. With water, this malt really opens up with fruits moving forward and the floral elements intensifying. Lovely and complex with dense flavors.
As wonderful and luxurious as ultra aged single malts can be, young whiskies can hold their own with equally complex flavors. These youths display a depth of flavor one might not expect from 8 year old whiskies and are great examples of the core profile of their respective distilleries.
2008 Signatory Craigellachie 8 year old Cask Strength ex Bourbon Barrel #800123 Binny's Handpicked - 58.8%
...
Craigellachie is an important component of the Dewar's blend. The nose on this youngster is quite dense. Concentrated bourbon flavors with rich warm spices and a faint touch of smoke. Soft green apple skin in the background with some peppercorn as well. The mouthfeel is great, with those dense flavors coating and lingering. The finish is quite long with toffee and vanilla fading slowly. Beautiful malt proving age is just a number.
2008 Signatory Linkwood 8 year old Cask Strength ex Bourbon Barrel #800028 Binny's Handpicked - 62.1%
...
Another sizeable piece of the Johnnie Walker blends, Blue Label in particular, contributing sweetness and floral notes. This barrel is from the same run that we selected in 2015. On the nose, vanilla flavored cake icing, soft spice, toffee and oak. On the taste, this malt turns a touch darker in nature with floral notes and dark red fruits mingling alongside the softer notes found on the nose. Rich warm honey and toffee with fruit. Long finish of spice and fruit with a beautiful floral quality. With water, the floral notes become even more prominent.
Westland Cask #710 Binny's Handpicked
...
Baked apple and leather on the nose with hints of dusty oak and fruit. Full bodied with candied fruit, a hint of vanilla and lingering oak spice. Finish goes on for days. Craft distilled whiskey at its finest.


Kavalan Solist Single Malt Cask Strength ex Sherry Cask #1021 Binny's Handpicked - 58.3%
...
On the nose, sherry is up front and big. Sultanas, dark stewed fruits, leather, soft pepper, and anise. Wonderful flavors on the palate with some baked red apples, cacao, stewed red fruits and anise. The finish is long and warm and a touch drying on the end. With water, the nose thickens with molasses soaked stewed fruits. Big cinnamon spice and anise with a solid spicy finish. Another home run.