The price of older whiskey is skyrocketing. Leave it to Binny's to reverse that trend!These are the oldest Knob Creek bottlings ever, in fact some of the oldest bottlings released from any of the Small Batch Collection Bourbons. Everyone has heard of an upcoming shortage on Booker's, for a short time we're giving you a great deal on 15 year old Knob Creek to tide over.
Knob Creek 2001 Vintage Limited Edition Small Batch Straight Bourbon Whiskey
...
In May of 2016 Beam announced a special edition bottling of Knob Creek to honor the late, great Booker Noe. These would be small batches of 2001 vintage bourbons hand selected by Booker's son and successor, Fred. At $140 these 15 year old bourbons were a real treat, if a bit on the pricey side. If you missed out on the first 2 releases we have have quite the deal for you. Batches 4 and 5 just arrived, as well as a limited amount of batch 2, and we have them on sale for $99.99. The price and the whiskey won't last long, so if you've been waiting for a good deal on an ultra-aged bourbon now's your chance.
Batch #2 - Big, beautiful bourbon full of rich spices and chewy vanilla notes. Dark cherries and toffee up front on the palate fading to oak and anise. Long and robust finish loaded with oak spice and brown sugar.
Batch #4 - Gorgeous nose with vanilla and cherries leading the way with a dusting of spice. On the taste, quite rich and layered with aged tobacco, toffee, corn pudding and vanilla. The finish is long with spice and wood fading slowly.
Batch #5 - Wonderfully layered nose with anise, cherries and vanilla leading the way. The palate reveals big oak spice, fat vanilla and chewy caramel. Lots of dark, dried fruits in the finish with the oak spice notes fading last.
These items are extremely limited and selection varies by location. Please contact your nearest Binny's for availability.
Jim Beam Signature Craft Harvest Collection Triticale Mash 375ml
...
Triticale is a hybrid of wheat and rye, and this 11 year old bourbon gives us the best of both worlds. On the nose, this triticale bourbon has flavors of almond paste, caramel, sugary maple, grain and dark cherries with a dose of oak spice. The taste reveals flavors of cinnamon, maple, and brown sugars. The finish has more brown sugar with oak spice and dark dried cherries fading slowly. An easy choice for daily drinking.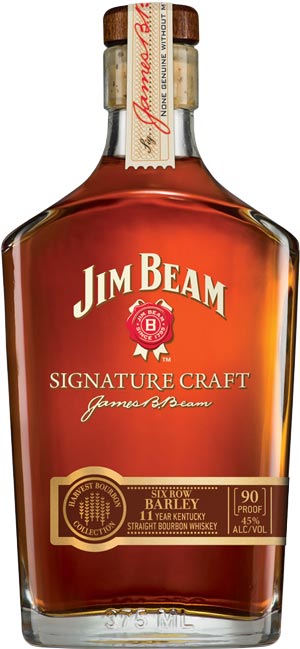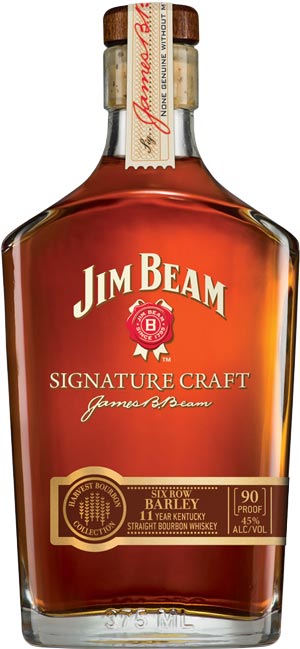 Jim Beam Signature Craft Harvest Collection Barley Mash 375ml
...
This 11 year old experiment was made with six row barley. A subtle and reserved nose shows some hints of husky grain, baking spice, and apple. Flavors of caramel, dark cacao and bright sugars open the taste, with nuts, more sugars and soft dried citrus slowly revealing themselves. The finish is pleasant with dried fruits, cereal grains, and soft cinnamon mixing with a dollop of oak spice. Sweet and vivacious bourbon.
Tis the season for cream liquors, and you don't need to waste your time with the boring old Irish brands. After all, everything is better with bourbon, and The Whiskey Hotline has you covered from small craft distillers to the big boys.
Mississippi River Distilling Iowish Cream Liqueur
...
From one of our favorite craft distilleries comes Iowish cream. As with all Mississippi River Distilling products the ingredients are locally sourced. Iowish features locally roasted coffee along with cinnamon and vanilla. The coffee adds a nice layer and a touch of balance to an otherwise sweet drink.
Headframe Spirits Orphan Girl Bourbon Cream Liqueur
...
A long time favorite of the Whiskey Hotline, Orphan Girl is the perfect combination of sweet spicy bourbon and rich cream. Large flavors of vanilla with an undercurrent of chocolate and cream. Warming and pleasant on the finish with a noticeable dose of bourbon lingering.
Brown Jug Bourbon Cream
...
Brown Jug Bourbon Cream clocks in at 34 proof. With a dash of maple, this Bourbon cream is a wonderful marriage of classic bourbon flavors, cream, spices, and sweet maple.


Ezra Brooks Bourbon Cream
...
The venerable Ezra Brooks has just recently arrived on our shelves with a wonderful bourbon cream. This bourbon cream has a nice mix of nutmeg and cinnamon with buttery toffee and caramel. A wonderful warmer for those cold winter days.
Whisper Creek Tennessee Sipping Cream
...
Classic Tennessee whiskey married with rich cream. On the nose, this sipping cream gives off more cream and butter than sweet sugars. Bottled at 40 poof for a decent warmth and dangerously drinkable delight.
Heritage Hills Bourbon Cream
...
A quality bourbon cream, full of what you might expect. Sweet and chewy with lovely bourbon flavors. On the sweeter side of life with a rich consistency.
If you've followed our handpicked casks program over the last decade or so, it's no surprise to see several bottlings from Caol Ila this year. We're huge fans of the distillery, especially when the whisky is on the younger end of the spectrum. Not that older Caol Ila's aren't good, but there's just something magical about the youthful freshness that creates so many layers of flavor to contemplate.


2006 Signatory Edradour 10 year old Cask Strength ex Bourbon Barrel #110 Binny's Handpicked - 59.9%
...
Big bold vanilla, toffee, and barley on the nose with warm spice. Nice round mouthfeel with noticeable bourbon barrel aging. Big butter, toffee, vanilla, and bourbon notes. Soft fruit and anise show up late on the finish. With water, this baby really sings. Fruit and anise become more noticeable on the nose and the finish actually lengthens. Gorgeous whisky from one of our favorite distilleries.
1988 Signatory Fettercairn 28 year old Cask Strength Hogshead #2018 Binny's Handpicked - 60.2%
...
Dark stewed plums and figs on the nose with soft vanilla and butter. A rather complex bouquet of flavors. The flavor has a floral quality with roasted prunes and cinnamon spice. Long finish with vanilla and spice falling off slowly. With water, this malt really opens up with fruits moving forward and the floral elements intensifying. Lovely and complex with dense flavors.
As wonderful and luxurious as ultra aged single malts can be, young whiskies can hold their own with equally complex flavors. These youths display a depth of flavor one might not expect from 8 year old whiskies and are great examples of the core profile of their respective distilleries.
2008 Signatory Craigellachie 8 year old Cask Strength ex Bourbon Barrel #800123 Binny's Handpicked - 58.8%
...
Craigellachie is an important component of the Dewar's blend. The nose on this youngster is quite dense. Concentrated bourbon flavors with rich warm spices and a faint touch of smoke. Soft green apple skin in the background with some peppercorn as well. The mouthfeel is great, with those dense flavors coating and lingering. The finish is quite long with toffee and vanilla fading slowly. Beautiful malt proving age is just a number.
2008 Signatory Linkwood 8 year old Cask Strength ex Bourbon Barrel #800028 Binny's Handpicked - 62.1%
...
Another sizeable piece of the Johnnie Walker blends, Blue Label in particular, contributing sweetness and floral notes. This barrel is from the same run that we selected in 2015. On the nose, vanilla flavored cake icing, soft spice, toffee and oak. On the taste, this malt turns a touch darker in nature with floral notes and dark red fruits mingling alongside the softer notes found on the nose. Rich warm honey and toffee with fruit. Long finish of spice and fruit with a beautiful floral quality. With water, the floral notes become even more prominent.
Westland Cask #710 Binny's Handpicked
...
Baked apple and leather on the nose with hints of dusty oak and fruit. Full bodied with candied fruit, a hint of vanilla and lingering oak spice. Finish goes on for days. Craft distilled whiskey at its finest.


Kavalan Solist Single Malt Cask Strength ex Sherry Cask #1021 Binny's Handpicked - 58.3%
...
On the nose, sherry is up front and big. Sultanas, dark stewed fruits, leather, soft pepper, and anise. Wonderful flavors on the palate with some baked red apples, cacao, stewed red fruits and anise. The finish is long and warm and a touch drying on the end. With water, the nose thickens with molasses soaked stewed fruits. Big cinnamon spice and anise with a solid spicy finish. Another home run.