Angel's Envy Rye Whiskey Caribbean Rum Casks Finished
...
As our selection of rye whiskies continues to grow, producers strive to find new and exciting ways to stand out. For a non-distiller like Angel's Envy, that means finding a way to make a recipe shared by other brands into something unique. For their Bourbon they decided to finish it in port barrels, imparting notes of dark stone fruit and berry. Their acclaimed bourbon is a tough act to follow, but they really upped their game with this rye. While the rye is a pretty standard 95% rye mashbill, and roughly 6 year old whiskey, some unique cask finishing transforms it into something magical. 18 months in Caribbean rum casks, which previously held cognac, makes for one of the most complex rye whiskies on the shelf.

The nose opens with a blast of sugar, some maple and an almost sherried quality with notes of raisins and figs. On the palate this is a wild ride, with spicy rye notes, loads of molasses and rum, more rye, and finally a rich rum fruitiness. It's almost like it doesn't know if it's a rye whiskey or a rum, but as fans of both, we love it. At 100 proof, all these competing flavors are very distinctly layered. The rye nearly takes over the finish with pepper and baking spices, but a candied maple element sneaks in to balance things out. In a sea of ryes sourced from southern Indiana, this is a real standout.
WhistlePig FarmStock Rye Whiskey
...
What do Vermont, Canada, and Indiana have in common? Whiskey! Beautiful, gorgeous, wonderful rye whiskey! The lastest release from our friends at WhistlePig combine all three states bounty into one wonderful rye treat. 31% of the blend is 12 year old rye from Indiana. 49% is 5 year old rye from Canada. 20% is 1 year old rye from WhistlePig. This is quite exciting, as this is the first bottling of WhistlePig's rye that was made from their own grown grain, locally made barrels, and their own well water. One year is still quite young and raw, so the other 2 stocks of rye were added to balance this bottling out. On the nose, honeyed oranges with warm vanilla, caramel, and wintergreen. The taste reveals more rye spice, baking spices, soft fruit and subtle citrus. The finish is nicely layered with dark cacao, candied orange segments, wintergreen, cinnamon, and clove. Very exciting, and quite allocated.
Basil Hayden's Rye Whiskey
...
Basil Hayden, known for being one of the higher rye bourbons on the market, has gone and given us what we always wanted more of…..rye!! As we all know, Basil Hayden Sr. was the Old Grandad referred to on the famed bottle that bears that name. Old Grandad would be quite proud of this full bodied, robust, warm, and spicy rye. Aged for 4 years in standard 53 gallon barrels, then transferred to age an additional 7 years in smaller quarter cask barrels, this rye has seen plenty of time in wood. Then this extra matured rye was co-mingled with traditionally aged Jim Beam Rye for balance. On the nose, spicy rye grain, baking spices, and oak with soft fruit. Makes us think of wintergreen being poached in butter. Orange blossoms arrive on the nose with some time to let the whiskey breathe. The taste reveals more spice from the rye, with clove, vanilla, and caramel. The finish is pleasant with baking spice and rye spice fading nicely. Candied orange segments and wintergreen roar back in on the end of the long finish. A wonderful addition to the rye selection at Binny's.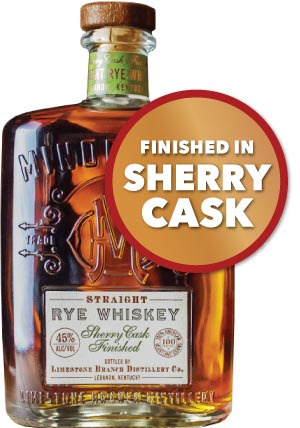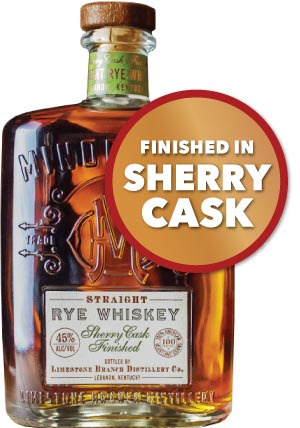 Minor Case Straight Rye Whiskey Sherry Cask Finished
...
Limestone Branch gave us some wonderful new bourbon 2 years ago in the form of Yellowstone. Now, they've given us an exciting new rye. This young whiskey is two years old, however rye tends to drink quite nice at this age. Another young rye on the shelf isn't exactly newsworthy on its own, except this one was finished in sherry barrels. The sherry really added some nice layers of flavor and body to balance out the youth and rye spice. On the nose wintergreen, corn, vanilla, and dark stewed fruits all blend together. The taste reveals a nice balance of young rye spice, dark stewed fruits and rich baking spices. The pleasant finish lingers with wintergreen, anise, and more of those dark, sherried fruits fruits fading slowly. A welcome addition to the rye collection.
Oppidan Rye Batch # 22 Cask Strength Single Barrel #140 Binny's Handpicked
...
This Rye was aged for 11 months and 14 days in a 15 gallon barrel with char 3 level. Bottled at a generous 61.60% abv. The nose on this rye is surprisingly delicate considering the alcohol percentage. Classic wintergreen flavors are on the nose, but a red rope licorice note is leading the way. Dark red fruit and spice. Flavors from the nose continue on the taste with the red rope and dark fruit out front. Clove and red rope licorice hang around for a while with cocoa powder arriving late on the finish. With a drop of water, the nose transitions to a sweeter rye with vanilla, toffee, and clove up front. Sticky red fruit and brown sugars are bigger and rounder with water. Finish is a touch spicier with red rope sneaking back in with cocoa powder. Really long finish.
Oppidan Rye Batch #19 Cask Strength Single Barrel #47 Binny's Handpicked
...
This Rye was aged for 1 year 9 months and 11 days in a 30 gallon black swan honeycomb barrel with a char level of 3. Bottled at 62.38% abv. The nose is a touch hot initially with the alcohol. After that burns off, a gigantic dose of cocoa powder jumps up front on the nose with a hint of sticky red rope licorice bubbling underneath. Soft herbal wintergreen and clove. Dark cocoa powder comes through on the taste along with red rope and dark stewed fruits. Clove and cinnamon for good measure. Look cocoa finish. With a drop of water, the nose moves more towards dark fruit and spice with cocoa moving back a touch. The mouthfeel really opens up with water as fruit grows with chocolate now instead of cocoa. Anise leads the way on the finish along with dark chocolate.
A.D. Laws Secale Rye Barrel #69 Binny's Handpicked
...
This Straight Rye is made from a combination of 47.5% raw rye, 47.5% malted rye, and 5% malted barley. Aged for over 3 years in a new 52.8 gallon white oak barrel. Gorgeous nose with heather, honey, caramel and field clover. Wonderful mouthfeel with apples, oatmeal cookies, cedar, cinnamon sandalwood and pepper. Long finish with orange peel.
A.D. Laws Secale Rye Barrel #26x Binny's Handpicked
...
This Secale Rye is made from a combination of 47.5% raw rye, 47.5% malted rye, and 5% malted barley. Aged for over 3 years in a used 52.8 gallon white oak barrel. The second fill barrel allows for the Rye to be more grain forward. Lovely nose showing dry Christmas fruit cake, salt, mint, leather, and earl grey tea. The taste gives way cut field grain, black pepper and mint. The finish is dry and peppery with sweet fruit undertones.
High West Double Rye Binny's Handpicked Barrel #3634 Finished in ex-Blended Malt Scotch Cask
...
A wonderful example of some of the creative wood finishing techniques used at High West. This spicy Rye jumps on the nose with wintergreen and anise with a nice undertone of barley and corn. The taste reveals soft citrus, baking spice, and wintergreen. The finish is nicely layered and complex with subtle undertones of barley, while wintergreen and anise lead the way.
Whiskey Acres Rye Farmcrafted Whiskey
...
Soft wintergreen and warm vanilla undertones with soft spice and pecan in the background. On the taste, round anise notes and dark red cherries arrive along with some clove. The finish is quite pleasant with soft pepper and anise fading slowly. Gorgeous young rye. Distilled form 75% rye, and 25% corn.
Journeyman Distillery Last Feather Rye
...
Bakery notes on the nose, with hints of orange peel and exotic nuts. Oranges and peaches on the palate, with waves of black pepper and baking spices following the fruit. Coriander and ginger on the finish. A beautifully layered and robust rye.
WhistlePig Old World Series 12 year old Rye Balthazar Marriage of Casks Binny's Handcrafted Small Batch
...
A blend of 40% Madeira, 40% Sauternes, and 20% Port finished Rye Whiskey. The Rye was aged for 10 years in standard barrels, then was finished for 2 years in the different wine barrels. This enlightened blend really has a nice richness and balance. Classic wintergreen is evident with fat rich chewy elements of Sauternes and Madeira dancing alongside soft sweet aromas of Port. Whistle Pig Rye is really amazing on its own, with finishing in wine casks, a layer of complexity just lifts the overall quality to a different level. Exceptional Whiskey.
2012 Cody Road Cask Strength Bourbon Binny's Handpicked Barrel #12-0185
...
This hand selected barrel of Bourbon from Cody Road has a very interesting nose. Layers of flavor here for you to sift through. We're picking up strong notes of spiced Christmas cake, orange zest, clove, vanilla, toffee, and butterscotch. The palate on this is dynamic. Nice viscosity and weight, with a spicy punch in the middle. The finish is rather lengthy. Pepper spice with fat rich vanilla, toffee, and a dose of dark cherry anise to really round things out.
Johnnie Walker Blenders Batch 10 year old Triple Grain American Oak Blended Scotch Whisky
...
The "Blender's Batch" series of experimental whiskies from Johnnie Walker highlight the broad range of flavors that can be achieved from even the slightest variations in blending and maturation. In this latest release, the focus is on three different grain whiskies. Made from wheat, barley and corn, some were distilled at the now-closed Port Dundas distillery. These grain whiskies are blended with malts from two distilleries, Cardhu and the always excellent Mortlach. The nose is fat and sweet with hints of sweet spices and citrus peel. The palate is surprisingly chewy with a sweet grain character and baking spice. A slight whiff of smoke creeps in on the long, soft finish.
Cutty Sark Prohibition Edition Blended Scotch
...
Thousands of thirsty Americans survived the dark age of prohibition thanks to Captain William McCoy, who bravely smuggled Cutty Sark Scotch into the country to quench the peoples' thirst. It is because of his efforts that Cutty Sark was often referred to as "The Real McCoy". Cutty Sark Prohibition Edition celebrates Captain McCoy and this 100 proof blend is amazingly complex and delightful for such an affordable dram. Prohibition delivers on quality much like the piano playing of McCoy Tyner on his record, The Real McCoy. Now that we're thinking about it, this is actually a great dram for sipping while listening to your favorite Jazz record; but back to the whisky. On the nose this blend is pleasantly complex and full bodied. Aged in American oak casks, classic flavors of tropical fruit, vanilla, toffee, and spice intermingle nicely. The taste reveals a fantastic balance of sweetness and spice with almonds, cacao, orchard fruits and baking spices working in concert together much like a rhythm section backing a soloist. The finish is warm and pleasant with peppercorn and spice fading softly with toffee, vanilla, and orchard fruit.
If you're not familiar with the incredible whiskies coming from the Kavalan Distillery in Taiwan you've really been missing out. Over the last several years, few distilleries have garnered more praise or won more awards. Considering Kavalan is ten years young, this is a tremendous feat and much of their success can be attributed to the late, great Dr. Jim Swan. Dr. Swan guided Kavalan for the past ten years and helped establish the unique character that has won them so much praise. We were lucky enough to enjoy a dram or two with Dr. Swan and treasure the wonderful conversations we had over whisky. He is greatly missed, but his legacy lives in each of these wonderful whiskies he helped bring to life.
Kavalan Amontillado Cask botled at Cask Strength
...
Gorgeous color on this malt, with lush fruit, marzipan, toasted almond, toffee, and spice up front. The taste reveals dark stewed fruits, caramelized sugar, and spice. The finish is long and warming with pepper spice and dark fruits fading.
Kavalan Manzanilla Cask bottled at Cask Strength
...
On the nose, this malt is layered quite nicely with ripe tropical fruits, cacao, toffee, and a tinge of salt and spice. The taste releases more tropical fruits, soft citrus, spice and herbs. The finish is well rounded with fruit and spice fading slowly.
Kavalan Moscatel Cask Bottled at Cask Strength
...
The nose on this Kavalan is simply sublime. Dark cocoa, dark stewed fruits, caramelized sugars, toffee and baking spice. The taste reveals multi-layered complexities of butter soaked fruits, toasted almond, cocoa, and soft spice. The finish is long with fruit and spice fading ever so softly. A real stunner.


Kavalan Pedro Ximenez Sherry Cask Bottled at Cask Strength
...
Pedro Ximeniz and single malt go together like a horse and carriage. Truly love and marriage with this offering from Kavalan. The nose is robust with classic jammy PX notes alongside soft herbal tones, citrus, dark fruits, and baking spice. The taste gives us more pronounced fruits, oak spice, sultanas, and raw honey. The finish is long with fruit and spice fading slowly. Goodbye tax refund.
Kavalan Port Cask Bottled at Cask Strength
...
On the nose, red berry, walnut, and almond up front. Soft citrus, and oak spice in the back. The taste holds dark chocolate, dark fruits, red berry, oak spice, and a touch of vanilla. The finish is wonderfully long with red berry and oak spice fading last. A special dram for the anoraks of the malt world.
As much as we love a fine Cognac at the Whiskey Hotline, Cognac's consistent production methods and an overall lack of innovation make for a somewhat stagnant category that just doesn't generate the same level of excitement that whiskey does. Thankfully the masterful blenders at Pierre Ferrand are here to shake things up a bit. The first edition of their Renegade Barrel is a cognac that has been double matured, a rarity in itself. It aged first in traditional Cognac casks, and then finished for a time in Sauternes casks.
Pierre Ferrand Renegade Barrel Cognac
...
Wow, what a nose. Waves of tropical fruit, banana, and fruit cocktail syrup balanced by some light and spicy oak. The palate is very full bodied for a Cognac, and starts with a burst of fruit just like the nose. Loads of tropical fruit with honey and caramel and a hint of spicy oak at the back. A little pepper to balance things out in the finish, with the honeyed fruits lingering longest. Our new favorite cognac.


Macallan Edition No. 2
...
The newest release in Macallan's yearly Edition Series has arrived. Edition No 2 is a collaboration with the Roca brothers of acclaimed restaurant El Celler De Can Roca from Girona, Spain. Seven different casks from four different bodegas have been blended to create this luscious single malt. On the nose, notes of bright orange and citrus jump with some sherried fruits and ginger in the background. The palate is big and round with dark fruits, marmalade, and baking spice leading to a long, richly sherried finish layered with more spices and citrus. Bottled at a generous 48.2% this is classic Macallan sherried goodness but with more balance from the pronounced citrus notes. It's great to see a Macallan offering this tasty at a reasonable price.
1792 Binny's Handpicked Full Proof
...
On the nose, big red apple skins and lush tropical fruit flavors along with vanilla and soft baking spices. The taste reveals big tropical fruits and pleasant oak spice. The finish fades slowly with oak spice, clove, and tropical fruit fading back in late for a wonderfully long finish.
Jefferson's Ocean Aged at Sea Bourbon Cask Strength Voyage #10
...
The journey was worth the wait. Jefferson's Ocean has always been an intriguing bourbon, being aged at sea and all. This batch actually visited 5 continents and crossed the equator 4 times on its journey. That slight hint of salinity added by its time at sea works wonders with the caramel notes already present in the bourbon. As usual, bottling at cask strength makes everything bigger, bolder, and better.
Wyoming Whiskey Limited Edition Double Cask Straight Bourbon Finished in Sherry Casks
...
Wyoming Whiskey continues to elevate the game. This newest delivery from Kirby, Wyoming is a five year old wheated bourbon finished in sherry casks. These finishing barrels are actually a combination of two different barrels that formerly held px sherry and red wine. The barrels are somewhere between 40 to 60 years old. The blender's skill is on full display here with the sherry complementing the mature bourbon, instead of dominating it. On the nose, cooked wheat and corn mingling with stewed dark fruits, vanilla, clove and a sprinkle of cinnamon. The mouthfeel is quite round and chewy. On the taste, vanilla, corn, dark fruits and soft spice. The finish is long and pleasant with red fruits and oak spice fading away slowly. Just an extremely well put together whiskey. Highly recommended by the whiskey hotline.
2011 Wyoming Whiskey Outryder American Straight Whiskey Bottled in Bond
...
Another amazingly delicious barrel of whiskey from Wyoming. The mainstay in the stable is wheated bourbon but this new offering is a blend of wheated bourbon and American whiskey. The mashbill on the American component is 40% corn, 40% rye, and 20% malted barley. The added depth of rye in this blend really jumps out and provides complex layers of flavor. On the nose, warm rich toffee, wintergreen, clove and vanilla with cinnamon. The taste reveals layers of toasted oak, clove, vanilla, toffee, dark red fruits and cooked grains. The finish is warm and pleasant with spice fading slowly. A must try.
Christian Brothers Sacred Bonded Brandy
...
This is the first grape based bottled in bond Brandy in America. Aged in white oak American barrels at Heaven Hill in Kentucky, this brandy is four years of age and bottled at 100 proof. A real treat in the American Brandy category. On the nose, this brandy exudes oak flavors, dark rich ripe fruits, herbal tea and touch of vanilla. The palate reveals wonderful structure with rich oak tones, clove, and anise. The finish reveals dark stewed fruits and warm oak spice. Lovely brandy more akin to whiskey than what you might expect from a grape based brandy.
The good folks at Eden Mill revitalized the tradition of distilling in St. Andrews, back in 2012. This site was previously distilled on way back in 1810 by the famous Haig distillers. Eden Mill makes beer, whiskey and gin at this point. When The Whiskey Hotline is in Scotland, we usually find ourselves in The Kingdom of Fife, where Eden Mill is located. This gin is always a welcome respite from the long journey over the ocean. We're so happy to finally be able to enjoy a tipple of Eden Mill gin back home now.


Eden Mill Original Gin
...
On the nose, citrus peel, soft spice, clove, and ripe tropical fruits. On the taste, juniper and pepper, with soft berry notes, and a touch of seabuckthorn. The finish highlights a citrus note, crisp and clean.
Eden Mill Love Gin
...
More of a command rather than a tonic. Love gin is a blend of exotic fruits and Scottish flowers. On the nose, soft juniper, fruit and berries with soft grapefruit. The taste releases dark dried fruits, citrus, and sweet edible flowers. The finish is lovely with dark fruits, and vanilla coated flowers. Absolutely gorgeous and refreshing. With a touch of tonic water, this gin turns pink.
Eden Mill Oak Gin
...
On the nose, this barrel finished gin has notes of juniper, bright pepper, oak, vanilla, and orange citrus. On the taste, cinnamon, clove, orchard fruit and more citrus. The finish is long and warming with a prominent, rich cocoa element lingering.
Eden Mill Hop Gin
...
The perfect gin for the IPA drinker. Hops lead the way on the nose with coriander, fruit, and soft juniper. The taste has citrus rind, citrus hops, juniper, and soft fruit. The finish is long, and on the bitter hoppy side. A lovely hopped up treat.
If you've been reading the Whiskey Hotline long enough, you know that we only talk about flavored vodka if we're making fun of it. However, we need to make an exception to that rule because these are some serious vodkas. It's obvious just by looking at them, as they are infused with real fruit and spices. When the rest of the flavored vodka aisle looks and tastes like it is one chemical bond away from being a plastic, these are some real standouts.
Infuse Spirits Vodka Origin
...
Balanced and inviting, this vodka leans toward a sweeter side. Wonderfully refreshing, and great on its own or in a cocktail. Distilled from corn, the mouthfeel is full, and the finish is clean.
Infuse Spirits Vodka Peach
...
One of the best infused vodkas we've tasted. Big round peach flavors blend perfectly in this easy drinking vodka. Made with real fruit for a truly natural taste.
Infuse Spirits Vodka Cinnamon Apple
...
Crisp apple flavors on the nose with just the right amount of cinnamon to balance the sweet with spice. Clean and pleasantly sweet, this vodka is dangerously drinkable.
Infuse Spirits Vodka Lemon
...
As with the other flavors, the fruit macerating in the bottle just looks inviting. On the nose, you're greeted with pleasant lemon peel and citrus flavors. The taste does not disappoint on its own or in a delicious martini.


2005 Exclusive Malts Laphroaig 11 year old Hogshead Binny's Handpicked Cask
...
Finding a single barrel of Laphroaig is a real treat for us. This one is 11 years old and bottled at 56.9% abv. Aged in a refill hogshead, the nose reveals brine, butter, dark stewed fruit skins, and of course peat smoke. Fat and viscous on the tongue with soft fruit, smoke, and a dose of pepper. The finish is quite elegant with smoke and pepper fading alongside subtle sweet vanilla and fruit flavors. A real stunner with its elegance and balance. We only have 293 bottles, so grab them while you can, they'll disappear quickly.
2011 Kilchoman 100% Islay 6th Edition 5 year old ex Bourbon Barrel # 194/2011 Binny's Handpicked
...
This 5 year old malt was aged in ex-Buffalo Trace bourbon barrels, and bottled at 58.3% abv. The nose is lightly sweet with a dose of citrus, olive, and light peat. The taste has some guava, butterscotch, vanilla, smoke, and soft oak spice. The finish is lovely with smoke, vanilla candy, and pepper fading slowly. This is our 5th single barrel of Kilchoman, and made 100% from barley grown on Islay.