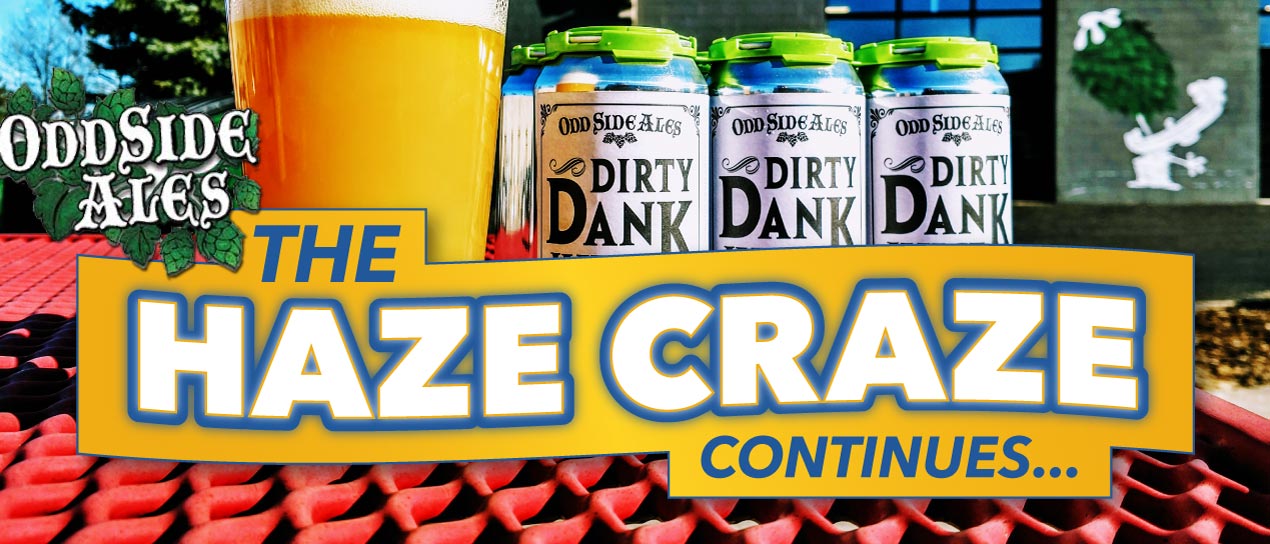 Like it juicy? Cravin' that haze? "New England" style IPAs are all the rage right now. Popularized by a handful of breweries in Vermont and Massachusetts, they focus primarily on dry hopping; favoring big hop aroma over bitterness. From slightly hazy to downright turbid, they forgo filtration to accentuate a soft creamy mouthfeel. This week more haziness rolls in, courtesy of our friends at Odd Side Ales.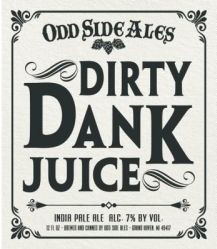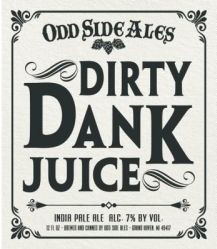 Odd Side Ales Dirty Dank Juice
6 Pack of 12oz Cans
...
Poured in a glass, this looks more like orange juice than beer, but that's the idea after all… True to its name, the nose is dank and spicy with bright citrus and a touch of pine. Soft and smooth across the palate, its citrusy hop profile is tangy and juicy leading to an herbaceous finish that's accented by hints of papaya. *Not available in Champaign.
Kölsch is the beer of Köln, and a growing number of American brewers are trying their hand at this German specialty. While some brewers attempt to infuse a bit of American eccentricity, we've been particularly impressed by some traditional takes that we feel rival the best Köln has to offer.
Solemn Oath Lü
6 Pack of 12oz Cans
...
Pouring burnished gold with ivory foam, Lü begins with bready maltiness that is beautifully complemented by a dash spicy hop character. Impeccably balanced and refreshing – this is one of the most loyal interpretations of a classic German Kölsch out there. Have friends who steadfastly refuse to give craft beer a try? Introduce them to Lü. *Not available in Champaign or Bloomington.
Boulevard American Kolsch
6 Pack of 12oz Cans
...
Boulevard incorporates a touch of wheat into their American Kolsch, which imparts of touch of soft creaminess to the palate. Fruity yeasty esters blend well with a generous dose of noble hop character. A refreshingly dry riff on the Kölsch style that's extremely sessionable. *Coming soon to Champaign.
Metropolitan Krank Shaft Kolsch
6 Pack of 12oz Bottles
...
Chicago's Metropolitan Brewing is steadfastly devoted to German beer and brewing traditions. Be it marzen, dopplebock or schwarzbier - we've lauded their delicious achievements on many occasions. Krankshaft is their flagship brew. Light on the palate, a touch of lemony sweetness leads to a crisp finish.
Goose Island Summertime
12 Pack of 12oz Bottles
...
Kölsch is perfectly suited for summertime drinking, something Goose Island realized long ago. For many Chicagoans, this was their introduction to the style, and it remains a treasured summer seasonal. Fruity and clean with a brisk, snappy finish.
That's right, the fruit beers keep rolling in! If you've shied away from fruity beers in the past, it's time to give them another chance. From sweet to sour, funky to hoppy – the range of beers incorporating fruit has never been richer. This week we've also included a pair of deliciously unique ciders guaranteed to wake up your taste buds.
4 Hands Super Flare
4 Pack of 16oz Cans
...
It's back, and in 16 ounce cans! Super Flare is a beer that has to be tasted to be believed. On the nose it's bursting with guava, mango and passionfruit. A veritable tropical fruit salad on the palate, with papaya, pineapple, lychee and guava giving way to a complex and peppery finish. Fruit, yeast and hops – all in perfect harmony.
Two Brothers In The Flesh Mango
4 Pack of 12oz Cans
...
The latest edition in Two Brother's In The Flesh series, this snappy American sour balances sweetness and acidity, while delivering a massive dose of fresh mango flavor. A great palate refresher and fine accompaniment to lightly dressed salads and a rich creamy cheese like brie.*Coming soon to Champaign & Bloomington.
Citizen Companion
4 Pack of 12oz Cans
...
From bone dry to syrupy sweet, cider comes in all shapes and sizes. For those of you who enjoy something on the drier side, this limited edition cider from Citizen Cider is not to be missed. Made with Balaton and Montmorency sour cherries, this rose colored cider is bright and tangy, with eye opening acidity tempered by a touch of honeyed apple. Fans of sour beer need to give this cider a try.
Blake's El Chavo
6 Pack of 12oz Cans
...
A little bit of heat goes a long way, and we've had our fair share of hot pepper disasters. When you find a beverage that artfully incorporates spiciness, it a thing of beauty. Fruity habaneros meet mangos in this unique semi sweet cider. While there is heat here, it's a lovely subtle burn that makes itself known without becoming overbearing. A great partner for fish tacos.
One great beer calls for another! Whether you're packing a cooler for the tailgate or headed to a backyard bbq, here are a few of our favorite crushable crowd pleasers, all packaged in money saving 15 packs. Quality craft at around a buck a beer is hard to beat!
Oskar Blues Pinner
16 Pack of 12oz Cans
...
Session IPAs can be tricky. It takes a skilled hand to balance lightness in body with the bitterness of an IPA. Pinner features not only Mosaic but also Citra, El Dorado and Azzaca, making it tropical, crisp and dangerously drinkable. All with a bonus 16th can to boot! *Coming soon to Champaign.
Sweetwater Hash Session
15 Pack of 12oz Cans
...
Brewed with resin packed "Hop Hash"; Hash Session IPA is incredibly aromatic on the nose with bright citrus and tropical fruit. The addition of wheat makes for a nice light body and slightly creamy mouthfeel. It's crisp and clean, with a big hop finish that's Amarillo through and through. *Coming soon to Champaign.
Founders All Day IPA
15 Pack of 12oz Cans
...
One of the first Session IPAs and still one of our best sellers. Packed with citrusy hop aroma and flavor, it's light in body with clean and snappy finish.
21st Amendment Hell or High Watermelon
15 Pack of 12oz Cans
...
Hell or High Watermelon begins as a light wheat beer which undergoes a secondary fermentation with fresh watermelon. Not only do you get genuine watermelon flavor, but the finished beer is refreshingly dry. Fan of gin cocktails? This makes a fun mixer.
"New England" or "North East" style IPAs are all the rage right now. Made famous by a handful of breweries in Vermont, they focus primarily on dry hopping; favoring big hop aroma over bitterness. From slightly hazy to downright turbid, they forgo filtration to accentuate a soft creamy mouthfeel. Lombard's Noon Whistle has turned quite a few heads with their Gummy series of NE style IPAs. Previously available only at their tap room, we're excited to introduce their latest juicy creation – Gummy Banter.
Noon Whistle Gummy Banter
4 Pack of 16oz Cans
...
Denali, Ekuanot and Citra hops are the stars of this hazy IPA. The nose offers waves of citrusy and tropical aromas, with pronounced passionfruit, papaya and tangerine. Soft and creamy across the palate, this gummy delivers juicy tropical fruit atop big bright citrus. The finish is citrusy and floral with a touch of green tea. *Not available in Champaign or Bloomington.
In an unassuming red brick building in the Garfield Park neighborhood, thousands of beer filled bourbon barrels lay carefully resting. While most contain expressions of their renowned Bourbon County Stout, many others are filled with experimental brews. While big bourbon character stands at the forefront of BCS, the Goose Island Cooper Project takes a more delicate approach. A shorter time in wood imparts nuanced bourbon notes, while still allowing the base beer to shine. Like Cooper Project No. 1, every drop of this Blonde Doppelbock is carefully crafted and patiently aged right here in Chicago.
Goose Island Cooper Project No. 2 Barrel Aged Blonde Doppelbock
4 Pack of 12oz Bottles
...
Pouring brilliant amber in color - aromas of vanilla, toffee and butterscotch rise from the glass. The mouthfeel is very creamy, with volumes of soft carbonation delivering caramel, spice and a candied fruitiness akin to bananas foster. Rich and luscious, yet impressively drinkable.
Whether you're lounging in a hammock, chilling by the pool, or just coolin' off in the shade - we have a bounty of delicious berry brews perfect for these dog days of summer. Even if you're not into fruit beers, we've got a curious thing that might just change your mind.
Short's Power of Love
6 Pack of 12oz Bottles
...
Power of Love combines gourmet lemonade from Northwoods Soda & Syrup Co. with a wheat ale accented by raspberry and rosemary. Rosemary was used judiciously, providing a very nuanced herbaceousness to both the nose and finish. Fruity and flavorful, but not too sweet - this is one of the best shandies we've ever tasted.
Forbidden Root Strawberry Basil
6 Pack of 12oz Bottles
...
As we've mentioned before, Forbidden Root's meticulous experimentation with obscure ingredients makes them a standout in the Chicago craft beer scene. They've impressed us yet again with their latest offering, a refreshing strawberry hefeweizen. Perhaps a bit simpler than some of their botanical creations, but on a hot summer day it really hits the spot. Like Short's Power of Love, the herbal competent (in this case basil) adds a nice subtle freshness to both the aroma and finish. *Not available in Champaign or Bloomington.
Founders Rubaeus
9 Pack of 12oz Cans
...
Previously only available in the summertime, the beer world spoke and Founders listened. Rubaeus is truly a beauty to behold. It pours a breathtaking crimson hue with an intoxicating fresh raspberry aroma. Brimming with jammy raspberry flavor, this is one of the best fruit beers money can buy.
Pollyanna Summerly
6 Pack of 12oz Bottles
...
If you're craving raspberry, but looking for something a touch drier than Rubaeus, Pollyanna's Summerly fits the bill. Batches of this creamy wheat are brewed with hundreds of pounds of fresh raspberries, imparting both sweet berry notes as well as a refreshing touch of tartness to the finish. *Not available in Champaign.
Off Color Yuzu Fierce
4 Pack of 12oz Bottles
...
Okay, so there are no berries in this one, but we're still stoked to celebrate the return of this favorite from Off Color. Unfamiliar with yuzu? This bumpy citrus fruit is famous for its tart juice and aromatic peel, making it a perfect partner for Off Color's tangy Berliner Weisse. Citrusy, tart and sessionable. *Not available in Champaign or Bloomington.
Ballast Point Pineapple Sculpin
6 Pack of 12oz Cans
...
Ok, so this one doesn't have berries in it, but it's great in the summertime and it's on sale! Pours a beautiful, brilliant golden hue with citrusy hops and pineapple on the nose. Telltale Ballast Point Sculpin flavors still shine here with big grapefruit peel giving way to ripe pineapple. A solid tropical variant that left us longing for sunny San Diego.
Something new is always brewing in Boulder. Interest in barrel aged beer has never been bigger and following recent expansions, Avery is putting more beer into wood than ever. In addition to periodic rare releases, they've introduced a YEAR ROUND series of barrel aged beer under the name Botanicals & Barrels. Some bracingly sour, others lusciously sweet - these gems are hiding in plain sight.
Avery Ginger Sour
22oz Bottle
...
Some sours are subtle, and others are not. Like their Apricot Sour, this Ginger Sour brings the tartness in a big way. Spicy ginger and lactic acidity might seem like a volatile combo, but the two meld beautifully here. Ginger heat is limited, making for a lively and mouthwatering finish. *Not available in Champaign or Bloomington.
Lagunitas likes to go big. From DIPA to barleywine, with a slew of American strong ales in between, they craft some massive brews that artfully hide their strength. We're excited to welcome back one of our favorite tricksters, the big sister of the iconic A Little Sumpin' Sumpin'.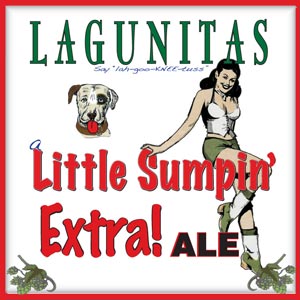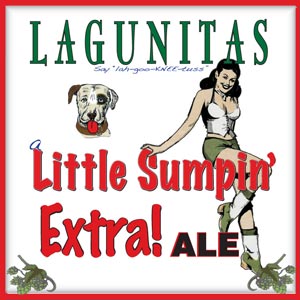 Lagunitas A Little Sumpin' Extra!
6 Pack of 12oz Bottles
...
With its rounder and fuller mouthfeel, this wheaty wonder glides across the palate delivering sweet citrus and a kiss of pine. A beautifully balanced and soft delivery will leave you reaching for more, but at 8.7% ABV you might want to take things slow. *Not available in Champaign or Bloomington.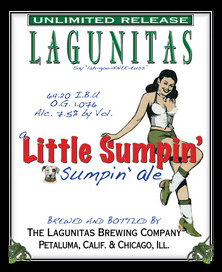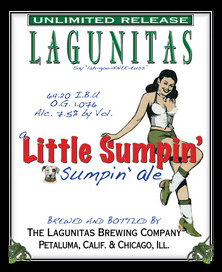 Lagunitas A Little Sumpin' Sumpin'
12 Pack of 12oz Bottles
...
A Little Sumpin' Sumpin' Ale combines the light creamy mouthfeel of an American wheat with the crispness of an IPA. A soft and citrusy classic with a long, satisfying finish.
Lagunitas DogTown
12 Pack of 12oz Bottles
...
If you're looking for a break from the heavy hitters, this classic pale ale makes for a refreshing change of pace. This amber tinged pale pairs bright citrusy hops with just enough malt to keep things balanced.Fruity yeasty notes blend seamlessly into a citrusy hop profile with notes of persimmon and marmalade. *Not available in Champaign or Bloomington.
Summer's here and the fruit beers are arriving in droves! Here are a couple of our favorites, as well as a few that are brewed year round – that way if you fall in love, you don't have to say goodbye.
4 Hands Passion Fruit Prussia
4 Pack of 12oz Cans
...
Looking for something fruity, but not too sweet? 4 Hands Passion Fruit Prussia returns, delivering a tart bite of tangy passion fruit. Dry like a Berliner, but with a clean fruity finish. A great palate refresher.
Coronado Guava Islander
6 Pack of 12oz Cans
...
Coronado's Island IPA is a classic west coast IPA that showcases three legendary American hops: Columbus, Centennial and Chinook. Coronado added some fresh guava puree, left it unfiltered, and Guava Islander was born. Fruity, floral and citrusy - the guava compliments the hops without drowning them out. Another delicious beer from Coronado.
Short's Soft Parade
6 Pack of 12oz Bottles
...
Rose colored with bright white foam, Soft Parade is a beauty to behold. Brewed with a mix of berries, the nose is pure ripe blueberries. Tastes of sweet strawberry jam that is balanced by slightly tart raspberries and blackberries. Despite its strength, this delicious berry brew remains balanced enough that each sip leaves you longing for another.
Lost Coast Tangerine Wheat
6 Pack of 12oz Bottles
...
Mention California's Lost Coast Brewery and two things immediately come to mind – funky artwork and their refreshing Tangerine Wheat. Light on the palate, wheat provides a soft and smooth canvas that's accented by a bright splash of tangerine.
Citizen Cider The Dirty Mayor
4 Pack of 16oz Cans
...
Looking for a break from beer? Fermented with freshly pressed juice from Middlburry's Happy Valley Orchard; Citizen Cider's Dirty Mayor is a semi sweet cider that incorporates citrus and ginger for an invigorating finish. Try subbing this in place of ginger beer for a Moscow Mule with some extra kick. Give this a try with your favorite Thai and Indian dishes.
Decadent stouts, bracingly bitter IPAs and everything in between - Half Acre's lineup of adeptly brewed beer makes them one of Chicago's most talked about breweries. We've always been big fans, and we're happy to announce that this week marks the return of two of their finest creations. We suggest you experiment with mixing the two together for a little Deep Space Freedom.
Half Acre Freedom Of '78 collaboration with Short's Brewing Company
4 Pack of 16oz Cans
...
The collaboration returns! Half Acre and Short's join forces on this amazingly fruity and aromatic IPA. Background maltiness imparts a biscuity quality that pairs nicely with the tangy zip of guava. Smooth and juicy, yet it pours bright and clear! Imagine that… *Not Available in Bloomington.
Half Acre Deep Space
4 Pack of 16oz Cans
...
Deep Space is the amped up imperial version of Half Acre's taproom classic Space IPA. A solid malt backbone imparts a touch of caramel and helps keep its massive 10% ABV in check. Super fruity with notes of lemon, strawberry, peach and pine. A resinous delight. *Coming soon to Champaign. Not Available in Bloomington.