In 1997 a small Cooperstown brewery began its homage to the beautiful beers of Belgium. Be it a creamy wit, a sessionable sour or a complex quad, Ommegang's expansive portfolio includes impeccably made ales for every taste and occasion. This special anniversary offering spent months resting Buffalo Trace bourbon barrels. Pick one of these up fast, because they're not going to last long.
Ommegang 20th Anniversary Ale
25.4oz Bottle
...
Pouring mahogany in color, aromas of raisins, dates and plums float from the glass. Big and luscious across the palate, it offers layers of confectionary decadence with notes of toffee, molasses, cocoa and vanilla bean. The finish is long, honeyed and indulgent. This would make a wonderful partner to a slice of tiramisu or a ramekin of crème brulee. *Not available in Champaign.
Chicha inspired ale? That's right, with the help of some scholars at the Field Museum, Off Color created an ale inspired by chicha de molle – a corn based beverage that played a vital ceremonial role in ancient Andean culture. Brewed with purple Peruvian corn and molle berries, this unique ale is refreshingly tart and a beauty to behold.
Off Color Wari Chicha
6 Pack of 12oz Bottles
...
If you're looking for a point of reference, Wari is not unlike a Berliner Weisse, with lactic fermentation producing a tart and tangy brew with a thirst quenching finish. Pouring crimson in color with coral pink foam, Wari begins with a touch of grainy sweetness that is quickly washed away by a wave of tangy lactic acidity. A great refresher for those surprisingly warm autumnal days. *Not available in Champaign or Bloomington.
The official Munich celebration underway! Unpack some pretzels, rinse the sauerkraut and fill a big tall stein with one of these delicious Oktoberfest beers.
Goose Island Fest Bier
12 Pack of 12oz Bottles
...
Goose Island's latest stab at the Oktoberfest style might just be their finest yet. While its name might evoke the more modern Munich "festbier" style, its layered malt complexity is reminiscent of a traditional marzen. It finishes with just enough noble hop character to keep its subtle sweetness in check. Well done.
Sierra Nevada Oktoberfest Collaboration with Brauhaus Miltenberger
12 Pack of 12oz Bottles
...
Since 2015, Sierra Nevada's Oktoberfest has been a collaborative effort with one of Germany's many distinguished breweries. This year they partnered with Brauhaus Miltenburger, producing a burnished gold festbier that's both a delight to behold and imbibe. Surprisingly rich and malty, notes of caramel and butterscotch are tempered by noble hops, keeping things balanced and refreshing.
Victory Festbier
6 Pack of 12oz Bottles
...
Classically trained in Germany, Victory founder and brewmaster Ron Barchet knows German beer. Imported German malts undergo decoction mashing, a labor intensive old world practice that produces layers of rich malt complexity with flavors reminiscent of roasted pecans and fresh baked pumpernickel bread. Whole flower noble German hops perfectly round out this rich and savory brew.
Revolution Oktoberfest
6 Pack of 12oz Cans
...
All German malts make up the base of Revolution's Oktoberfest beer. Smooth and mellow, it features a nice biscuity quality as well as a candied sweetness reminiscent of caramel corn.
BuckleDown Oktoberfest
6 Pack of 12oz Cans
...
While it's copper in color like a traditional marzen, BuckleDown's Oktoberfest drinks more like a modern German festbier, with toasty malts playing second fiddle to spicy and earthy European hops. BuckleDown's take on this treasured autumnal classic is an interesting change of pace.
Hofbräu Oktoberfest
6 Pack of 11.2oz Bottles
...
A modern German Oktoberfest or "festbier", Hofbrau Oktoberfestbier is the very same beer served to thousands under the tents of Munich's famous extravaganza. Lighter in color and body than a traditional marzen, this golden brew's toasted malt sweetness is complemented by a zesty, citrusy finish.
In 2015 Oskar Blues founder Dale Katechis (odds are you've had his Pale Ale) bought a small coffee roaster and began to experiment with it in the back of the brewery. Shortly after, Hotbox Roasters was born, offering craft coffee beans packaged in Dale's favorite recyclable container – aluminum beer cans! Hotbox Coffee Porter melds together a chocolaty porter with a deliciously fruity cold brew coffee made from a blend of Ethiopian and Burundi beans.
Oskar Blues Hotbox
4 Pack of 12oz Cans
...
Pour into your favorite coffee mug and prepare for a beguiling mix of aromas, with pronounced cocoa, caramel and dark fruit. Rich and layered, this porter exudes deep dark chocolate flavors accented by hints of plum, blackberry and a touch of molasses. Morning, noon or night – coffee lovers rejoice.
Stone knows IPA. From black to white and everything in between – Stone's inexorably linked to this iconic style. Vengeful Spirit is Stone's latest and fans of juicy New England style IPA take notice. Like Stone's Ghost Hammer, Vengeful Spirit features Loral hops, an interesting new breed that imparts a lovely floral character to both the aroma and finish of this tropical IPA.
Stone Vengeful Spirit
6 Pack of 12oz Cans
...
Tangerine, rose petal and honeysuckle on the nose complement a creamy palate accented by pineapple, passionfruit and citrus peel. The finish is fruity and floral, with just enough bitterness to keep things refreshing. A soft and creamy IPA with a tangy, tropical touch. *Not available in Champaign or Bloomington.
It's not every day that you see a black ale serve as a flagship, but Perrin's expansive portfolio is full of unique surprises. From crushable fruited IPAs, to amazingly complex barrel aged beer, odds are Perrin has something that is going to tickle your fancy. When is the last time you had a Merlot barrel aged Imperial Red Ale? Time to take a walk on the wild side.
Perrin Black
6 Pack of 12oz Cans
...
Much like a classic German Schwarzbier, Perrin's popular black ale plays tricks on the senses. Pouring black as night, it's paradoxically light on the palate. It delivers the roast and chocolate malt flavors we normally associate with porter and stout, yet with a surprisingly mellow finish. *Not available in Champaign or Bloomington.
Perrin 98 Problems
6 Pack of 12oz Cans
...
This artfully crafted and exceedingly aromatic IPA showcases Michigan grown Cascade hops. Fruity and bright on the nose, it delivers tangerine, grapefruit and lovely floral notes that lead into a slightly spicy finish. Fresh, bright and very drinkable.*Not available in Champaign or Bloomington.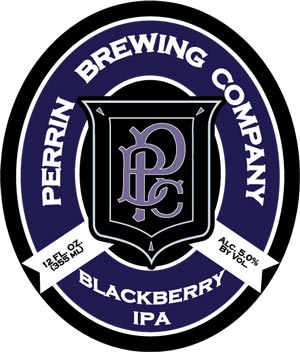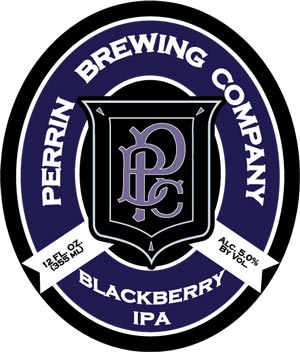 Perrin Blackberry IPA
6 Pack of 12oz Cans
...
Tantalizingly fruit forward, this brew is jammy up front, yet finishes nice and crisp. 5% ABV, super fruity and not all that bitter – remember when it comes to IPA these days, there pretty much are no rules. *Not available in Champaign or Bloomington.
Perrin Unfinished Business
22oz Bottle
...
This is a big beer. Ten malts, oats, wheat and rice all come together to deliver an amazingly silken imperial stout. Bourbon barrel aging imparts notes of vanilla, coconut and caramel. Its 13.1% ABV makes itself known, but it's not overwhelming. An impressive brew.*Not available in Champaign or Bloomington.
Perrin Hypocrite
22oz Bottle
...
This is a difficult beer to describe. Billed as an Imperial Blonde Ale, its flavor profile is like nothing we've ever tasted before - and that's saying something. On the nose it's spicy, floral and honeyed. On the palate it opens with notes of cocoa and café au lait, followed by hints of nutmeg and cardamom. We're a bit befuddled here, but we like it. *Not available in Champaign or Bloomington.
Perrin Caesar's Gimp
22oz Bottle
...
A 13.2% ABV imperial red ale fermented with Cabernet Sauvignon grape juice and aged in Merlot barrels – at first we didn't think we were going to like this, but what a surprise! Brewing with grape juice/must is tricky business, but Perrin absolutely nailed this. Amazingly well integrated and complex, it offers notes of oak, blackberry caramel and citrus and much more. *Not available in Champaign or Bloomington.
Looking for a malty marzen? How about a spicy pumpkin ale? Our wide selection of autumnal brews includes is packed with classic examples of both with of few surprises in between. Here are a few more of our favorite fall seasonals.
5 Rabbit Vida y Muerte
6 Pack of 12oz Bottles
...
Like many of 5 Rabbit's brews, Vida y Muerte takes inspiration from Latin American culinary traditions. Looking to mimic the flavors of the aromatic herb hoja santa, this unique riff on a traditional marzen incorporates dulce de leche and spices, resulting in a brew that pairs the satisfying richness of an Oktoberestbier with the sweet spiciness of a pumpkin beer. *Not available in Champaign or Bloomington.
Half Acre Lager Town
4 Pack of 16oz Cans
...
Available for the first time in cans, this seasonal favorite from Half Acre is a malt forward, yet balanced interpretation of the famous Oktoberfest style. Pouring amber in color with wonderful clarity, aromas of toffee and caramel are mirrored on the palate, while its crisp and clean finish leaves you thirsty for another.
Paulaner Oktoberfest Marzen
12 Pack of 12oz Bottles
...
When it comes to classic German Marzen, this is one of the best. Brewed with Hallertauer Tradition hops, Paulaner Oktoberfest Marzen features a uniquely earthy flavor and aroma. Complex and satisfying, its toasty malt complexity gives way to a finish that is rich and nutty. *Not available in Bloomington.
Lakefront Pumpkin Lager
6 Pack of 12oz Bottles
...
In a sea of pumpkin ales, Lakefront Pumpkin Lager is a standout, delivering spicy pumpkin pie flavors with surprisingly refreshing finesse. A month of lagering provides smooth richness and clarity, with caramel, toffee malt flavors accented by its spicy finish. *Not available in Champaign.
Avery Chai High
6 Pack of 12oz Cans
...
Built upon a chocolatly brown ale base, Chai High is bursting with sweet spice aromas and flavors. All the classic Chai tea flavors are here, with cinnamon, allspice and cardamom taking center stage. Add a scoop a vanilla ice cream and some whipped cream for an unconventional beer float that is perfect for fall.
Great Lakes Nosferatu
4 Pack of 12oz Bottles
...
Need a break from malty marzens and spicy pumpkin ales? This resinous red ale bursts with citrusy hop aromas and finishes with a sharp hop bite. Think of it as an imperial red IPA, one that's so fiendishly well made that it continues to stand the test of time.
Green Flash GFB Blonde Ale
6 Pack of 19.2oz Cans
...
A six pack of 19.2oz cans? That's right, it's time to go big or go home. Rest assured, while the latest release from Green Flash comes in extra-tall boys, its modest 4.8% ABV makes it perfect for hoisting back a few. Deliciously thirst quenching blonde ale is crisp and clean with hints of honey and citrus on the finish. Nothing too fancy here, just GFB – at a pretty incredible price.
Two Brothers Pinball Blood Orange
6 Pack of 12oz Cans
...
How do you make a juicy beer even juicier? For an added bonus Two Brothers ramps up their citrusy Pinball pale ale with an added burst of tangy blood orange. Floral and citrusy on the nose, it's crisp and spicy, with notes of tangerine and raspberry on the finish.
In 2012 longtime friends Brad Shaffer and Jason Klein made their uniquely cheeky introduction to the Chicago craft beer scene with the release of G.F.Y. Stout. Dozens of different bombers later, their sardonic wit remains as sharp as ever. We're excited to report that a few of these hometown favorites are now readily available in cans.
Spiteful IPA
6 Pack of 12oz Cans
...
Originally brewed with El Dorado hops, we heartily approve of version 2.0 that showcases healthy amounts of Citra and Amarillo. Fruity and resinous on the nose, notes of pineapple, lemon, and tangerine on the palate melt into its big dank finish. *Not available in Champaign or Bloomington.
Spiteful Working for the Weekend
4 Pack of 16oz Cans
...
Pop the top on this DIPA and you're hit by a massive wave of dank and tropical hop aromas. Mango, papaya and pine dance across the palate - with peppery spiciness leading into a racy and resinous finish. *Not available in Champaign or Bloomington.
From their treasured Smoked Porter, to vibrant and thirst quenching IPA, Alaskan Brewing Company's award winning portfolio showcases expansive brewing prowess. Opening their doors in 1986, these craft pioneers took logistical challenges in stride, resulting in a brewery that was not only astonishingly efficient, but also decidedly environmentally conscious. Without further ado, here are some classic Alaskan brews – we can't wait to taste more in the future.
Alaskan Amber
6 Pack of 12oz Bottles
...
The flagship in Alaskan's award winning portfolio of beers, this signature amber takes inspiration from a 19th Century Alaskan Gold Rush era brew. Rich and malt forward, but with just enough hops to keep things perfectly balanced. Remarkably food friendly and reliable crowd pleaser.
Alaskan Husky IPA
6 Pack of 12oz Bottles
...
Originally introduced as a spring seasonal, this single hop Mosaic IPA met with such fanfare that it's now part of Alaskan's year round lineup. We've praised Mosaic hops before, and Alaskan did an exceptional job crafting this crisp and clean IPA. On the nose it's a mixture of peaches, pineapple, guava and pineapple. Light in body, a plethora of tropical fruit flavor leads up to a quick crisp finish.
Alaskan Hopothermia
6 Pack of 12oz Bottles
...
Sweet malt meets resinous hops in this big old school DIPA. Big and bold, yet remarkably balanced, this Double IPA is dripping with citrus and pine. Flavors of grapefruit, tangerine and kumquat meld wonderfully with caramelized malt notes reminiscent of English toffee. A six pack of 8.5% ABV Double IPA for $9.99? A delicious beer and an incredible value!
Alaskan Sampler
12 Pack of 12oz Bottles
...
This solid sampler pack includes a little something for everyone. For those looking for a citrusy hop bite, Icy Bay IPA delivers. Alaskan White is their fruity and refreshing take on a classic Belgian Wit. Their flagship Amber is included as well as a rotating experimental seasonal. The current offering is Kicker, a fruity and crushable session IPA.