Sourcing water from a historically famous artesian spring from which they take their name, Abita Brewing Company's commitment to quality ingredients has cemented their place in Louisiana's rich culinary traditions. Their broad portfolio of deliciously food friendly beers can be seen everywhere from starred restaurants to backyard crawfish boils. So pick up a few of their tried and true classics, and let the good times roll!
Abita Turbodog
6 Pack of 12oz Bottles
...
Over the past 30 years Abita has brewed many beers, but few are more iconic or versatile than Turbodog. On paper, it's a brown ale, but Turbodog's unique melding of complexity with drinkability makes it something special. Brimming with chocolate and toffee notes, but not overly sweet, Willamette hops provide just enough bitterness to keep everything in balance. This rich and roasty ale is a must when serving Louisiana classics like gumbo and jambalaya.
Abita Mardi Gras Bock
6 Pack of 12oz Bottles
...
Mardi Gras season marks the return of this favorite from Abita. Inspired by the German Maibock style, this faithful interpretation combines German Perle hops with a solid malt bill for a full bodied golden lager with a toasty finish. Like Turbodog, this also pairs exceedingly well with rich, spicy Cajun and Creole cuisine. *Not available at all locations, please call for availability.
Abita Purple Haze
6 Pack of 12oz Bottles
...
Convinced fruit beers are not your thing? One sip of Purple Haze and things won't be the same. Abita prides themselves on using high quality whole fruit and it shows. Unlike many other fruit beers, Purple Haze is built upon a crisp lager base, with bright natural raspberry fruit flavors contributing to a satisfyingly dry finish.
Session IPAs can be really hit or miss. It takes a skilled hand to balance lightness in body with the bitterness of an IPA. Pinner is one of our favorites, combining Mosaic, Citra, El Dorado and Azacca hops for one refreshingly fruity finish. All that juicy hop goodness now comes boxed up in a SIXTEEN pack. At the hot sale price of $14.99, that's quality craft refreshment for less than a buck a can!
Oskar Blues Pinner
16 Pack of 12oz Cans
...
Pop a Pinner and you're immediately hit by a breathtaking wave of exotic hop aroma. Showcasing some of the most sought after hops on the market today, it's brimming with passionfruit, guava, pineapple, pine and citrus. Refreshingly crisp and enticingly tropical, this silver can pours liquid gold.
Ballast Point Tart Peach Kolsch
22oz Bottle
...
The spirit of experimentation is alive and well at Ballast Point, and their latest concoction joins an ever-expanding portfolio of juicy fruit beers. This unique riff on a German style Kölsch beer pours amber in color with fluffy white head and a lovely fresh peach aroma. Bright gummie candy sweetness up front is balanced by a tangy, tingly finish. A fun new beer from Ballast; and if we had our little way, we'd drink these peaches every day.
Over the past several decades many of the mass-produced lagers reliance on adjuncts, filtration and shortcuts tarnished the reputation of this venerated style. Landbier, or "country beer," is a return to the time when wholesome simplicity mattered more than aesthetics. Germany's Braueri C & A Veltins is revered for their famous pilsener, and their latest release, Grevensteiner Landbier,, is proof that few things are more satisfying than a carefully crafted and conditioned lager.
Grevensteiner
4 Pack of 16.9oz Cans
...
Slightly hazy and burnished gold in color, Gravenstiener is crowned with velvety smooth foam and exudes aromas of toasted bread and hay. Slightly fruity and sweet upfront, its soft and rounded mouthfeel leads to a deliciously balanced finish that showcases caramelized malt and a kiss of noble hops.
Revolution soars in and rescues us yet again from the grips of boring beer. This new variety pack from Revolution will feature a rotating assortment of their popular Hero line of IPAs. In this inaugural edition we are introduced to a new hero for the first time, and we have a feeling they're destined for greatness! *Quantities are extremely limited.
Revolution League of Heroes
12 Pack of 12oz Cans
...
Amarillo Hero: Unique to this variety pack, Amarillo Hero is the latest in a growing list of exceptional IPAs from Revolution. Amarillo is an extremely aromatic hop varietal and it really shines here, imparting loads of grapefruit, lemon and a touch of peach.

Mosaic Hero:. Aromas of ripe pineapple and eucalyptus rise from the head of this super juicy IPA. Its exceedingly complex hop profile is punctuated by notes pine, papaya and kumquat. A tropical masterpiece and one of our favorite heroes.

Galaxy Hero: Southern Hemisphere tropical goodness is the star of the show here, with passionfruit, Meyer lemon and a touch of papaya giving way to a snappy and slightly herbaceous finish. Crikey, that's a fine beer!

Anti Hero: The first of their now famous Hero series and a true champion of the Chicago craft beer scene. Anti-Hero is citrusy, piney, crisp and clean. It's hard to find an IPA with greater crowd appeal.
Over the past twenty years, Stone's love of hops has made them champions of the IBU and masters of the IPA. Some might even suggest they are a bit obsessed with the style, but they remain steadfastly unapologetic. With a brand-new facility in Richmond Virginia, their passion for IPA now stretches from sea to shining sea.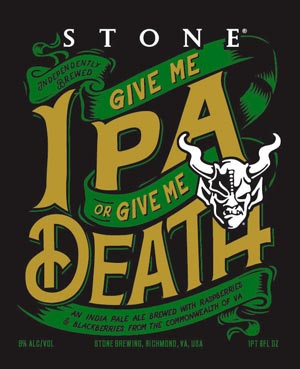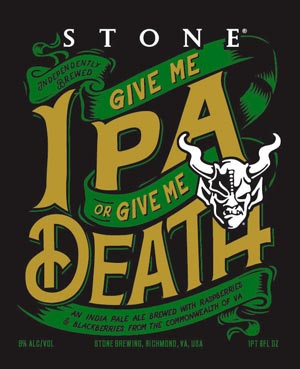 Stone Give Me IPA or Give Me Death
22oz Bottle
...
Stone paired up with two Richmond Virginia craft breweries along with His Excellency Terry Mcauliffe the Governor of Virginia to craft this unique Imperial IPA. A bevy of Virginia harvested blackberries and raspberries provides jammy tanginess and a touch of color, while Virginia grown Cascade and Columbus hops deliver big citrus and spice. Another great IPA from Stone. *Coming soon to Bloomington & Champaign.
Stone Jindia
6 Pack of 12oz Bottles
...
Stone Jindia combines a trio of classic hops (Magnum, Cascade & Centennial) with juniper berries, ginger root and fresh lemon and lime peel. This amalgamation of big flavors blends together seamlessly and its lovely bittersweet finish leaves you thirsty for another sip. So crisp and drinkable it's almost impossible to believe this is 8.7% ABV. Move over gin and tonic, this refreshing brew had us dreaming of a warm, sundrenched summer day.
Brickstone Galaxy Down Under
6 Pack of 12oz Cans
...
Some of today's most interesting hop varieties are coming from the land down under. Australia's Galaxy hop is quickly gaining popularity for its unique passionfruit characteristics and Brickstone showcases this highly sought after hop in this new IPA. Fruity and grassy on the nose, this crisp, clean India Pale Ale features bright citrus notes followed by a big blast of tangy passion fruit.
Two Brothers Pinball
6 Pack of 12oz Cans
...
When it comes to IPA and Pale Ale, "juicy" is the name of the game right now. Two Brother's Pinball Pale Ale is all about dry hopping, delivering loads of citrusy hop flavor and aroma without much bitterness.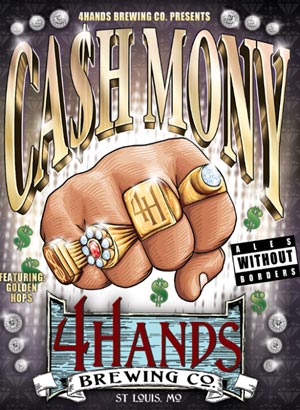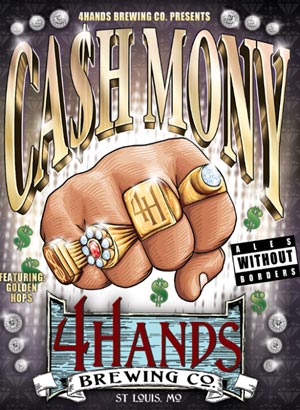 4 Hands Cash Money
22oz Bottle
...
4 Hand's DIPA Ca$h Money returns, delivering a big hit of hop complexity. Built with a solid malt base like an old school DIPA, but with the hottest new hops, this Imperial IPA is bold but balanced. Mosaic, Simcoe and Galaxy hops offer notes of melon, guava, citrus and a touch of spruce.
As you and your special someone open up that box of chocolates this Valentine's Day, how about pairing them with some liquid indulgence? From rich and chocolaty porter to bright fruity lambic, the following beer's confectionery qualities will make this Valentine's Day something special.
Lindemans Kriek
25.4oz Bottle
...
Enjoy CHOCOLATE COVERED CHERRIES? This delicious cherry lambic begs to be paired with chocolate. Not overly tart, nor too sweet, its spritely effervescence delivers a bounty of freshly juiced cherries across the palate. Serve in a fluted glass to fully appreciate its lovely crimson hue and rose colored head.
Founders Porter
6 Pack of 12oz Bottles
...
Founders Porter is a testament to the beauty of an artfully crafted malt bill. Delivering a seductive mix of COFFEE, CARAMEL and DARK CHOCOLATE, this is a porter we return to time and time again.
Short's Soft Parade
6 Pack of 12oz Bottles or Cans
...
Rosey hued and crowned with bright white foam, Soft Parade is a beauty to behold. Featuring a bright BLUEBERRY nose, it tastes of sweet STRAWBERRY jam balanced by slightly tart RASPBERRIES and BLACKBERRIES. Despite its strength, this brilliant berry brew remains balanced enough that each sip leaves you longing for another.
Ayinger Celebrator Dopplebock
4 Pack of 11.2oz Bottles
...
When it comes to German Doppelbock, it's hard to beat this award winning classic from Ayinger. Mahogany in color, this exceedingly complex beer delivers a fruitiness reminiscent of DATES and FIGS amidst notes of TOFFEE, COFFEE and COCOA. Water, barley, hops and yeast transformed into something ethereal.
Maui Coconut Hiwa
4 Pack of 12oz Cans
...
Maui's Hiwa Porter is brewed with freshly toasted coconut and it shows! Layered with the flavors of CHOCOLATE, COFFEE and COCONUT, this is the beer that made Maui Brewing famous.
It has been a long time coming, but sour and funkified beer is developing quite a following and breweries across the country are starting to experiment with wild yeasts and bacteria. For one Midwestern visionary that journey began long ago. Since 2004, Jolly Pumpkin's Ron Jeffries (or Captain Ron as he likes to be called) has been painstakingly imbuing the terroir of southeastern Michigan into a sea of oaken delights. Ron, we salute you and your crew for traversing unknown waters and look forward to feature treasures to come. Here are a few of their classics, all brimming with character and complexity.
Jolly Pumpkin Oro De Calabaza
25.4oz Bottle
...
This bright golden ale was no doubt inspired by Duvel, but its time spent in oak allows Brettanoymces to add a whole new dimension of flavor to this classic Belgian style. Funky and spicy on the nose, it begins with a touch of sweetness buy ultimately finishes dry with big black pepper and a hint of citrus. Bottle conditioned with living yeast, this beer will continue to evolve if cellared, becoming even drier with time.
Jolly Pumpkin Calabaza Blanca
25.4oz Bottle
...
Jolly Pumpkin's riff on a Belgian wit is an approachable and refreshing introduction to the magic of barrel aging. Calabaza Blanca juxtaposes a soft and creamy mouthfeel with crisp lactic acidity, with big fruity esters accenting a bright spicy finish. A wit that's not to be missed.
Jolly Pumpkin Bam Biere
25.4oz Bottle
...
Have you been let down by "session" beers in the past? Brewing flavorful and satisfying low alcohol beer requires great skill and Jolly Pumpkin's Bam Bière delivers. Artfully balanced, it delivers notes of apricot, hay, and white pepper. Tart but not bracingly sour, this is a beautifully nuanced and invigorating wild ale.
Jolly Pumpkin Bam Noire
25.4oz Bottle
...
Similar to Bam Bière, but brewed with darker malts, this ale is extremely fruity with notes of Morello cherries and plums accented by toffee, sweet baking spice and cocoa powder. Funky and tart, the sour character here is nuanced, allowing for a variety of subtle complexities to shine through. This ale pairs wonderfully with charcuterie, and works especially well with an aged gouda or washed rind cheese.
Lagunitas Undercover Shutdown Ale
6 Pack of 12oz Bottles
...
One of our favorites from Lagunitas commemorates a dark day in 2005 when they were busted for doing something that is now perfectly legal in California. C'est la vie, at least we got this delicious beer out of it! Like many brews from Lagunitas it's kind of hard to pin a style on this one. Rich and malty like an English barleywine, yet dripping with citrusy American hops, it's smooth, balanced and dangerously easy to drink.
When we first heard Odell Brewing Co. planned to come to Illinois we immediately asked, "WHEN?!" Thankfully the wait is finally over. Initially inspired by the classic ales of Great Britain, this Colorado craft pioneer's portfolio has grown to include all manner of styles. Don't just take our word for it, come meet founder Doug Odell at Binny's Lincoln Park on Monday February 5th from 6-8pm for a very special tap takeover.
From long cherished classics, to award winning sours, Odell brings a solid selection of brews to the shelf.
Odell 90 Shilling
6 Pack of 12oz Bottles
...
Odell has been brewing this aromatic amber ale since they first opened their doors 28 years ago. True to its Scottish roots, it features a complex, nutty malt profile that is accented by notes of toffee and maple. Few American breweries have a Scottish ale as their flagship brew, but when you brew one as good as 90 Shilling, it's easy to see how so many fans fell in love.
Odell IPA
6 Pack of 12oz Bottles
...
This is old school American IPA. Much like it's English forbearers, Odell IPA features a fruity yeast strain and a solid malt backbone. Hopped with nine different varieties of American hops, the nose is spicy and piney, setting the stage for a citrusy core and a big, resin packed finish.
Odell Runoff Red
6 Pack of 12oz Bottles
...
Odell's arrival couldn't have come at a better time, because they bring with them this delicious Spring seasonal. A beauty of a beer to behold, this crimson classic perfectly juxtaposes earthy malt complexity with bright piney American hops. Creamy, earthy and fruity, it finishes with lovely notes of berries and spruce. If you've never tried a Red IPA this is the place to start.
Odell Drumroll
6 Pack of 12oz Cans
...
The times they are a changing. APAs and IPAs keep getting cloudier, with hop bitterness playing second fiddle behind hop aroma. Odell's Drumroll is nouveaux American Pale Ale with a solid respect for the past. Unfiltered and aromatic, juicy and refreshing, but with enough malt and bitterness to keep things interesting.
Odell Myrcenary
6 Pack of 12oz Cans
...
Myrcenary takes its name from Myrcene, a crucial component of hop oil. As you can imagine this beer is all about the hops, throwing a big dank nose and delivering waves of grapefruit and tangerine across the palate. Prepare yourself for a big finish full of alfalfa, peppercorn and honey. Fans of Bells Hopslam need to give this a try.
Odell Tree Shaker Imperial Peach IPA
6 Pack of 12oz Cans
...
Tree Shaker is not your typical fruit beer. It takes a big luscious DIPA dripping with honeyed malt and citrusy hops and adds local peaches for a remarkably nuanced stone fruit finish. An amazingly well balanced and satisfying beer – pick up this seasonal fast before it's too late.
Odell Dark Theory
25.4oz Bottle
...
Dark Theory represents an interesting amalgamation of styles. Yeasty like a Belgian Dubbel, roasty like porter and dry like a traditional Kriek, this complex brew delivers a unique finish reminiscent of chocolate covered cherries and espresso.
Odell Piña Agria
25.4oz Bottle
...
Looking for a sour that delivers a massive sour punch? Pina Agria will not disappoint, bringing a funky kind a fruitiness followed by a long-lasting mouth puckering finish that leaves you salivating for more.
Odell The Meddler
25.4oz Bottle
...
A beer over 2 years in the making, The Meddler is Odell's take on a traditional Flemish Brown Ale or Oud Bruin. The product of blending oak aged beer of various ages, it's curiously complex, offering notes of black currant, tobacco and vanilla.
Odell Friek
25.4oz Bottle
...
A traditional Belgian style Kriek with a twist. Before bottling Friek is blended with fresh raspberries imparting a touch of jammy sweetness to an otherwise dry and funkified beer. Friek's respite in oak is obvious, displaying notes of almond, vanilla and autumn leaves.