Oskar Blues Mama's Little Yella Pils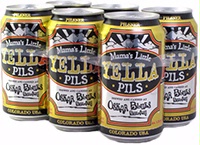 Select Quantities
Prices valid with Binny's Card
This item is only available in store. Please select a store to see prices.
Item #48162
Size: 12oz
Type: Lager
Varietal: Pilsner
Country: United States
Region: Colorado
"An uncompromising, small-batch version of the beer that made Pilsen, Czech Republic, famous. Unlike mass market "pilsners" diluted with corn & rice, Mama's is built with 100% pale malt, German specialty malts, and Saaz hops. While its rich with Czeched-out flavor, its gentle hopping (35 IBUs) and low ABV (just 5.3%) make it a luxurious but low-dose (by Oskar Blues standards) refresher."
Prices, promotions and availability may vary by store and online.
---
Customer Reviews
Most Recent Reviews

Nothing fancy - just good beer

Reviewed by: Commish |

July 27, 2015

If you are tired of the Hop Rockets and Bourbon aged 10%ers, then you want to try this. No frills, just good tasting beer like your father used to drink (only better!).

Helpful? 0 0