New Belgium Voodoo Ranger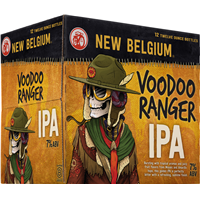 Select Quantities
Prices valid with Binny's Card
This item is only available in store. Please select a store to see prices.
Item #30018
Size: 12oz
Type: Ale
Varietal: IPA
Country: United States
Region: Colorado
"Bursting with tropical aromas and juicy fruit flavors from Mosaic and Amarillo hops, this golden IPA is perfectly bitter with a refreshing, sublime finish. 7% ABV 50 IBU"
Reviewed by: Producer
Prices, promotions and availability may vary by store and online.
---
Customer Reviews
Most Recent Reviews

Good IPA in a 12er that doesn't rape your wallet.

Reviewed by: Pinky BREWster |

December 22, 2015

Nice balanced IPA, citrus and pine hoppiness, 6.5 ABV, tastes good (unlike Sam Adams Rebel IPA). 12 pack for 12.99 can't be beat.

Helpful? 0 0