Breckenridge Vanilla Porter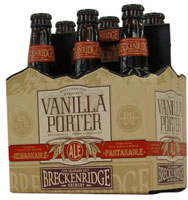 Select Quantities
Prices valid with Binny's Card
6 Pack of 12oz Bottles
$7.99
(Reg: $8.99)
Item #810503
Size: 12oz
Type: Ale
Varietal: Porter
Country: United States
Region: Colorado
"....The taste is remarkably strong of vanilla, especially in the finish. The aftertaste really reminds me of vanilla bean cappuccino....Great job."
Reviewed by: Beeradvocate.com
Prices, promotions and availability may vary by store and online.
---
Customer Reviews
Most Recent Reviews

Vanilla is it

Reviewed by: Ripley23 |

October 13, 2014

Do you get tired of Porters and Stouts that promise chocolate, coffee, cherry, etc flavors and don't deliver? This is definitely not one of those. It has a very strong vanilla flavor all the way through with a faint backdrop of chocolate. If you're in the mood for a vanilla porter, it doesn't get much more vanilla-ey than this.

Helpful? 0 0
Select Your Store
Shipping Your Order?
Use our Online Store
×
Warning
Certain states expressly prohibit the direct importation of alcohol and violation can be punishable as a misdemeanor or felony.
It is Binny's policy not to ship alcohol to certain states where direct shipment is prohibited and therefore, our website will not let you place an order for shipment to Minnesota, Virginia, Michigan, Georgia, Indiana, Kentucky, Maryland, North Carolina, Tennessee, Utah, Washington, West Virginia and other states.
Please contact your local alcoholic beverage control agency for further information.
Purchaser and recipient must be over the age of 21 to purchase alcohol.
×
Shipping/Store Pickup Options
Would you like to have your order shipped or would you like to come pick it up at a Binny's near you?
×